Your first post might feel like an aimless shot in the air, especially if you're brand new to LinkedIn. You don't know who you're talking to and you don't know if you're doing the right thing.
Even if you've been following LinkedIn gurus for a while and preparing yourself for the big move. It may still make you feel unheard and nervous.
That's okay. Happens with the best of us.
And that's exactly what this post is about. I've seen some awesome people build their personal brands on LinkedIn from scratch. I've seen people hit the right chord accidentally. I've seen people fall over and over again only to come back to the platform better than before.
More importantly, I've seen a few people on this platform keenly study their progress and others'. I've seen them using their learnings to carefully devise and implement strategies, skyrocket their growth on the platform, and distribute the learned secrets to the masses.
In this post, I'll be sharing the top 5 Personal Branding Experts to follow on LinkedIn. Let's get started!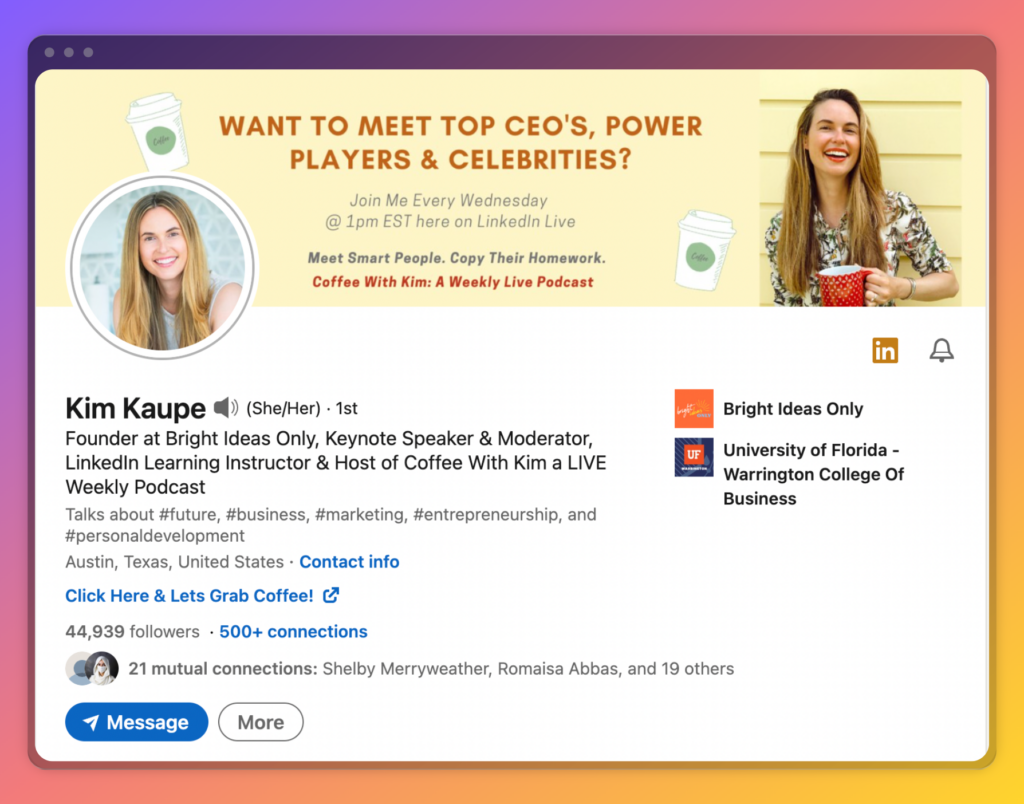 The founder of Bright Ideas Only, Kim Kaupe is an entrepreneur, a keynote speaker, and a leadership coach. That's something you'd find on Google too. 
As a regular reader of her posts, I'd say I find her posts nurturing the "leader" in me. There's no way you read from Kim and not learn how to communicate your ideas more effectively and how to manage them properly.
Apart from that, she also shares LinkedIn tips for:
Optimizing your profile
Using LinkedIn for its intended usage (I.e., professional networking)
Work-life balance
Dealing with burnouts
About a few months ago, Contentdrips' founder Usama Khalid had a chat with Kim and her students about Postdrips and the secrets of LinkedIn growth. He's recounted that Kim was an excellent host, friend, and coach– all at the same time.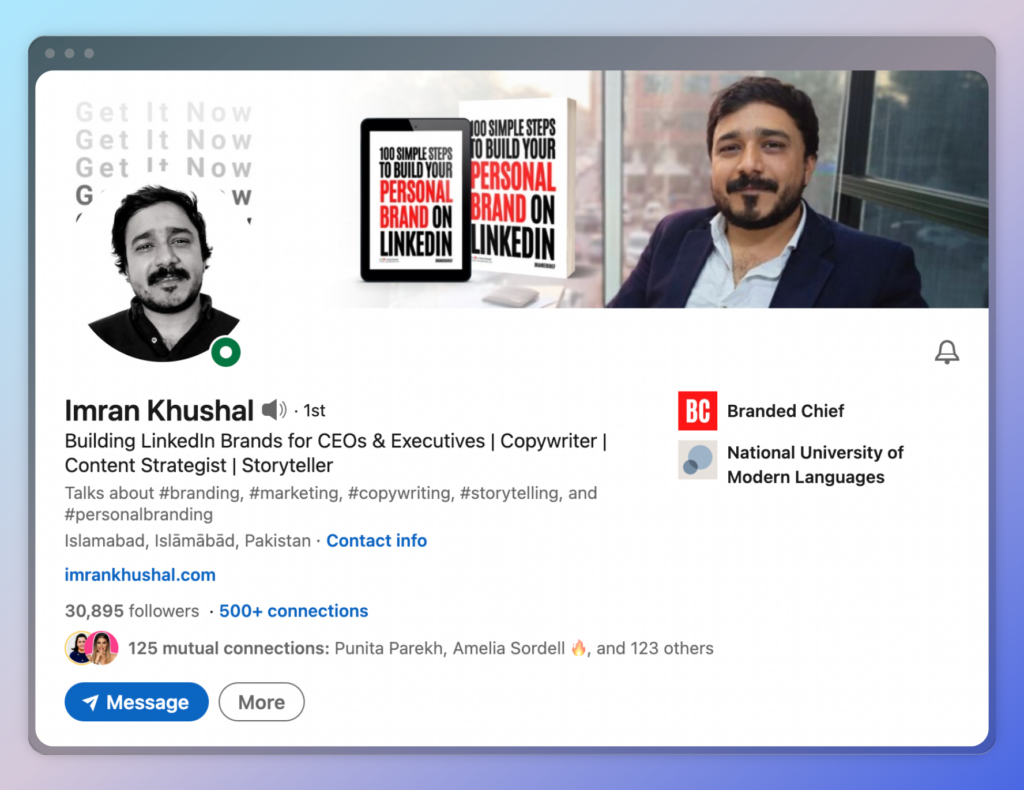 Imran Khushal is a content strategist and brand developer. He helps businesses develop a unique voice. He helps them figure out how they can connect with their audience and grow their reach organically. Naturally, he cracks the code for creating better leads for your business.
If you follow Imran Khushal, you can expect to hear about:
Content tips for LinkedIn posts
Tips on connecting with your audience
Motivational posts about content creation & its struggles
What's more, he designs stunning carousels. From design to aligning the appropriate amount of text on each slide, I'd say his carousels are pitch-perfect.
He also advocates the use of carousels since they promise a better reach. Learn more about the impact of carousels on your LinkedIn growth here.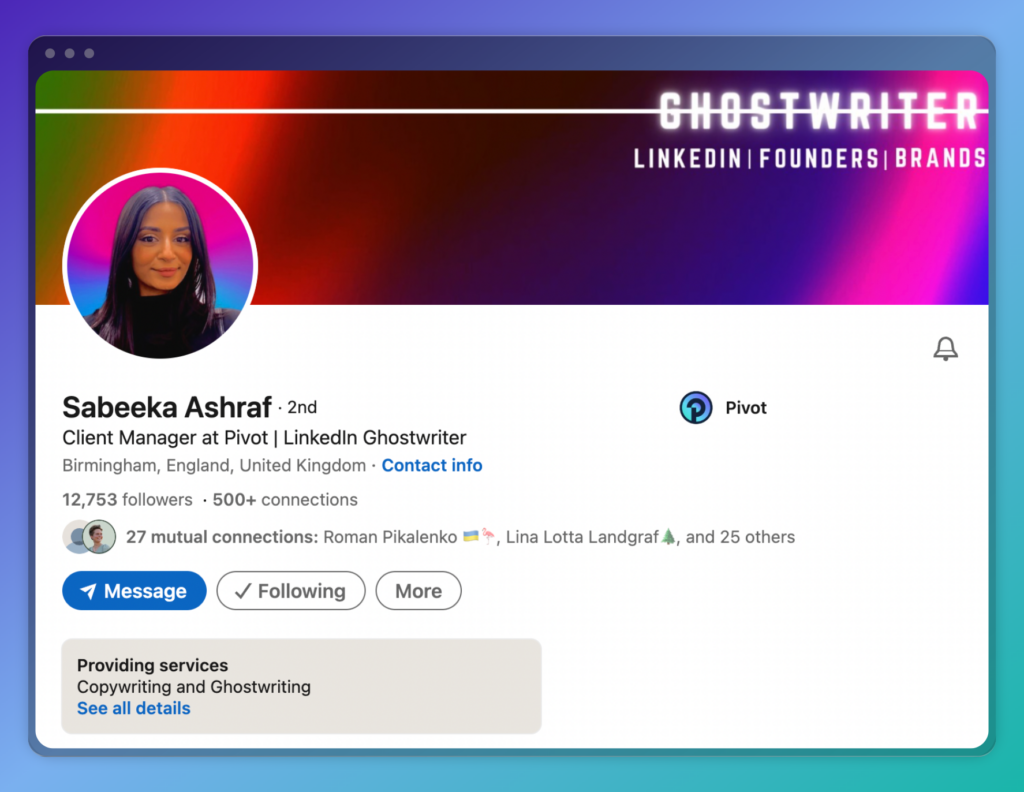 How do I set the tone for my personal brand? I don't want to teach all the time, what do I share? Is it okay to really be me at LI? How much is too much? How much is too less?
If these are the questions hovering in your mind as you gather the courage to build a personal brand, you need to follow Sabeeka Ashraf. She demonstrates the answers with all of her activity on LinkedIn.
More than knowing the platform, she knows herself. And it shows. That's exactly what personal branding is about.
Check out this post:
And this:
The creativity and networking skills speak for themself. She's engaged her community by asking questions (super fun ones!) and connecting with each one of them on a 1:1 basis. Her dedication to the community and creativity with the posts is fantastic!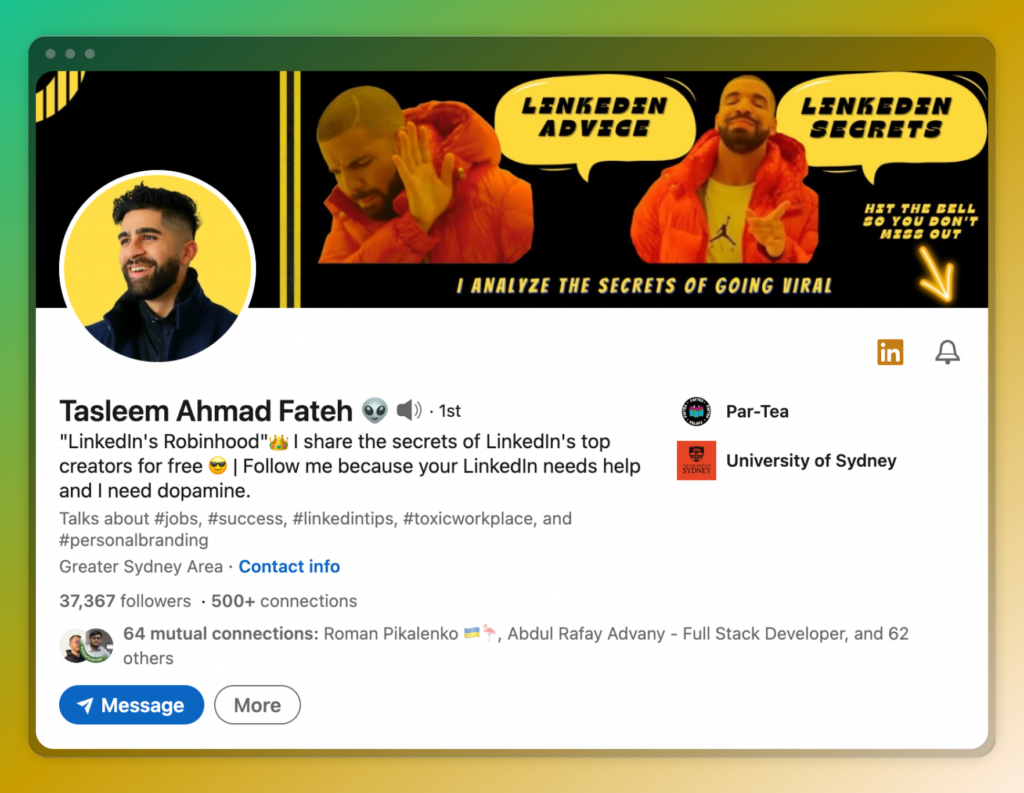 Tasleem Ahmed Fateh calls himself LinkedIn's Robinhood. For all the right reasons.
He studies the most successful personal brands and viral posts on LinkedIn to break their success secrets for you. He does not only highlight what worked. In fact, he also highlights the things that do not work as good as they are hyped.
The best part is – all of his content is relatable. For everyone. How's that even possible? Well, that's because he talks about real LinkedIn struggles. So, anyone and everyone who's struggling to get some eyes on LinkedIn (technically meaning all of us), will vibe with his content.
I recommend following Tasleem Ahmed Fateh for some honest and actionable LinkedIn tips. Plus, if you're following him, you'll definitely be in tune with what most creators are up to. He's got a great network!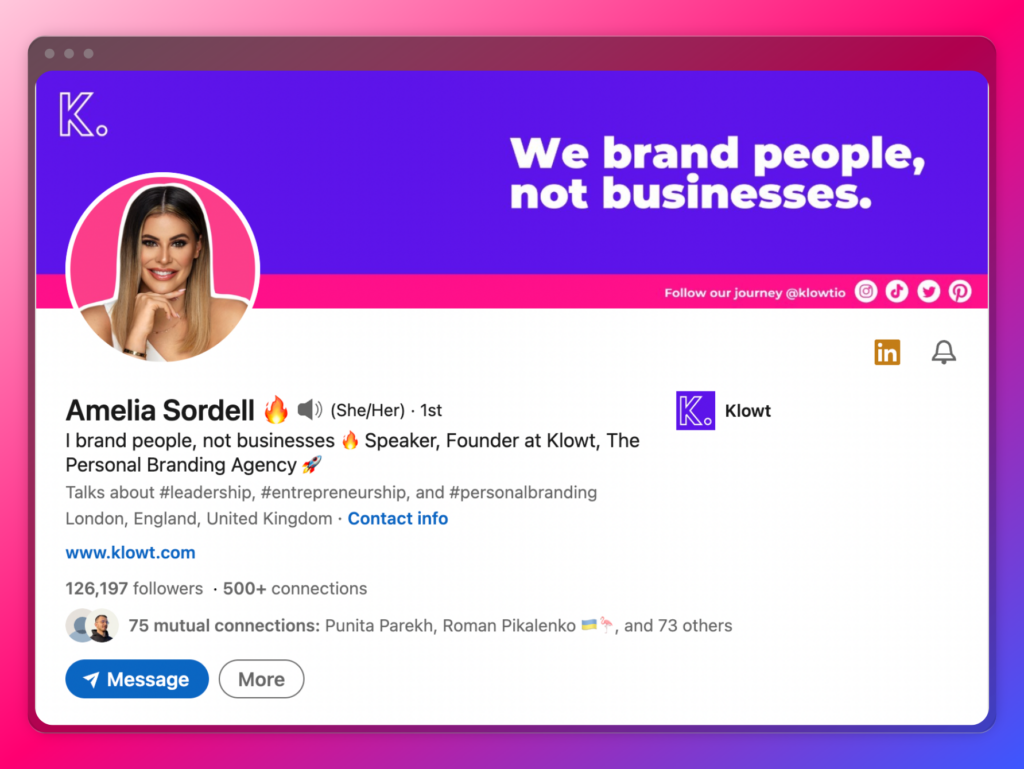 Amelia Sordell is a must-follow mention on this list. She started her journey as a marketing manager and now she has founded a one-of-a-kind personal branding agency. She advocates trust and individualism in branding and shares her secret via Klowt.
If you want to learn about the importance of personal branding and need yourself to be reminded frequently of why you must pursue this journey, I highly recommend following Amelia Sordell. As a plus point, I'd like to highlight that recently she's been sharing great insights about how she brought Klowt to life. The journey is truly inspiring and motivating.
End Note
Well, my list doesn't end here. There are a few more personal branding experts that I highly recommend following. I'll be sharing them in another post soon. Stay tuned!
Also – we share things that work for Contentdrips on LinkedIn and other socials here in our community group. Join now to stay updated!