What is branded content? How do you brand your posts?
A lot of people struggle to understand what branding actually means for their content. Do you have to have unique aesthetics? Do you have to have a fancy logo and tagline?
Not necessarily. Having both of these may help, but these are not what build your identity. If you wish to create an identity that reminds people of you as soon as they see a post, you need the following:
A consistent brand color palette
A consistent set of fonts
Your social media handles positioned appropriately
We, at Contentdrips, help you with that. (And with aesthetics as well!) In this guide, we'll share how you can make branding a two-minute thing for all your LinkedIn, Twitter, Facebook, and IG content. Let's get started!
How to brand posts in Contentdrips?
Follow these steps to brand your content on Contentdrips:
Step 1: Create an account
First, log onto contentdrips.com. Click on login and enter your email and password to access your account. If you haven't already signed up, sign up here.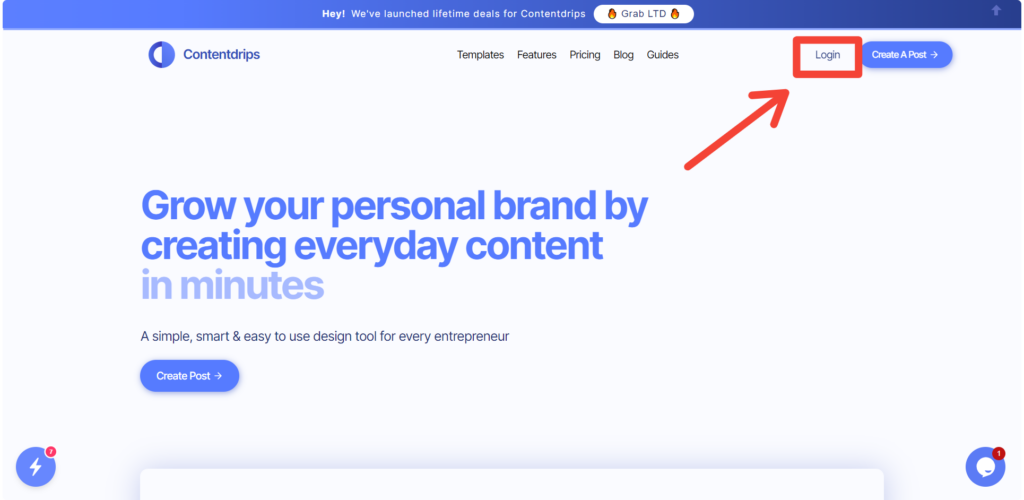 Step 2: Set up your profile & brand assets
Click on the drop-down on the top right of the screen which is next to a small circle (the space for your avatar).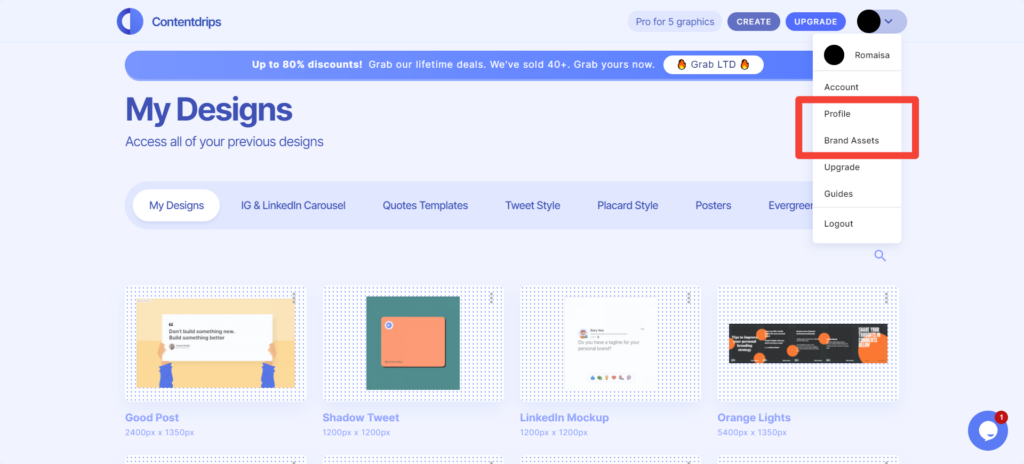 Go to your Profile and add the following:
Name
Social media handles (Instagram or Twitter)
Your avatar (or your picture)
Your website
Next, go to Brand Assets and add the following:
Your custom fonts
Your custom brand palette
Your brand logo
It's okay to use your picture as your brand logo or something really simple. The most famous content creators and marketers (read Justin Welsh & Ross Simmonds) are best recognized by themselves – their very own pictures.
Also – you need not set up your brand assets in the first go. If you're currently contemplating the colors which best represent you, we recommend beginning your personal branding journey using any of the trending presets: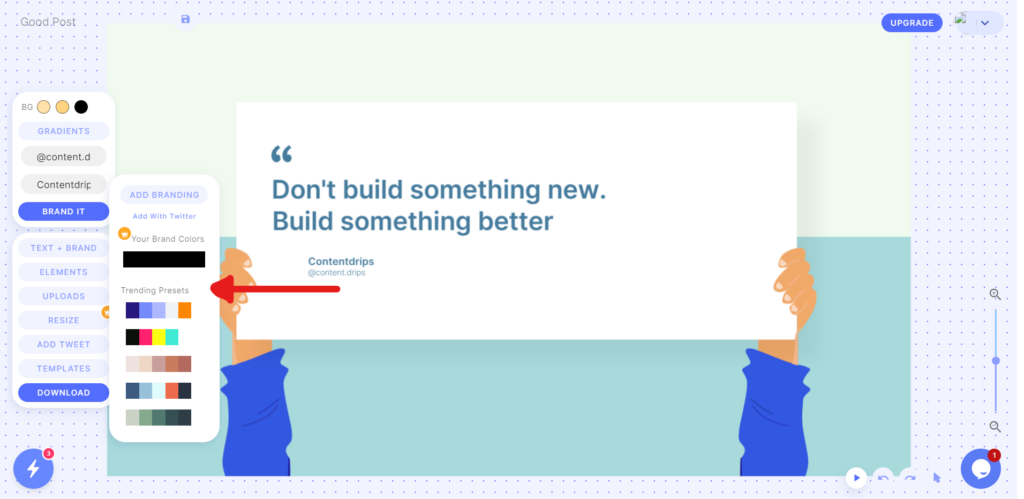 Note: You can access trending presets by clicking on the Brand It button.
It will get you started, give you a better grasp on the idea of personal branding as you begin posting, and more time to come up with colors that truly vibe with you.
It's a bad idea to keep your personal branding journey on hold only because you haven't settled for the right colors and fonts yet. The more you think, the father you'll be to your step one.
FAQ: Is the social media handle clickable? Will it direct my audience to my social media profiles?
No. We position the handle within the graphic. Like any other visuals that you see on social media, you can only see this or read it.
You might wonder about the benefit here. It's simple. The more they see it, the more they're able to recall your handle when they're seeking guidance relevant to your niche.
End Note
Once you've set up your brand assets and your profile, you only need to pick a template, and Contentdrips will adjust your name, avatar, website, and social media handle on it. You can click the Text + Brand button to make any changes to your set details. And you can click Brand It to add brand colors.