Here's the formula: Experience on LI with your target audience + Perfect time to post on LinkedIn + Super Attractive Visuals. Specifics in the post below!

TL – DR
Is it a good idea to invest time learning how to make a viral post on LinkedIn?
Yes, it's an excellent idea. You get 10x your usual exposure and that brings you business opportunities.
Is it easy to create a viral post for LinkedIn?
Not the slightest bit.
Are viral LinkedIn posts a matter of pure luck and wit?
No. There is a formula.
I know, I know. Half the people out there are going to tell you: No, there isn't a formula. You've got to work hard.
Well, I don't completely disagree with that. You have to work hard. But you also have to work smart.
In this post, I'm going to share how to do that with examples. You will learn:
How to know if a LinkedIn post is successful?
How to create a viral LinkedIn post?
Let's get started.
What is a viral post on LinkedIn?
Any social media post that exceeds your average reach counts as your viral post. For example, back when I had a network of around 600-700 people, and my average reach was 1000-1200 impressions, these stats accounted for one of my viral posts: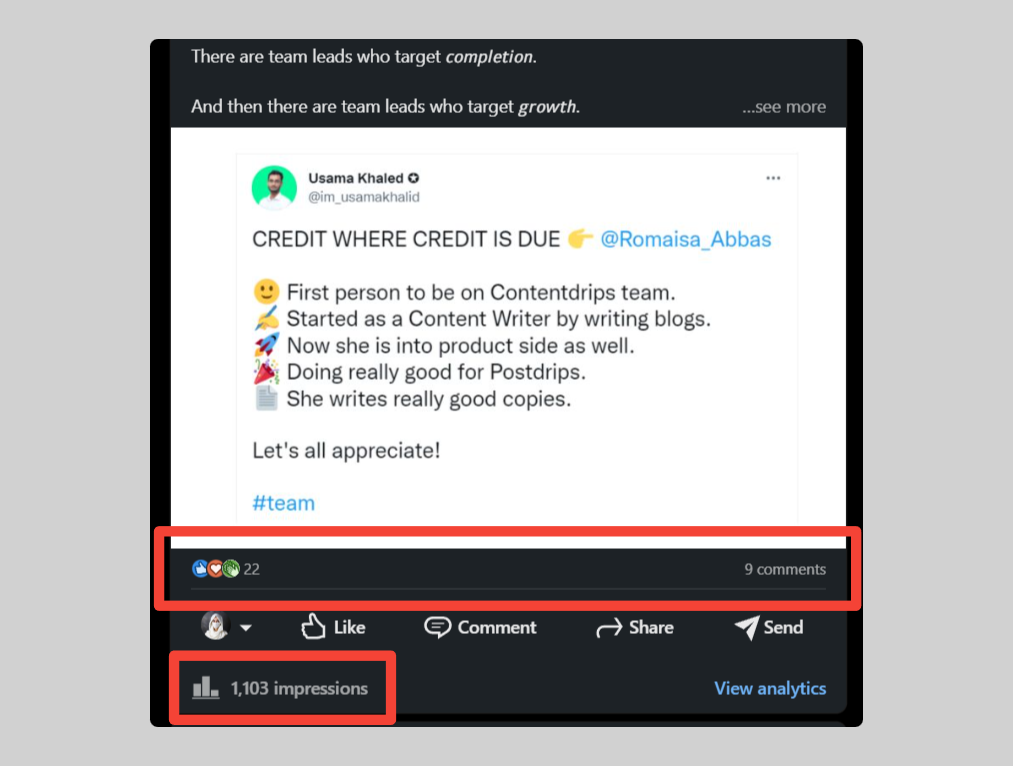 22 Reactions
9 Comments
Zero shares
1103 Impressions
My network when the post was published: 600-700 people
I did not intend for this post to go viral, but it did. It brought me twice my usual reach (which was around 500 impressions or so).
Point to learn here: You don't always need to come up with planned ideas to create viral posts, sometimes just being genuine does the job. So, like always, I'd encourage keep working on being you on the backend.
Now, here's another viral post of mine: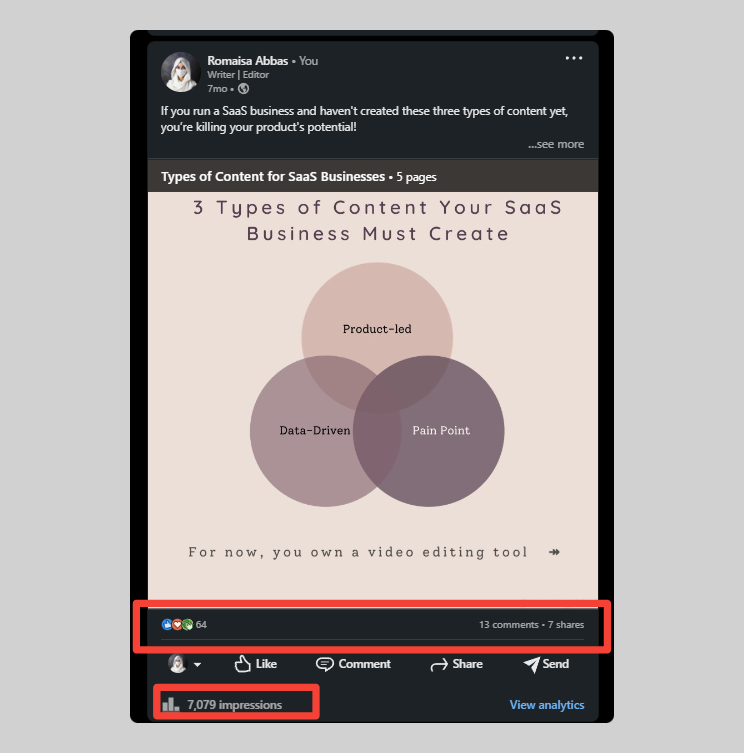 64 Reactions
13 Comments
7 Shares
7079 Impressions
My network back when the post was published: 1.5-1.6K people
However, this post was planned. I expected these results.
How so? That's what I'm going to break down in the next section of this post.
But before we head to that, know that there are no industry standards for a viral post. It's any post that exceeds your usual reach and, of course, meets your set goals.
The primary LinkedIn metrics that can help you assess whether a post has exceeded your usual reach include:
Reactions
Comments
Shares
Impressions
DM's (In LI lingo, we call them leads, and this applies if you're aiming to promote/sell your product or service with your post)
If someone makes another post to follow up on your post, then that's a major bonus. If anyone links it to their articles (you'll see me doing that below) – that's a cherry on top.
On a side note: You're welcome to share your viral posts with me, I'd love to review them and quote them here if they fit well.
How to create a viral post on LinkedIn?
Above, I gave a quick formula:
Experience on LI with your target audience
Perfect time to post on LinkedIn
Super attractive visuals
In all honesty, this formula is the formula. But generic. If you sit down to implement it, there'll be a hundred questions popping up in your head:
What counts as experience on LI with my target audience? Who is my target audience?
Is interacting enough? Do I have to comment daily?
What's the perfect time to post on LinkedIn? How do I even determine that?
Do I need some inside knowledge on the LinkedIn algorithm to know the time and visuals people like? Do I need SEO knowledge for that?
Been there.
So, I've explained it all in this actionable plan:
Step 1: Pick a topic from this list
When I say experience on LI with your target audience, I'm referring to the time you spend there. Here's what it may look like:
Browsing the content on your LinkedIn feed
Connecting with influencers or fellows in the field
Commenting on others' posts
Reacting to others' posts
Replying to DMs and building meaningful professional connections
Note that you do not need to comment or react solely to get the task off your to-do list. If it doesn't mean anything to you or the author, if it doesn't add value, if it just replicates another comment on the same post, it's waste of time.
When LinkedIn experts tell you to be consistent in engaging with your audience, they do not mean habitually leave a comment on any/every post you see. They mean making it a habit to come to LinkedIn every day. When you browse daily with the intent to get news or see what's up, you'll eventually sync in the environment.
On your focused days, you might have something valuable to add to someone's post. On other days, you may not have something valuable to add and can only react. That's absolutely fine.
Once you begin following this, you'll find which posts interest you, which ones are not useful for you, and who you wish to interact with. This is how you'll find your ideal list of topics.
Remember, your ideal viral LI topic should have the following:
Industry relevancy
A unique perspective (this can be solutions, advice, case studies, questions, etc.)
If you want to data-back your post idea, do a quick LinkedIn search for the same post idea. If there's another recent similar post with good engagement, the light's green. Go ahead.
Now, don't panic. I have provided you with the means of creating your own custom list of fantastic LinkedIn post topics. But that doesn't mean, I won't help you get started.
Here are a few LinkedIn post ideas that you can begin with:
Share something odd about your last meeting with your team. It can be an incident, how you felt, how your team felt, and if there's anything you learn from. But please don't force lessons. If it's just for a good laugh or food for thought, let that be.
Share your key learnings from a long-form content piece relevant to your industry. This long-form content piece can be an article, a one-hour-long podcast, a book, a movie, an interview, or a Q&A session – It can be anything that's difficult to consume. But always credit the source.
Share a one-liner gut feeling on industry trends. Example: The future belongs to original content. But make sure your audience knows it's your opinion and not authentic news. For example, if I said search engine is only going to rank original content in the future. It sounds more like a piece of news rather than your opinion. Be careful with your words.
Any of these will give you a good head start.
Step 2: Pick a post format from this list
Post format accounts for 50 percent of your post's success. I chose a carousel for my post mentioned above because I know it performs brilliantly. Here's why carousel posts perform best on LinkedIn.
Overall, the following post formats are best for LinkedIn (in the same order):
Here's one example of a viral LinkedIn post for each post format: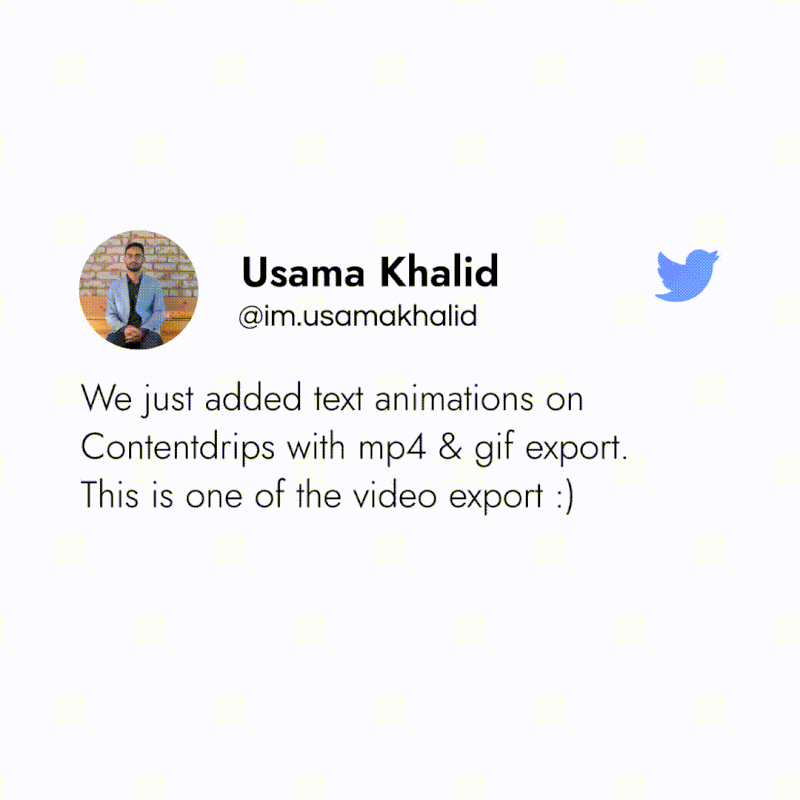 Step 3: Create it on Contentdrips
You're done with the most difficult part of creating a viral post for your LinkedIn account, I.e.,
Choosing a topic
Choosing a post format
Here comes the part that I urge you to invest the least time on – because this is where your potential viral post may lose its essence.
Look, your intent isn't to impress with design. You are not a professional social media post designer. But again, you can't share a post that's not visually appealing.
So, cut the struggle short and search for an online social media post-making tool that eases the job for you. Now, there are plenty out there, including Canva, Snappa, Vistacreate, etc. But there's only one social media post maker for creating personal branding posts. That's Contentdrips.
At Contentdrips, we optimize post dimensions and automatically brand your posts so that the LI algorithm and your audience love the look. The algorithm pushes it forward and on top. Plus, there are over 3000+ custom-designed templates for all post formats in the library. We design these templates using trending fonts, colors, and elements. They are designed to stop your audience from scrolling.
For that very reason, I'd only recommend Contentdrips when designing a viral post for LinkedIn. It cuts the struggle by half and increases your chances of success.
Here's a quick video about how to use Contentdrips:
Step 4: Schedule it during these time slots
In an ideal world, it'd be a good idea to spend at least three hours (with equal intervals) on LinkedIn every single day for two months. But who's got the time for that?
So, here's a detailed post on the best times to post on LinkedIn to ease the journey for you. Give it a read, and you'll know what time suits best for your post.
Usually, the following time slots work in all regions:
8:30 am – 11:00 am (BEST time)
5:00 pm – 7:00 pm
9:00 pm – 11:00 pm (mostly for creative industries & light-hearted posts)
Tuesdays, Wednesdays, and Thursdays work best.
If it's difficult for you to post in any of these time slots due to work or any other engagement, prepare a day ahead and schedule it using Postdrips.
End Note
Okay, congratulations! You're through. I'd love to see the results of your posts, so please share them with me on my LinkedIn or here in the comments. Also, it's a good idea to share the post you just prepared on other platforms too. I've shared how you can repurpose your content in minutes over here.