You must've seen some really clean tweet screenshots on LinkedIn & Instagram. These screenshots are a good way to fill the gap in your content calendar and make the most of a high-performing tweet.
It gets me decent engagement on LinkedIn now and then: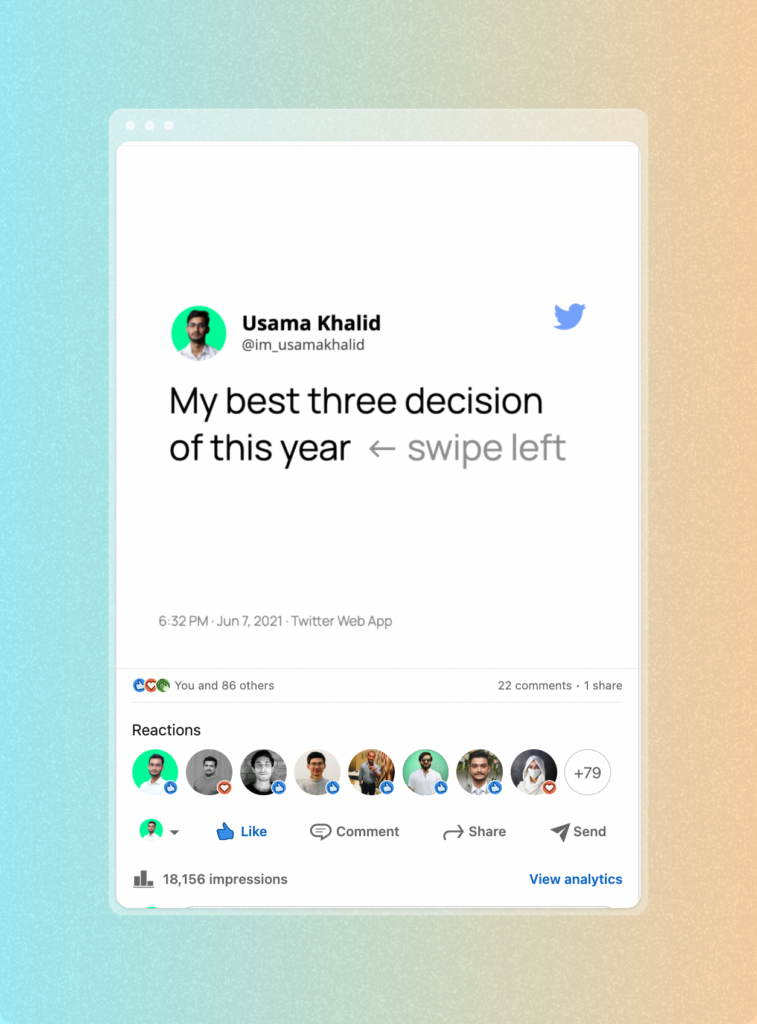 So, I'd suggest you do the same. Even if you don't have something valuable to share someday, this repurposed content will keep your branding journey in its momentum.
Below, I've shared a list of tools that will help you create these tweet style posts easily.
Before I came up with my own all-in-one personal branding tool, Poet.so was my go-to free tool. It creates decent tweet screenshots within seconds. You can even import the tweet with just it's URL, and Poet.so will turn it into an image.
Pros:
No watermark
Import tweet with URL
You can change styles and size of images.
Cons:
Won't let you edit the text, add elements or customize it with your own colors.
Can't import twitter threads.
Only works for a single tweet.
Not enough templates.
Only downloads in PNG.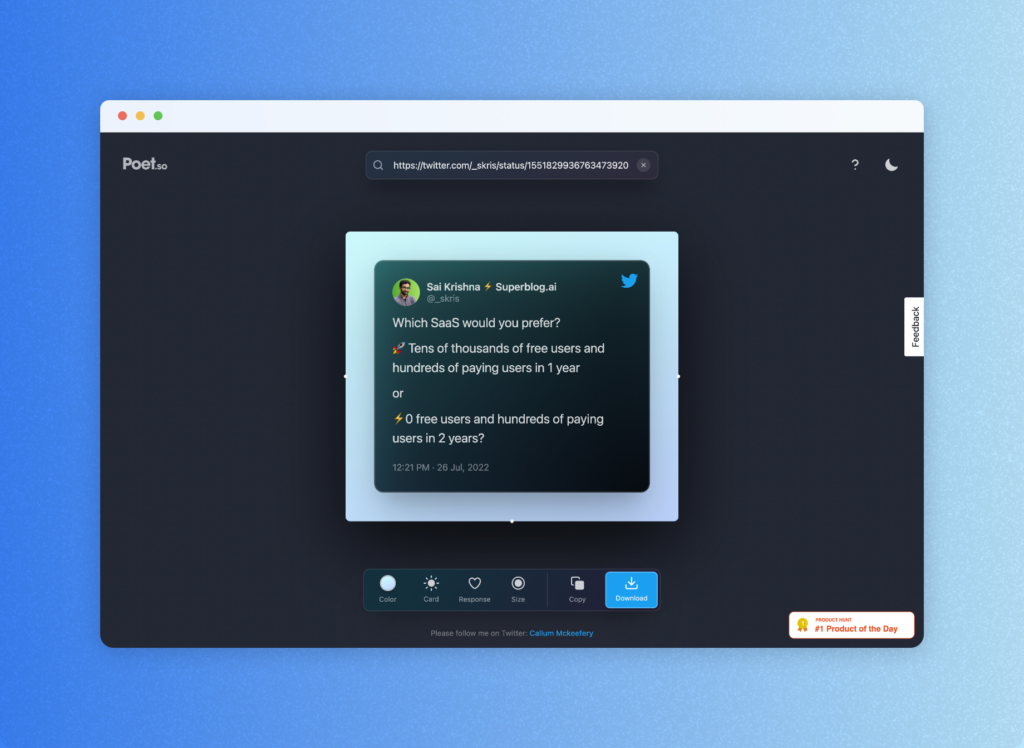 TweetPik is a more advanced tool that lets you screenshot tweets but also records them as well in case of video tweets. It gives you APIs and automation features too, such as with Zapier.
Pros:
Different options for size and other designing elements like colors etc.
Clean and good quality screenshots.
Upload custom background.
Con: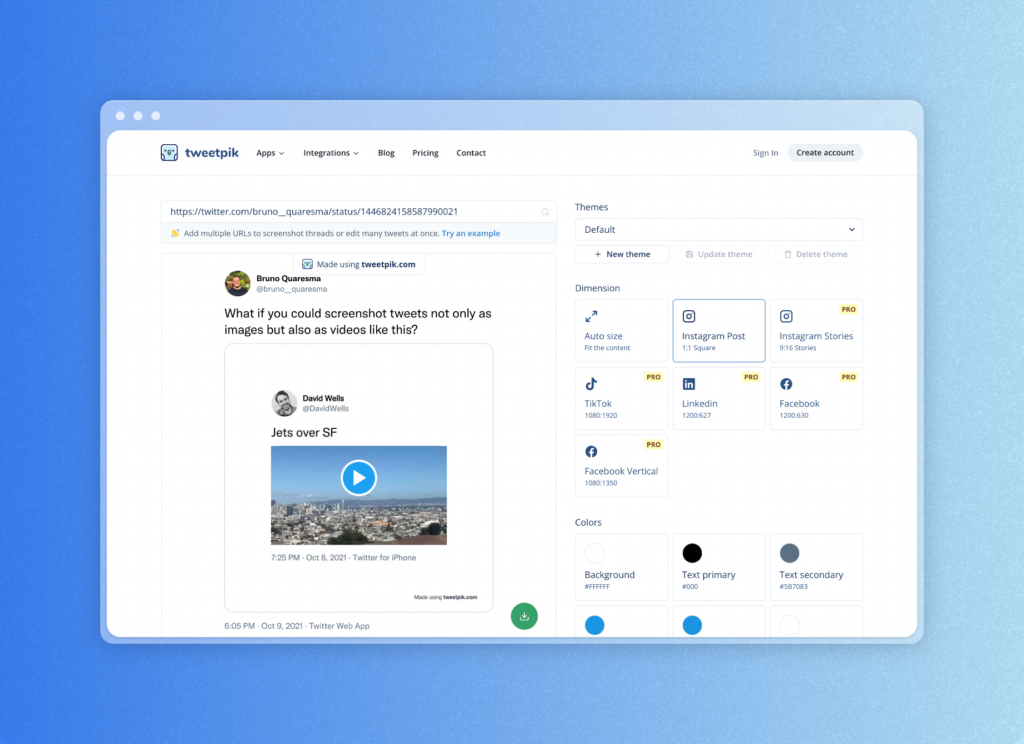 Here's another from my former favorites.
One of the best things about this tool is that it automatically brings your last few tweets. You don't need to add the URL of the tweet. There are many different designs and color schemes you can choose from.
Pros:
Automatically pick up your last few tweets.
Many different styles to choose from.
Content-resizing and styles.
Cons:
Can't edit texts.
Can't add images or backgrounds.
And that's probably because it is just a tweet screenshot tool.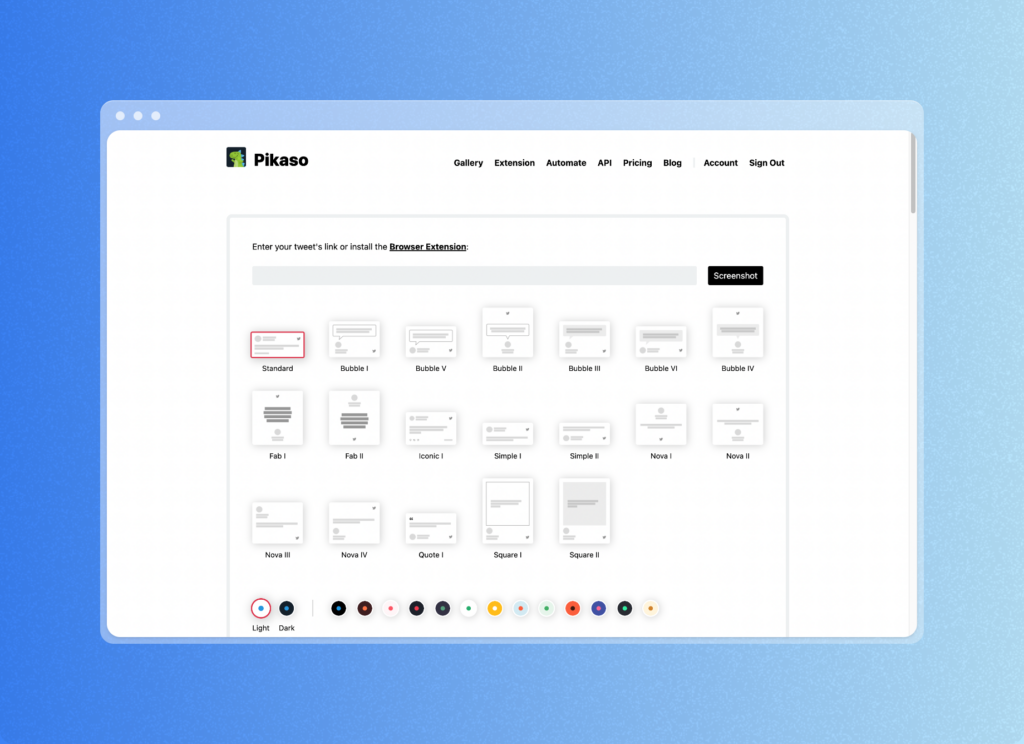 Now onto the best one, If I say so myself.
I built this tool, keeping my own content repurposing needs in mind. It offers pretty much everything that the other tools fail to provide (and more!).
Features:
100+ templates.
Import tweets.
Turn tweets in to photos
Turn Twitter threads into carousels posts.
Edit text.
Upload images, add elements, change colors etc.
Swap templates.
What's more, it will let you download in two formats, i.e.,
You can turn your tweets into videos and GIFs with our text animations too.
Since Contentdrips is a full-fledged social media content tool, there are other types of templates as well.
Contentdrips has also got a feature named Twitter Thread to Carousel. It will turn your Twitter thread into a carousel post for LinkedIn & Instagram.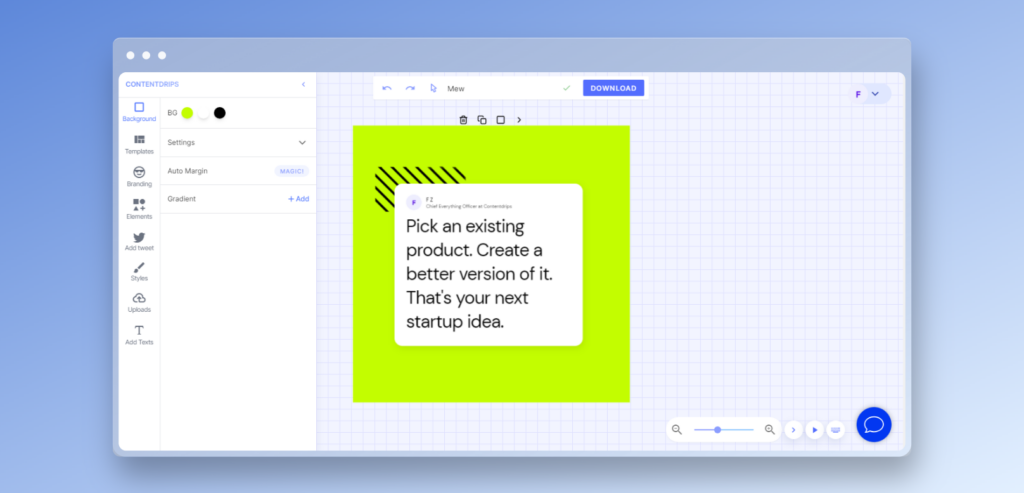 End note
In this blog we talked about the pros and cons of Poet.so, Tweetpik and Pikaso.me and how Contentdrips compares to these tools.
All of these tools have free and paid plans. I've reviewed the free versions of the four tools mentioned above. With paid plans, you'll certainly get more features. I encourage you to explore these yourself and say goodbye to content-less days.
Repurpose your content and stay consistent. Distribute it on more channels to make the most of each content piece you create.
Hoping this blog post helps you turn your tweets into good-looking posts!