Imagine paying $61.5 monthly and $738 annually to a LinkedIn scheduling tool and still worrying:
If LinkedIn will shadowban your account anytime soon?
Is your post live yet?
Are you paying enough attention to formatting your LinkedIn posts properly?
Sounds like a really bad deal.
Well, it is.
So, before you face the same, I invite you to browse through this list of top 5 LinkedIn scheduling tools (both free and paid). You'll find:
A super honest review about each tool (inclusive of pros & cons)
Current pricing
Experience-based recommendation on whether the tool is right for you or not.
Let's go!
What makes up the best LinkedIn scheduling tool?
Before we get to the detailed review of each tool, let's check out the factors you should consider before trusting a LinkedIn scheduling tool.
Features
Whenever analyzing any software, the first thing you ought to check is the number and relevancy of features. By the rule of thumb, the more, the merrier.
But again, quantity is not the only metric we're concerned about. We're also concerned about the quality of features here.
Since you currently seek a LinkedIn scheduling tool, you should look for a tool that allows you to:
Create, draft, and edit a post
Schedule posts (accurate to the exact minute of posting your content)
A neat, manageable calendar view
Scheduling feature precise to hours and minutes
Compatible with LinkedIn Hashtags & Tags
These are the basic features you'll require to conveniently plan and prepare your LinkedIn posts ahead of time. Any extra features are, of course, appreciated. But they usually mean an increment in the average pricing (read more about it in the pricing section!).
Ease of Use
By definition, a tool is a means of easing the job. So, what do I mean here? And how exactly are you supposed to judge if a tool is easy to use without trying it out?
Well, it's simple. An easy-to-use tool will always minimize the input required from your end.
Say there are two LinkedIn scheduling tools, namely A and B.
Tool A asks you to:
Set up an account on their platform -> Login with LinkedIn -> Choose a post type -> Write post -> Save it or you lose data -> Schedule the post such that you've to separately, manually enter the month, date, and time (precise to seconds) -> It asks you to confirm you've scheduled.
Tool B asks you to:
Login with LinkedIn -> Write Posts -> Automatically saves your drafted materials -> Schedule the post using a visual calendar in a matter of clicks (precise to minutes)
Now, which of the two is easier and more efficient?
Tool B! It truly automates the process and takes care of things for you.
But how will you learn about this process? There are two ways:
Usually, you can find reviews on the website or via one Google search. Just search X reviews or search: Is X worth it? Don't forget to insert the name of the tool in place of X.
Alternatively, it's best to try the product yourself via a free trial. Most reputable companies offer trials to new visitors.
Other things that determine whether a tool is easy to use or not, include:
It should be spacious and neat. You shouldn't find yourself questioning where do I find that? or How to do that?
In case, you're completely new to the digital world and are not quite familiar with good designs, here's a comparison: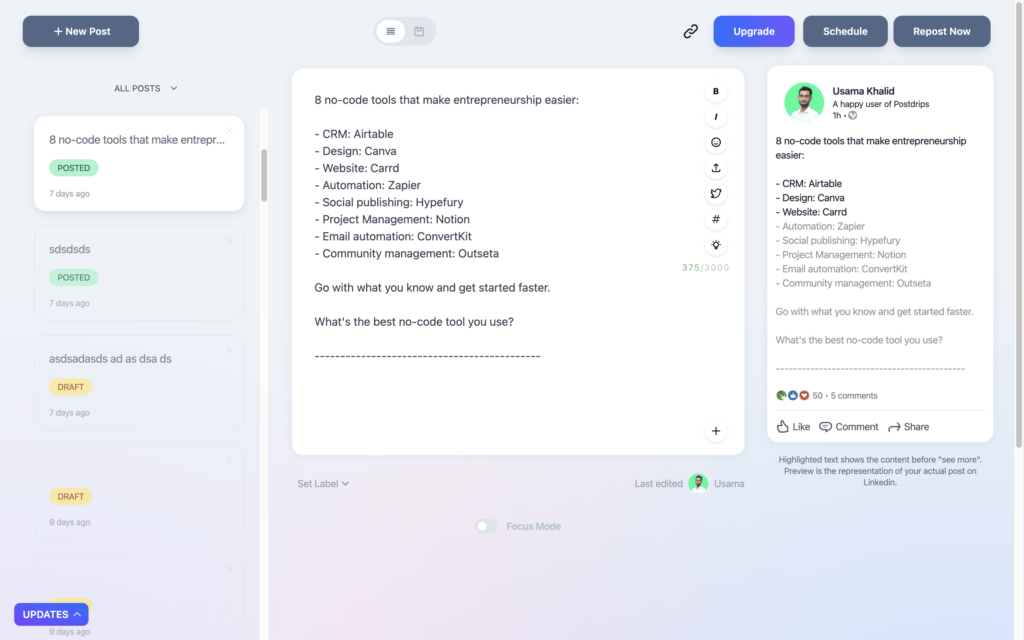 Which of the two seems easier to use? For us, it's PostDrips.
Later.com crowds the screen which stresses a first-time user. Even if you get used to it, there are way too many clicks involved. (Sorry Later, but you didn't make it to the top 5 LinkedIn scheduling tools 🙁 )
*Note: In case you have a different opinion, let us know in the comments!
Pricing
Here comes the part which – I bet – is your primary concern. You're working on your LinkedIn to generate leads, not to waste your valuable assets. I get you. And your concern is absolutely valid.
Now, hear me out:
There are tools that charge less than $10 per month.
There are tools that charge over $100 per month.
The price that you will pay within this bracket depends on the quality of experience you desire. Usually, higher prices mean a better experience. But be vigilant, at times brands are only charging for their names and reputation.
As for the average pricing, LinkedIn scheduling tools can cost you $61.5 on a monthly basis.
Customer Service
After pricing, check out the customer service initiatives taken by the creator or company. Are they approachable? Do you have easy access to them? Even with easy access, how responsive are they?
Ideally, you should be able to connect with them:
Via email
Via social media
Via website
In terms of responsiveness, your query should be catered to within 24 hours. Their dedication to the trouble you're facing or your query is subject to the company's mission, vision, and previous working history.
We recommend analyzing these aspects before you entrust them with your LinkedIn account. Also, it is best if you opt for a dedicated LinkedIn scheduling tool instead of an all-in-one scheduling tool.
Why?
Well, that's because a dedicated tool will help you manage your LinkedIn more consistently and effectively. The creator company is more likely to be focused on enhancing the tool's usefulness with respect to LinkedIn instead of all the social media tools.
Top 5 LinkedIn Scheduling Tools of 2022
Now that you know what basic features and aspects you should be looking for, you can browse through our top ten picks for LinkedIn scheduling tools. I hope you get your hands on that one tool made for you!
*Pricing metrics to understand before you begin:
| | |
| --- | --- |
| Pricing | Amount (Basic plans – Per month – in USD) |
| $ | < $10 |
| $$ | $10 – $50 |
| $$$ | $50 – $100 |
| $$$$ | $100 – $500 |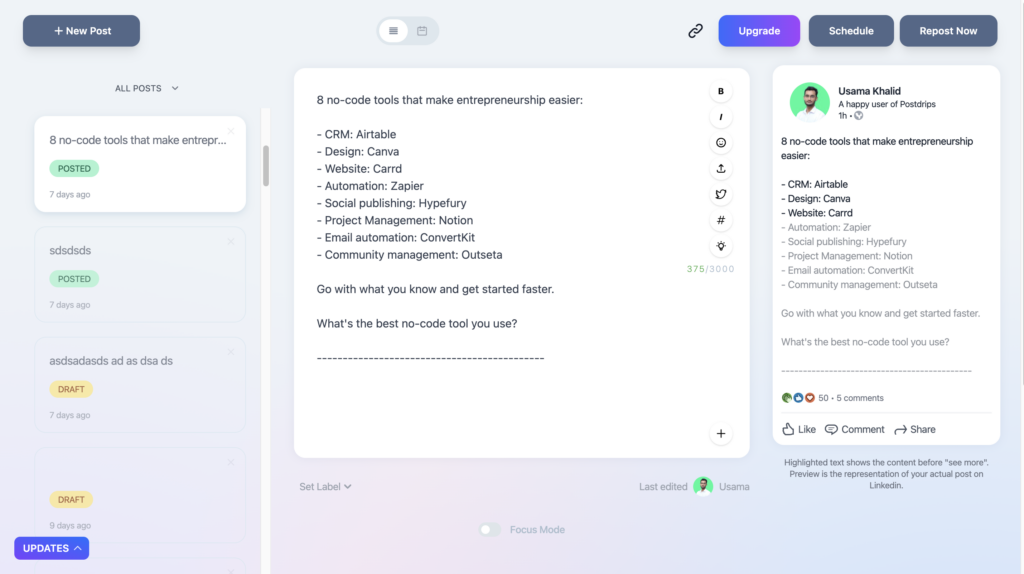 PostDrips
Pricing: $7 per month (billed yearly)
Customer Service: ⭐⭐⭐⭐⭐
LinkedIn Specific: Yes
Free Trial: 14 Days – No Credit Card Required
PostDrips was launched on 18th August 2021. Despite being a new LinkedIn scheduling tool, it's made to the top 10 owing to its incredible ease of use and functionality.
Using PostDrips, you can:
Draft, edit, and schedule LinkedIn posts
View your planned posts neatly aligned in the calendar view
Preview how your post will appear once it is published
Generate post ideas using Post Idea Generator
Tag companies and add hashtags to drafted posts
Add the first comment to your post and organically boost its visibility
Collaborate with teammates and collectively work on a post
Set shortcuts to the most-used emojis in your posts
Categorize and sort your posts using custom labels
Work dedicatedly on your LinkedIn using the focus mode
It is a dedicated LinkedIn scheduling tool that continues to improve based on LinkedIn's content-promoting policies. PostDrips works to improve user experience and is by far the most convenient, cheap LinkedIn scheduling tool available out there.
Here's a detailed guide about how to use PostDrips. The tool saves time tremendously and promises the best privacy. In case of any queries and feedback relevant to PostDrips, you can directly reach out to the founder Usama Khaled.
| | |
| --- | --- |
| Pros | Cons |
| Inexpensive | No Campaign Creation |
| Enables Content Repurposing | No Mobile App |
| Easy Account Connectivity | |
| Reliable & Secure Automation | |
| Tag personal and company profiles | |
| Post Preview | |
Endorsed & Trusted By:
Kim Kaupe from Bright Ideas Only
Geni Cor from Brandex & Co
Carissa Karner from Speaker-in-Demand
Verdict:
PostDrips is the best LinkedIn scheduling tool for business owners focused on generating leads via LinkedIn. It scores a 10/10 for simplicity and ease of use. Try here.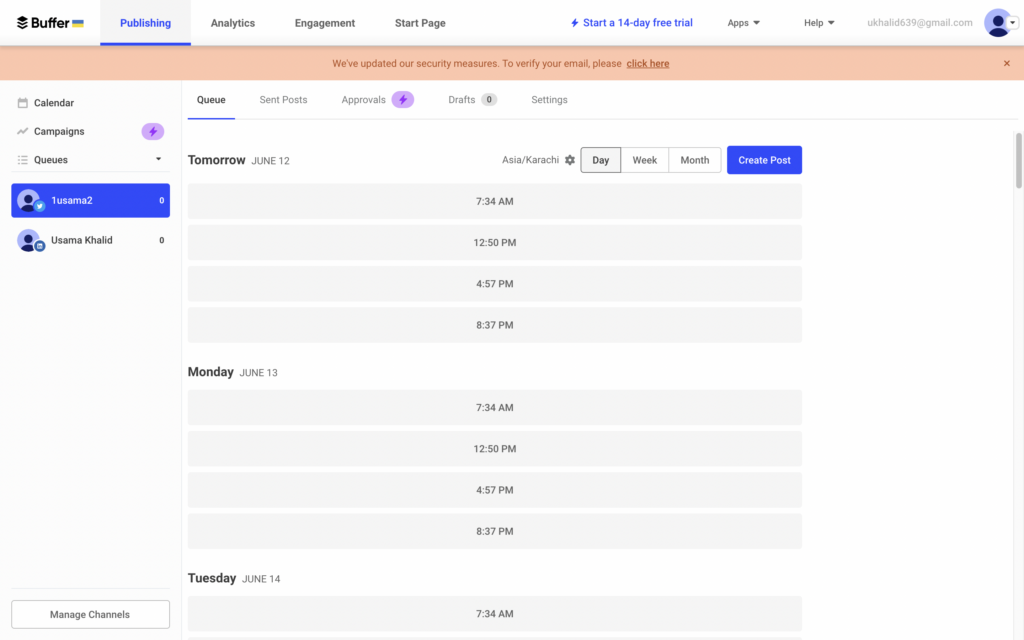 Buffer
Pricing: $10 a month (billed yearly)
Customer Service: ⭐⭐⭐⭐
LinkedIn Specific: No
Free Trial: 14 Days – No Credit Card Required
Buffer was launched on 30th November 2010. Having more than 12 years of experience in the digital space, Buffer is a renowned social media management tool. It allows you to publish, analyze, and engage your social media profiles and pages. You can use it for:
Instagram
LinkedIn
Facebook
Twitter
Pinterest
Zooming in, let's check out what you can do with their LinkedIn scheduling tool:
Schedule your posts (accurate to a minute)
Draft and edit your posts
View your posts neatly aligned in the calendar view
Invite and collaborate with teammates
Create campaigns and lead intent-specific posts
Buffer is not LinkedIn-specific and hence, doesn't offer dedicated features for LinkedIn post-optimization. But it sure does offer diversity.
| | |
| --- | --- |
| Pros | Cons |
| Allows campaign creation | Fails to post at times – requires manual input |
| Mobile App available | Lacks content repurposing feature |
| 25+ Integrations | Cannot engage and analyze your LinkedIn posts |
| Allows building your own landing page | Account connectivity is required every step of the way |
Endorsed & Trusted By:
Jessica Dringman from the Marketeering Group
Shannon Barker from the Car Next Door
Heather Muse from Fortune
Verdict:
Buffer is an excellent tool for social media agencies that require centralized operation for all their social media channels and are aiming for quick and massive visibility on leading social media platforms. Try here.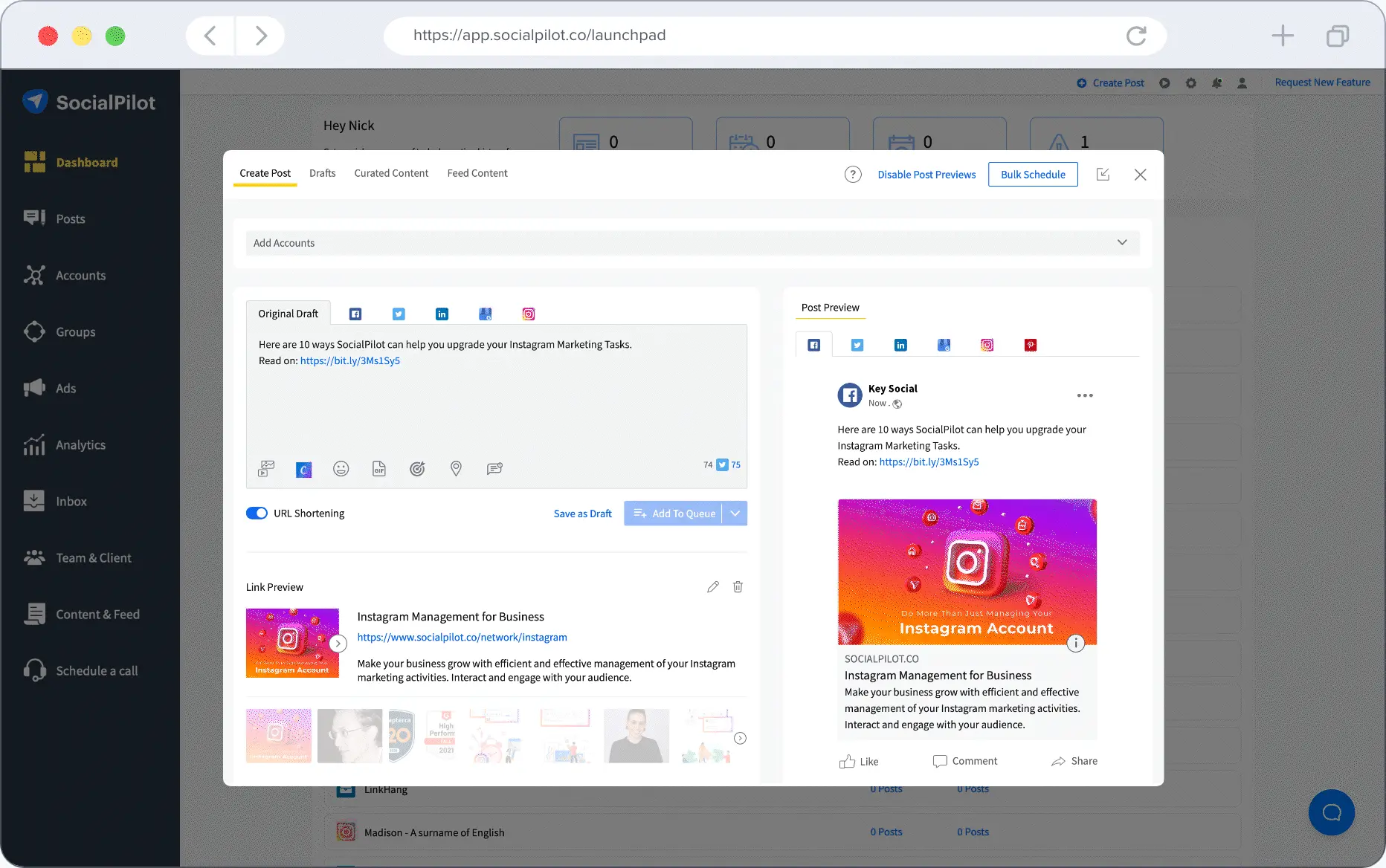 SocialPilot
Pricing: $63 a month
Customer Service: ⭐⭐⭐
LinkedIn Specific: No
Free Trial: 14 Days – No Credit Card Required
SocialPilot was launched in 2014. Similar to Buffer, it is known for bulk social media scheduling and post publishing. The overall design of the tool doesn't quite vibe with 2022 but it's an excellent tool for small and medium businesses that wish to automate their socials.
Quite unfortunately, there's no free plan offered by the tool. You can begin using it based on a 14-day trial. If you like it, continue ahead with billing. But if you don't, your account will be suspended.
You can link and manage the following:
Instagram
LinkedIn
Facebook
Twitter
Pinterest
Tik Tok
Tumblr
VK
Google My Business
When it comes to LinkedIn management, you can do the following:
Manage multiple pages & profiles
Draft and edit posts
Schedule your posts (accurate to the minute)
Preview the final look of your drafted post
Tag companies
Bulk schedule
Curate content from LinkedIn for trending post ideas
Collaborate with team
SocialPilot is a winner when it comes to automating your LinkedIn tasks. If you're someone who's not attached to your LinkedIn account and are running it for business's sake, SocialPilot will definitely ease your life. It smoothly automates the processes listed above.
It saves money and time. You won't find yourself hiring more and more people on your social media team.
However, the tool lacks personalization. Although Social Pilot's white-label feature automates branding and gives a uniform vibe to all the content you put out, it lacks the human touch.
And that's because the only way you can pour yourself into your posts is when you write them yourself – with an intent. The only route to be successful at LinkedIn is to connect with your audience and write content that they directly or indirectly ask for.
With SocialPilot, you can acquire successful automation and massive visibility. You're likely to gain followers really quick but personalization is the tradeoff here. You won't be able to build a meaningful community.
| | |
| --- | --- |
| Pros | Cons |
| Canva, Dropbox, and Box integration | No free plan & relatively expensive |
| Allows targeting audience | No content repurposing |
| Bulk scheduling eradicates the need for separating drafting and scheduling | Lacks personalization |
| App available | |
Endorsed & Trusted By:
Christopher Conlan from Habooble Communications
Mike Tufano from Elevation Brands
David Ham from Mortgage Australia Group
Verdict:
Social Pilot is a good pick for medium-sized businesses and digital marketing agencies. Try here.
Loomly
Pricing: $59 a month (billed yearly)
Customer Service: ⭐⭐⭐⭐
LinkedIn Specific: No
Free Trial: 15 Days – No Credit Card Required
Loomly was launched in 2016. Like PostDrips, the company is a relatively new social media management tool. However, it's made to the top because of the systematic approach it offers.
When you sign up for the tool, it allows you to avail yourself of any of its three plans. You can enjoy the services for 15 Days without having to attach your credit card.
Here's how the experience goes:
Once logged in you've to set up a calendar.
Connect your accounts (you can connect 7+ pages and profiles from different platforms.)
Choose a workflow (i.e., whether you'll be working with a team and requiring approvals or not)
In case you choose to work with teammates, you can then invite collaborators and set up their roles.
And here's the best part: you can skip all of the steps above and directly jump to drafting your post. The autonomy offered by this tool is simply amazing!
| | |
| --- | --- |
| Pros | Cons |
| No need to connect an account to explore the functionality | Must create a calendar to begin drafting |
| Optimization tips are included in each step | |
| Easy to navigate | |
| Mobile App available | |
Endorsed & Trusted By:
Verdict:
Loomly is the second-best LinkedIn scheduling tool for business owners (both big and small!). It's also an excellent pick for independent LinkedIn influencers. It's easy to use and humanized! Try here.
Brandwatch
Pricing: $108 a month
Customer Service: ⭐⭐⭐
LinkedIn Specific: No
Free Trial: 14 Days – No Credit Card Required
Brandwatch was launched in 2010. And it is a super professional route to LinkedIn scheduling.
Like the other social media management tools listed above, it allows you to manage all of your business's social media pages from a centralized platform.
With respect to LinkedIn, you can:
Draft, schedule, and edit posts
Collaborate with team
Design campaigns
Acquire analytics and performance metrics
Tag companies
Since this is not a LinkedIn-specific tool, you won't find many dedicated features.
| | |
| --- | --- |
| Pros | Cons |
| All-in-one professional solution | Not easy to use for newbies in the digital space |
| Mobile app available | Only one pricing plan available for small business owners |
| Internal connectivity for the social media team | Super expensive |
| | Cannot create an account without an official work email |
Endorsed & Trusted By:
Adam Mills from British Telecom
Auckland Zoo
Oasis International
Verdict:
Brandwatch is a suitable LinkedIn scheduling tool for thriving and established corporate businesses with roomy budgets. Try here.
Bottom Line
The comparison's clear. I hope you've found your perfect match in the LinkedIn scheduling tools listed above. But if not; my vote goes to PostDrips.com.
Why? Well, that's because PostDrips is the only dedicated LinkedIn scheduling tool out there. It's the only tool automating LinkedIn scheduling while keeping your human touch in check.
And hey, the vote's not biased! The comparison above speaks for it. I invite you to test the tool yourself and determine it all by yourself. 🙂