Question: Why should you schedule LinkedIn posts?
Answer: Why shouldn't you?!
Scheduling LinkedIn posts can be a complete game-changer for you if you are building a business on LinkedIn. It can take your business from no progress this month to a complete breakout in the next.
With minimal effort.
What does that mean? Does scheduling LinkedIn posts mean boosting the figures in your bank account? In less than a week?
Well, no. We're not talking magic here.
Instead, what we are talking about is a strategic and consistent approach to brand and business building.
Let me show you how exactly.
#1. Saves the BIGGEST Investment in your Business
Stephen Covey says "The key is in not spending time, but investing in it."
As an entrepreneur, that might just hit home.
Time is the biggest investment your make in your business. Whether it's your personal brand or your company that sells products or services.
You probably work on your business module three-quarters of a day and still find it less. Because there's so much on your mind, so much you wish to achieve, but can't help the chains of time. There are only 24 hours in a day!
But guess what?
Scheduling your LinkedIn posts can help you overcome these restrictions.
Usually, if you type in your post directly on LinkedIn every single day, it will take you approximately 30-45 minutes daily. That gives a total of 3.5 – 5.25 hours weekly.
These 30-45 minutes will involve a battle against your focus as you make time for the post from your busy schedule. It will involve wrecking your brain for ideas and then getting it all together + waiting to post at a time that gets you the best engagement.
In comparison to that, drafting all your content ideas, creating posts, and scheduling them altogether (let's say on Sunday), will take you 2-3 hours in total. With all your focus directed towards one task and a week-long reserve of creativity, you'll be able to do it quickly and easily.
Plus, it reduces the number of tasks on your everyday list. Thus, relieving your nerves and allowing you to invest time in newer, figure-increasing activities.
#2. Builds You a Reliable Reputation in the Industry
You should be scheduling your posts for LinkedIn and post more consistently if you wish to be recognized in your industry.
Any individual and company that shows up more and more to service their people with their knowledge, experience, learnings, and achievements are always more valued than someone who shows up in ages.
With more recognition, you also increase your chances of attracting leads and opportunities.
#3. Assists Inbound & Outbound Marketing
Posting consistently does not only keep you present at the platform, acknowledged and recognized by your peers and colleagues. It also helps immensely with inbound marketing.
The content you put out serves as an excellent means of generating more leads.
You can incorporate your audience's interest in your posts. Be it story-telling, polls, articles, findings, or even everyday experience. According to a report, LinkedIn offers a 2.74% visitor-to-lead conversion rate. Now, this is thrice as much as on Twitter and Facebook.
The same is true for outbound marketing. Scheduling your posts allows you to strategize and systemize your content. You can plan out your content beforehand and schedule it according to the 40/40/20 rule. It states:
Direct 40% of your posts towards providing value to your audience by your field knowledge. This is where you promote yourself.
Direct another 40% towards generating engagement. Tag people and encourage them to talk back.
Direct 20% of your posts towards advertising your product or services. Don't take a direct tone about it. Instead, narrate a successful experience or share a client's feedback.
Does LinkedIn Offer Post Scheduling?
No! Quite unfortunately, LinkedIn does not offer its very own post-scheduling feature. However, you can use third-party tools such as those mentioned in the next section.
Use LinkedIn Scheduling Tools Instead
Third-party LinkedIn scheduling tools like PostDrips basically bridge the gap between your prepared content and LinkedIn. These save you from logging in every day to contribute your post on the platform and also help preserve your ideas when your posts are nothing but raw, random thoughts. You can draft your ideas, edit them, and publish them later.
How to Schedule a post on PostDrips?
To get started on PostDrips, follow these steps:
Click on Login with LinkedIn at the top right of the PostDrips.com homepage. Once you've logged in, you'll have a screen as follows: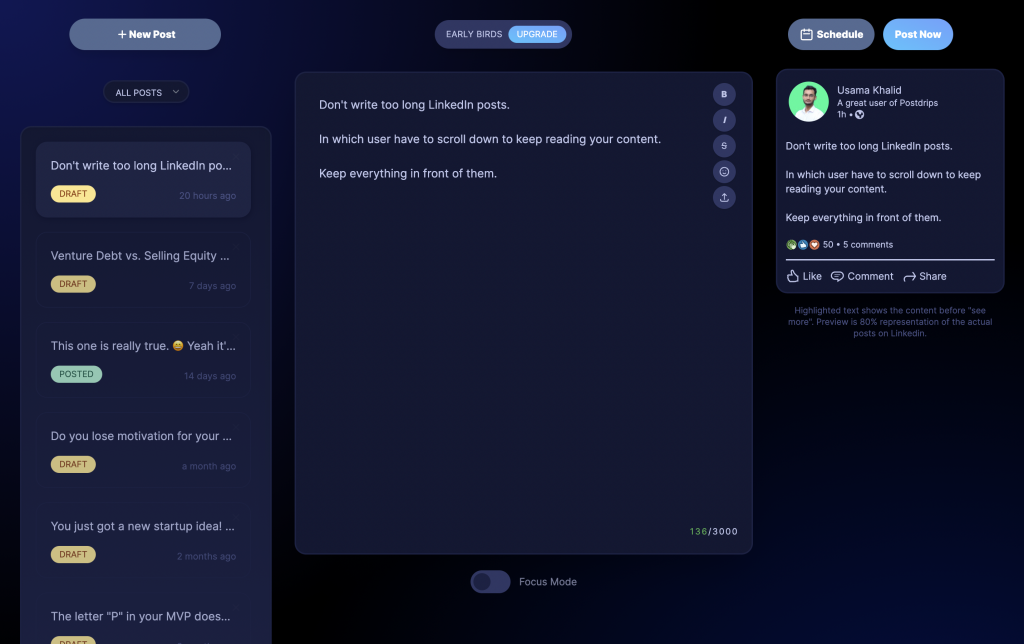 Begin typing in the box in the central box. PostDrips offers several features to customize your post. You read more about it here.
Once ready, click on the schedule button.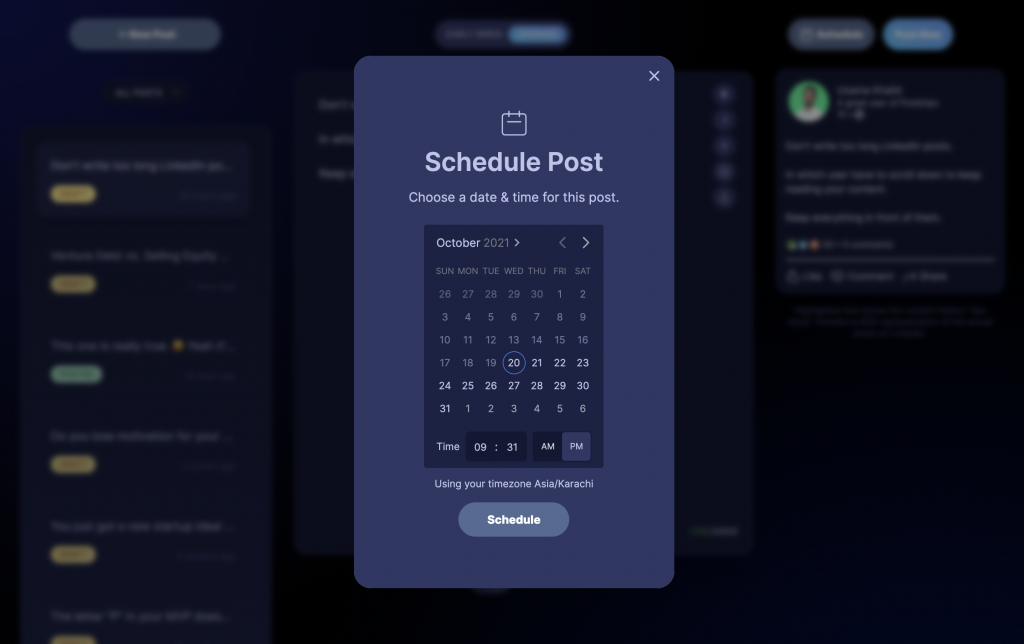 If your content strategy involves targeting an audience of a specific region, then use schedule feature to direct your posts to people of a specific time zone. Otherwise, choose an independent day and time for automatic post-publication.
FAQs
Q. Can I schedule a LinkedIn post for free?
Yes! You can schedule your posts for free during your trial period in most LinkedIn scheduling tools. If the specific tool works for you, you can proceed with the paid monthly/annual plan.
Q. Can I backdate LinkedIn posts?
No! LinkedIn doesn't yet permit backdating your posts.
Q. Does LinkedIn allow users to save draft posts?
Yes, LinkedIn now allows users to draft a post and come back later to finish it. However, you cannot continue to browse LinkedIn until you've finalized your post. In case you wish to do that, you will have to discard your post.