Even before August 18th, 2021, when PostDrips finally came out of the curtains, we knew something in here would cut down half of your personal branding struggles. We knew something in here would blow your minds (and it did – for good!).
Our LinkedIn scheduling tool wasn't only meant to automate your posts. Instead, we aimed to automate your success.
We aimed to automate the effectiveness of your say. We aimed to automate your exponential growth as you put out your learnings day after day.
And to achieve that, we incorporated the solution to the root cause of why most LinkedIn posts fail.
i.e.,
The Preview Feature
Too vague to grasp, I get you. Allow me to explain.
What is the Post Preview Feature?
At PostDrips, when you draft a post, you will see something like this: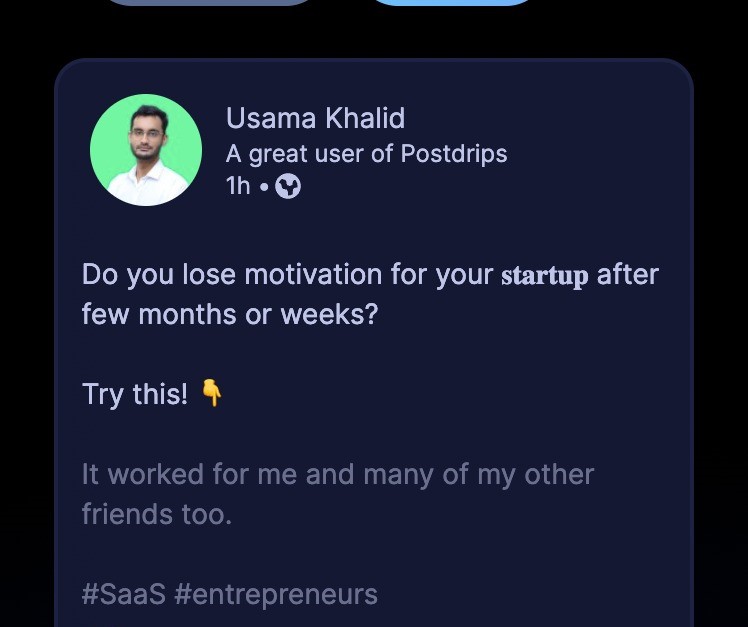 Our tool lets you see about one to two lines of your post, which appears before see more. Everything below this benchmark fades out, such as the gray text in the image above.
It is the exact preview of the first 80 characters of your post (with spaces) once it is published. It is exactly how it will appear on your audiences' feed.
Summing up, our preview feature prepares a ready-to-go look of your post. It prepares a mock-up of your post and provides a deeper insight into your content's potential.
Top 3 LinkedIn Wins with Preview Feature
As it predicts, it also serves as a gateway to improvement. It helps to:
Hook Your Reader
If you are someone who's into content creation of any sort, you might be well aware of how crucial the first lines are.
Be it an ad, a blog post, a story, or a video script. The first lines always serve as clickbait.
If you manage to arrest your reader's attention there, you're highly likely to develop a decent following within months. If you continue to pour your creativity into the first lines, chances are high your content will never go to waste.
So, with the preview right in front of you, you can read and assess whether the first line of your draft post compels you to click on see more.
If it doesn't: change!
Also, for those who judge themselves too much, read your first lines at least thrice with equal intervals in between before changing it. For example, read it once and then come back to it after an hour. Read and assess your opinion on it. Hold. Come back after another hour, read, and take the due action.
Plan the Look of Your Feed
When planning our personal brand, we all have the urge to have nothing less than perfect on our walls. What's perfect to you – that's another case.
But whatever it is, PostDrips' preview feature will take care that it gets it accurately for you. You can draft your posts for the week or month, visualize how they will appear on the reader's end, and determine if that's the kind of impression you would want to give.
Track Your Experiments
For beginners out there, i.e., those who have just begun with personal branding or their LinkedIn coach, or LinkedIn influencing career, the preview feature can do wonders.
When you plan out your post for the week, implement a different strategy in each of your post's first lines. Try a different way of grabbing your reader's attention. Once published, track the engagements, and there you will have what worked and what didn't.
Make the Most!
Our preview feature can hack the way for you. But it cannot instill quality in your posts. That's something still limited to the human brain, and we encourage you to make the most!
Your presence at LinkedIn speaks volumes about your skills and command. At times, the engagement of your posts may not reflect it so, and that's okay. We know the LinkedIn algorithm is super picky and tricky – you can read more about it here.
But that which you have to say – it truly represents you. Make sure that your first lines make your intentions clear. Make sure those who entrust their time to you after being arrested by your introductory lines, enjoy it all the way. Make sure they leave with something valuable, something with them to stay, by the time they leave your page.