Life at LinkedIn is much different than other social media platforms. A steady, convenient, and rewarding journey here demands the use of LinkedIn tools.
Why? Well, that's because LinkedIn isn't built to put up with fluctuations. It isn't the place to put up all that pops up in your mind.
You're building a brand there, be it your very own or your company's. It demands consistency if you truly wish to stand on an influencing position.
Given the fact you're only human and could be poles apart within a day, it's quite too tough of a task. And that's particularly true for these pandemic-stricken days when emotional and mental instability is at peak for many.
Nevertheless, that doesn't mean you've to halt your LinkedIn growth. Because we've got a complete LinkedIn toolkit for you – the tools in here will save you time, effort, ideas, and energy – making LinkedIn management super easy!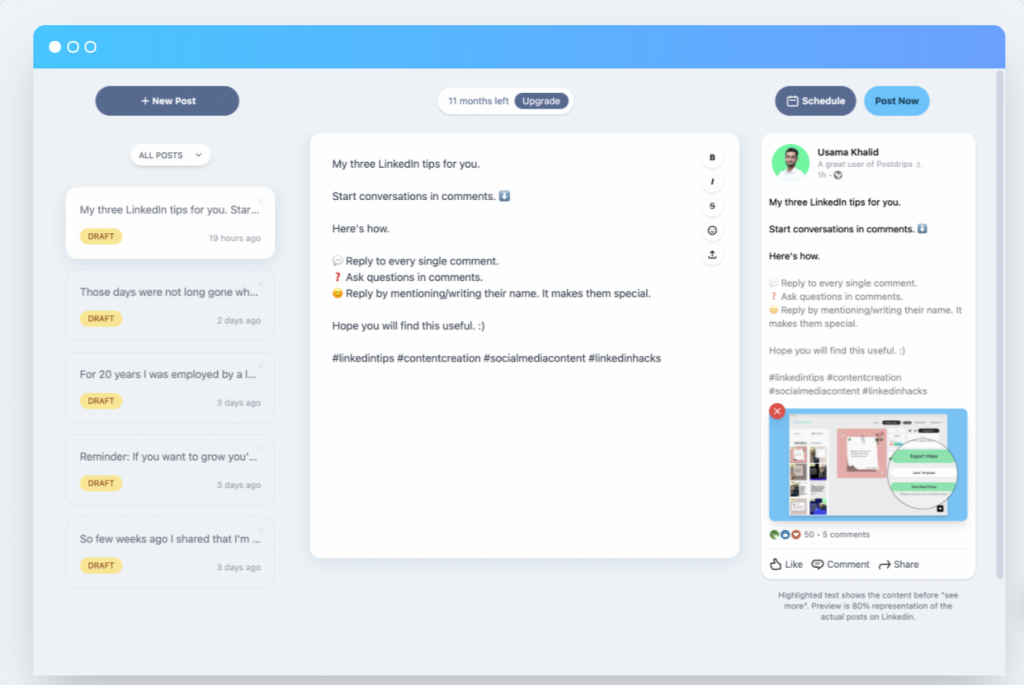 Launched August 2021, Post Drips is one of the unique LinkedIn tools out there. It's one of the very prototypes of upcoming LinkedIn Management Systems.
Using this tool, you can operate your LinkedIn account the same way you'd operate your website. Draft all your ideas in one place and then finalize them one by one at your convenience.
You can then schedule these for automated publishing. In this way, you will save yourself the time and effort to come on and off, now and then to publish your post at the perfect time. Just schedule it beforehand and proceed with the rest of your week worry-free.
Plus, it offers text styling and supports all sorts of media files. So, you can have your LinkedIn content board all set and ready to go live before the week even begins!
All of this comes at only $9 per month or $108 per year. Currently, Postdrips.com is even offering a 25% discount on its yearly plan! Check it out here.
Used by several LinkedIn influencers, Shield Analytics is an excellent tool to monitor your LinkedIn success rate. The tool gives a graphical representation of your audience demographics. You can use this data to enhance and optimize your posts, so they perform even better.
For an idea, here are a few examples of Shield Analytics tool used for a well-performing LinkedIn account: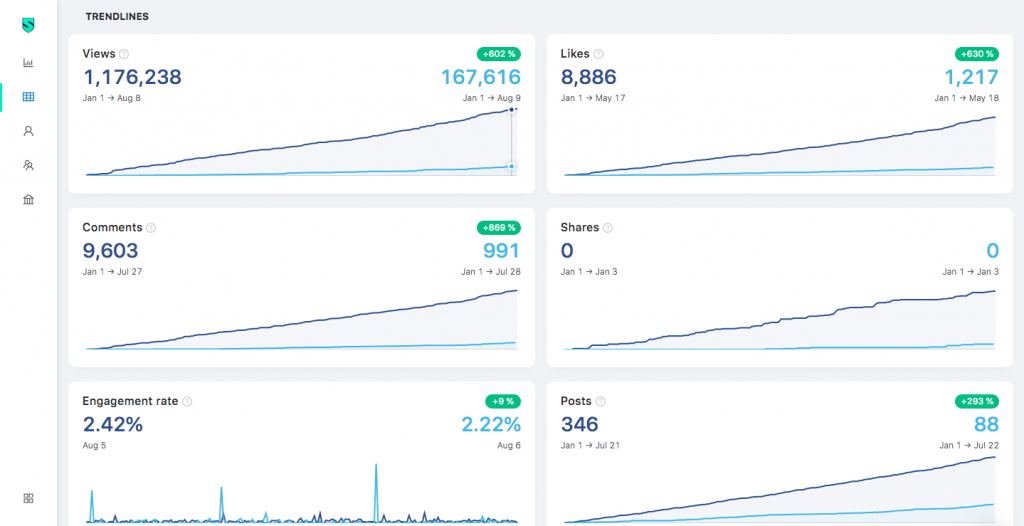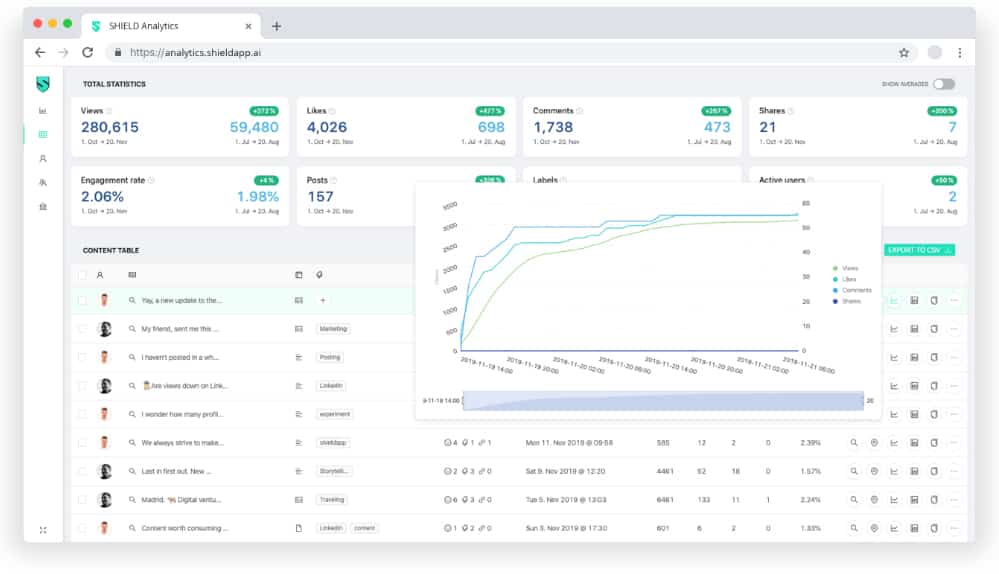 To sum up, the tool promises guaranteed organic growth by providing you a breakdown of:
Post-performance
Type of people who view them
By knowing the amount of engagement and reactions that a post gets, you can determine what worked best and work more on incorporating the identified element in your content strategy. Similarly, knowing the kind of people who interact with you, i.e., their roles, locations, etcetera, you can easily decide what more to put out.
The starter package of this tool costs $6 with a free 10-day trial. It offers all key metrics, post overview, viewer's profile stats, and even an indicator of your post's life.
Following this, they offer a package for content creators at $12 per month. It promises comparison of post performances, categorization as per content labels, network analytics, and more.
For influencers, Shield Analytics offers a package at $19, which includes all of the features of the Starter and Creator Package. But it also offers additional perks like keyword and hashtag search. With this, you can target what's trending and upscale your LinkedIn game overnight.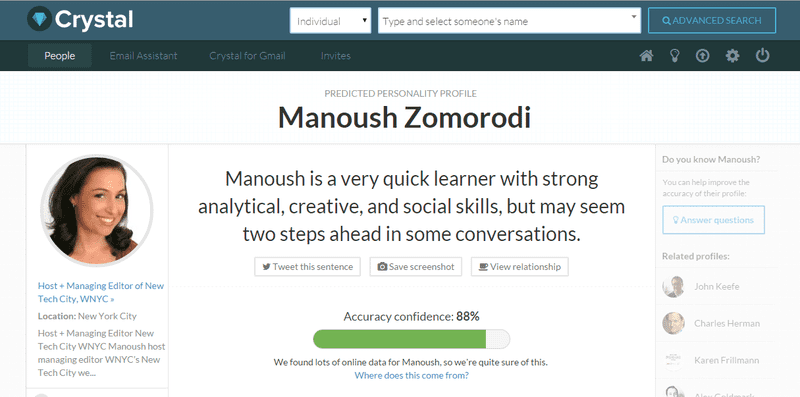 Crystal is a tool you should use if you wish to personally connect with your audience. The tool helps discover the personality of your connect.
It uses the DISC framework to help businesses and personal brands become more human. DISC stands for:
Dominant
Influential
Steady
Conscientious
By assessing your connections' personalities, you can communicate with them in more meaningful ways. You can craft content that's more relevant to them.
To use it, you can download the free chrome extension for Crystal Knows here. Once downloaded, it will evaluate and display the personality diagnosis automatically for the LinkedIn profile you're currently looking at.
The web app or extension will search up the person's Facebook, Instagram, blog posts, and tweets to bring you their preferred set of words, interests, and means of communicating. You can use this data to write super effective emails and LinkedIn messages for your clients and connections.
It costs $19 per month. But if you are only starting, I'd recommend using the free version. It offers personality tests of 10 profiles per day. All in all, it's an excellent prospecting tool.