So, you're searching for LinkedIn content tips. Must be eager to boost your engagement rate?
But by the way, do you know what categorizes as a good engagement rate on LinkedIn? A rough idea?
Well, I bet you'd be surprised to know that it's only 2 percent. You only need to generate an overall two percent of interactions on your posts to own a well-performing LinkedIn account. These interactions could be likes, comments, shares, views, and whatnot.
Sounds easy?
Well, only theoretically.
Practically speaking, generating even two percent of engagement on LinkedIn is an art. Not everybody can do that. Not unless they pay due attention to this art and implement the strategic approach that the whole process requires. You know, at least 61 million of the audience you have there are senior-level executives and 40 million of them in decision-making positions. Crafting interesting enough posts for these people is tough. No?
But, chill. The reason I write today is to ease the process for you.
Here, in this post, you'll get to know about the type of content that performs best, along with the top 3 common approaches of successful LinkedIn users.
Recommended Post Format & Types
Technically, all types of contents will perform well, given that you incorporate the following four attributes in your posts:
Originality
Precision
Industry relevancy
Empathy factor (i.e., Relatable facts, figures, scenarios, or solutions.)
Be it text or visuals. If all of these four elements are present in there, your post is highly likely to generate killer results. But then again, it'll take loads of research, experience, and effort to gather all four at once.
Hence, what you can do is begin working one by one on the following preferred and effective post format and types:
Blog Posts
Textual Posts
Videos
Infographics
Carousels
Now, there are three ways you may share a textual or blog post on LinkedIn. You can share the link of a published article in your status update, or you can write an article directly on the platform. Or you can syndicate, i.e., republish a blog that already exists on your company's blog.
Blogposts, particularly those longer than 2000, words perform well because they provide greater value to your reader. Whenever sharing a link, make sure you add an appealing feature image and 1-2 teaser introductory sentences. Note that the limit for text posts is 300-350 characters, and it's best to use these in bullet forms.
Similarly, unsponsored videos tend to perform the best on LinkedIn. Ideally, a 15-second video about a tip or best practice in the industry is likely to hold your audience on your post as they scroll through their feed. The same applies to quick introduction, guide, or an event recap via infographics or carousels.
Top 3 LinkedIn Content Tips for Generating Maximum Engagement
Time for some quick LinkedIn content tips:
#1. Make Short Video Content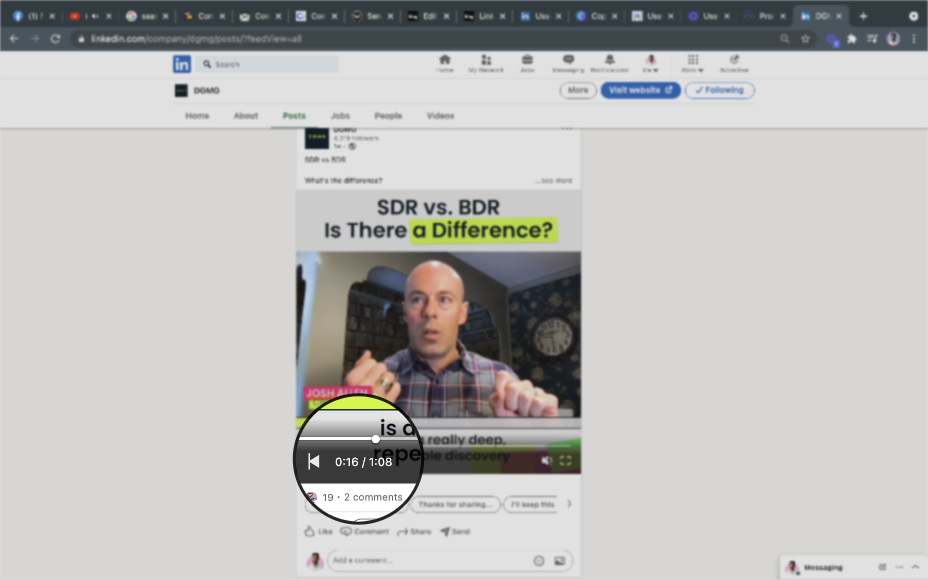 If you choose to produce video content, try to keep the length of the video within 30-60 seconds. And if the video exceeds 30 seconds, make sure you provide subtitles since most of your audience will be viewing the video while scrolling with the sound turned off. Also, it's always best to provide a 1-3 sentences-long textual introduction for short videos.
#2. Opt for Multiple Image Posts Instead of Single Images
Posting pictures is a good move. But posting multiple pictures relevant to the same subject in one post is a smart move. It delivers more in one go.
For that reason, it's best to make use of carousels. Technically, these are your budget-friendly videos.
How so? Well, carousels tend to have the same influence as that of video. The plus point is these are cost-efficient on your end and time-efficient on the user's end. Thus, becoming popular by the day.
Also, carousels deal way much better with the growing impatience levels of internet users than videos ever would. You could experiment with this free-of-cost at ContentDrips right away. (Not a penny spent, and kaboom! You will have mark-making content in your hands!).
#3. Share Blog Posts that You have read
Now, this is simple but important. If you continue sharing blogs that you haven't ever read just for the sake of posting something, you will not be able to communicate its worth and value to your audience. You will not be able to effectively convince them about why they should invest time in it. And your inability to do so will only negatively impact your career opportunities.
Don't just share the link, write your thoughts on it as well. You can even turn that blogpost into a few bullet points or maybe make a multi-image post (carousel post) for that blog.
P.S. Build a community!!!
Lastly, do not forget the gist of LinkedIn: it's all about connecting with people in your industry and building relationships. And you can't do that if you keep on talking about your brand only. Occasionally, associate with your audience on other topics as well, exchange opinions, add value to their ideas, and be open to their valuable suggestions. And hey, sharing LinkedIn content tips like these with your audience will only multiply the profits coming your way, you know. Better keep it friendly and sincere!
Try out Contentdrips for creating your LinkedIn content:
https://contentdrips.com/