Did you know? Three out of 22 million Instagram posts are not solo images. They are not even videos – short or long. And no. They are not your ordinary so-called graphic distractions. They are carousels.

Yup. You read that right. Your reader is more likely to swipe right and weigh the value of your post on their own rather than reading lengthy captions or patiently sitting through a 90 seconds long video.

The world is one-the-go. You can't blame them, you know! Instead, you can catch up with their pace. Perhaps, get on the same page, make use of Instagram carousel templates, and make content generation an easy and effective process.
Now, take it easy. I'm not leaving you at that.

That's quite a vague suggestion, I know.

Let me take you to a more specific, or must I say, the ultimate solution to your concerns.
Content Drips – Your One-Stop Solution
Established only recently, Content Drips is your one-stop solution for carousels of all sorts. Whether you wish to craft a carousel for your Instagram account or your LinkedIn, this all-embracing platform has got it all covered for you

You can create, edit, and access your carousels via Content Drips anywhere and everywhere, that too free of cost. Just login from your browser and begin weaving your magic into that of Content Drips'.
Ready to Use Instagram Carousel Templates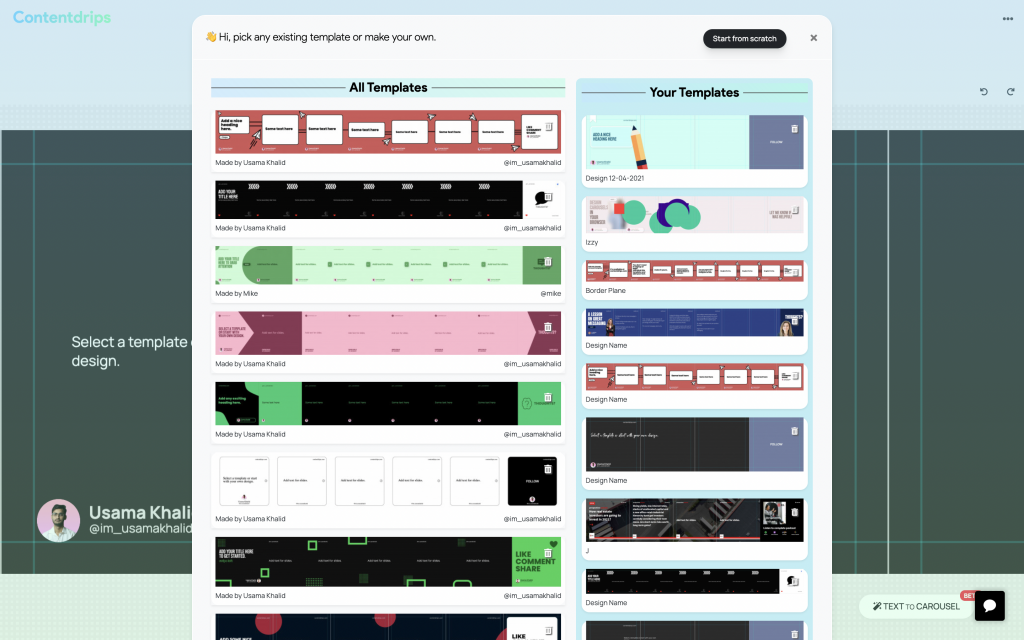 Although you can create brand new carousels on Content Drips, right from scratch, you can also make use of the creative range available on the platform. Like the tool, the templates are also free of cost.

You can either insert your relevant content in the template and use it just as is (nope, no copyright issues!). They are for you.

Or you can make minor changes, such as that of color or perhaps, adding/deleting a certain element to customize the template as per your needs.
Top 3 Carousel-making Features
With that said, let us now have a look at the top stand-out features of Content Drips that aim to make your life easy.
Smart Clone
Unlike other unnecessarily ornate apps and tools, Content Drips does not expect you to work on the same stuff over and over again. If you want two exact same elements for two different slides, use Smart Clone to replicate the same element at the same position on the next slide.
One Point Edits
One-point edits make one-click edits possible. You need not waste time dragging stuff, adjusting, and aligning. Click, type, change, edit, and there you go!
One Canvas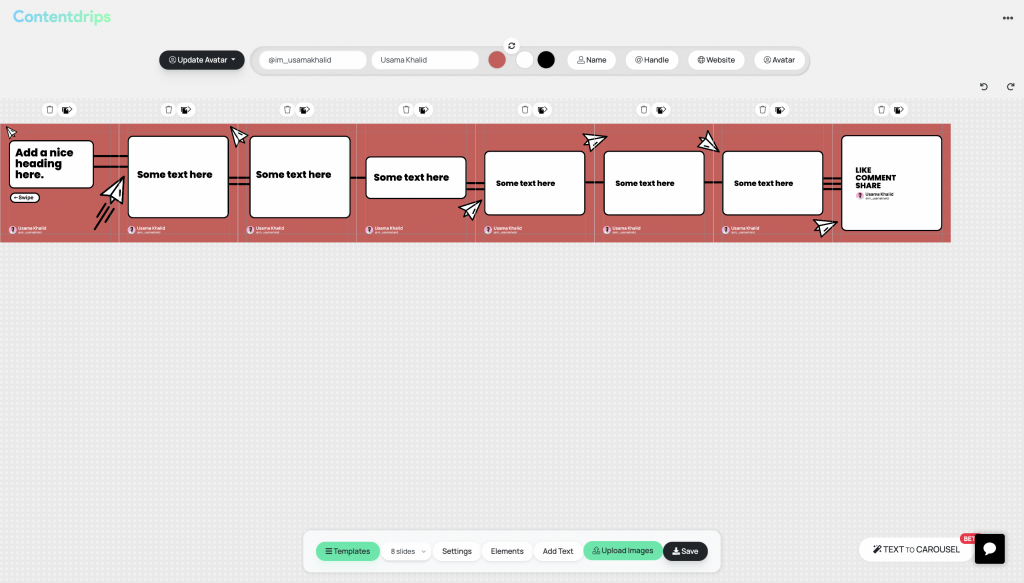 Last but certainly not least, Content Drips eliminates the need to put the puzzles together yourself. Instead, you can see the big picture yourself by viewing all slides at once as part of your big canvas. Quite evidently, that provides room for more innovative and creative ideas.
Perfect Your Carousels
You know what, the three million carousels uploaded now and then generate more engagement than the rest of the 19 million content. These capture your audiences' attention by 1.92% compared to 1.74 % of images and 1.45% of videos.

I could play it cool. Maybe tell you, it's alright; take your time to process and consider making effective use of Content Drips' carousel-making tool.

But the truth is, you need to do it right now. Quick. There's not a second to waste. The competition's getting denser each passing second. Login right now and invest only 10 minutes crafting your first-ever professional Instagram carousel and see the results for yourself. Calls for good luck. I hope you grow!
Let us know if you have any questions.