Have you come across LinkedIn's carousel posts feature which allows you to share multiple pictures and it drives much more engagement & boost your personal brand's awareness. LinkedIn algorithm loves those.
If not, then you definitely need to give it a try!
What is a LinkedIn Carousel Post?
In 2018, LinkedIn launched a sharing feature for creating awareness about a brand's content and boosting engagement. This is done by sharing documents called carousel posts on your LinkedIn feed.
These posts are extremely useful since viewers can scroll through your documents and presentations without having to leave the application.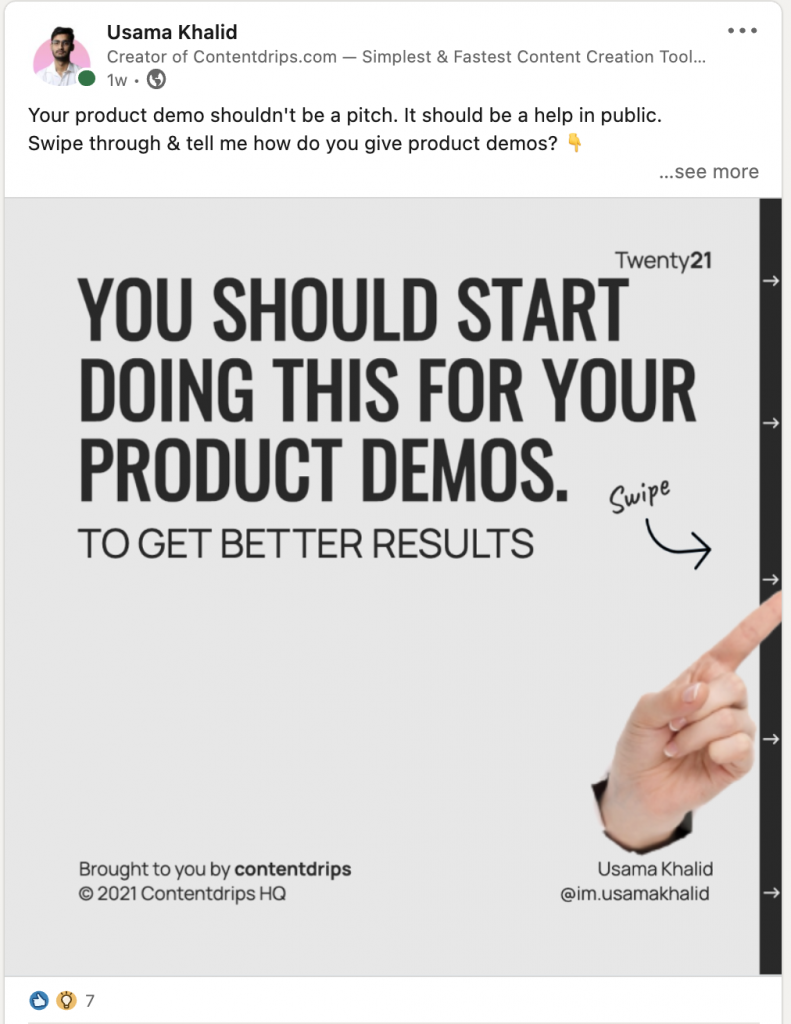 LinkedIn algorithm have something counts something like dwell time which is the average time user spend on the post. If user spend much time on your content. Algorithm will push that content more. So Carousel posts are usually longer and interactive so they perform really well.
Top influencer's on LinkedIn like Gary Vaynerchuk, make use of this content sharing feature to boost engagement, and you should as well if you want your brand's worth to be acknowledged.
How to Create a LinkedIn Carousel Post?
To create carousels for your LinkedIn, you can make use of Contentdrips Carousel Maker. This is an easy to use web application which works on any browser, and allows you to generate seamless carousels for your LinkedIn.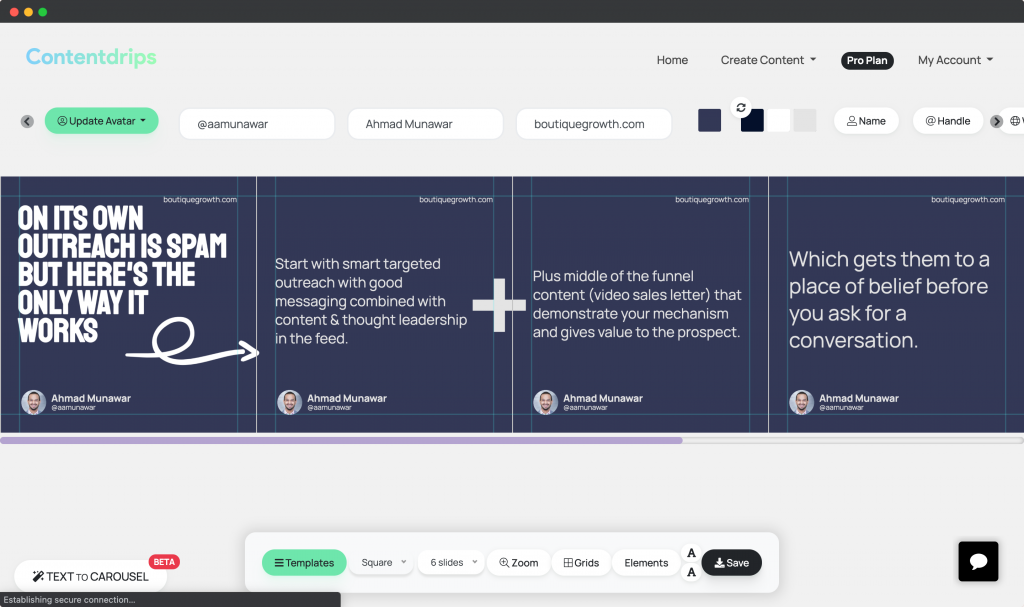 Within this application, you shall come across a variety of pre-made templates which you can select from, or if you are feeling creative you can design your own as well.
Once you have finished designing the carousel post, all you need to do is export the PDF version and upload it on your LinkedIn.
Specs which you should include on your LinkedIn Carousel posts.
When you start formulating your LinkedIn Carousel posts, you have to ensure that you are following the correct specs.
Below, we are listing some key specs and dimensions which you must always remember.
You won't be able to edit or make changes once your post is uploaded.
Ensure that your file size is under 100MBs.
Your file should not exceed more than 300 pages/slides. Having fewer pages ensures that the reader views all your content, and does not get bored.
For a higher quality, make sure that use PDF format.
Pro Tip: If you mention Swipe on first slide and add a image of yourself in first slide your carousel will perform much better.
Important Takeaways
You can make the most of your LinkedIn profile by creating a professional online presence, which you can achieve by using LinkedIn Carousel posts. Whether you want people to post a comment, or take them to a particular page, these posts will help you do so. They are visually more attractive, and at the same time are more interactive since the algorithm favors them.
Thus, we highly recommend that you turn most of you text content, be it a blog post or a twitter thread into carousel posts since they perform better.
So, what are you waiting for?

Make your carousel today at http://contentdrips.com/carouselmaker