You shouldn't be ignoring LinkedIn in 2021. It should be your number one social media platform. Compare to other social media platforms organic reach on LinkedIn is really really good. So today I'll share some tips that will help you put you put our more content on Linkedin using just Twitter.
Start focusing more on Twitter for your LinkedIn content.
This might sound weird that how you can grow on LinkedIn when you have much more focus on Twitter. After this blogpost this question will be answered.
For some reason posting content on Twitter feels much easier. Get yourself regular on Twitter. Organic reach on Twitter is good too. Start making twitter threads. Join the conversations and engage with people.
If you have a blog or podcast. Create twitter threads on them. They are like mini-blogs and it can be longer than 280 characters. By this way you create one content stream for yourself which you can plug onto different channels as well.
Here's the content tips to grow your LinkedIn in 2021 using just Twitter.
Turn your Twitter threads into a carousel post for LinkedIn.
So you made your Twitter thread. Let say from your blogpost or a podcast. Now you can repurpose that twitter thread as a carousel post for LinkedIn. Carousel post is a multi image post on LinkedIn. They tend to get more reach than text, photos or video posts.
Here's one example in which we turned a twitter thread into a carousel post.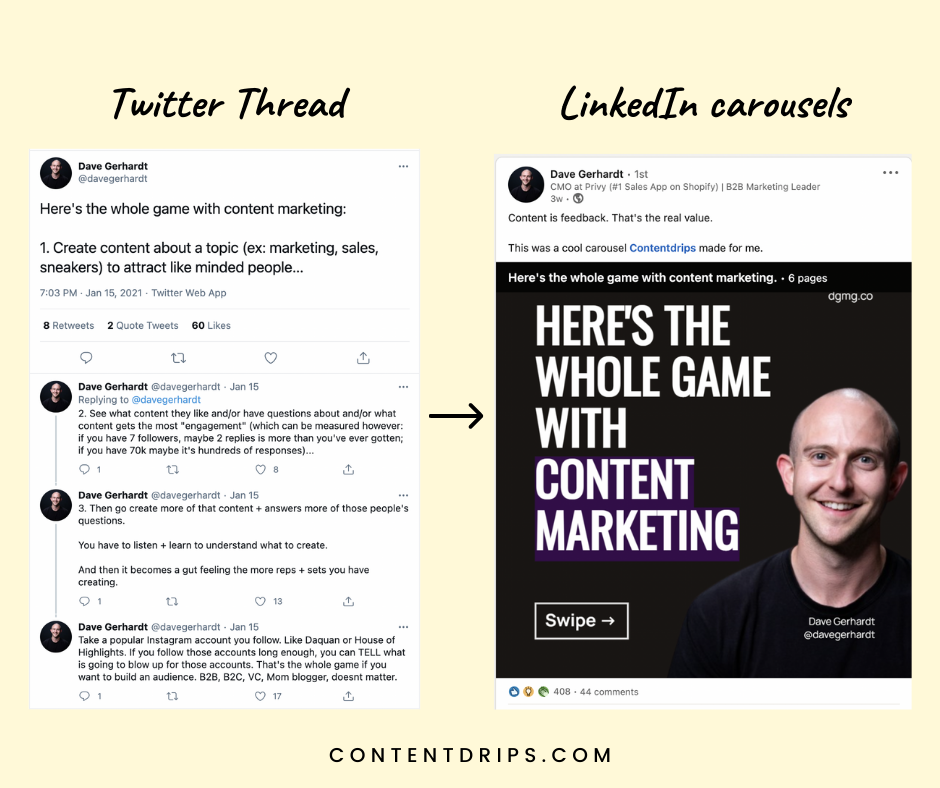 You can use Contentdrips Carousel Maker tool to create carousel posts like these effortlessly. It's a free tool and works within your browser.
Repost your tweets on LinkedIn as image.
Many people have been doing this for Instagram. You should be doing it for your LinkedIn as well. Make sure it's a small tweets. There are multiple ways you can make a image of it. You can use screenshot the tweet and post it out.
If you want to put in some more work into it. You can even make animated videos like these or add your branding on top of it to make it look much better.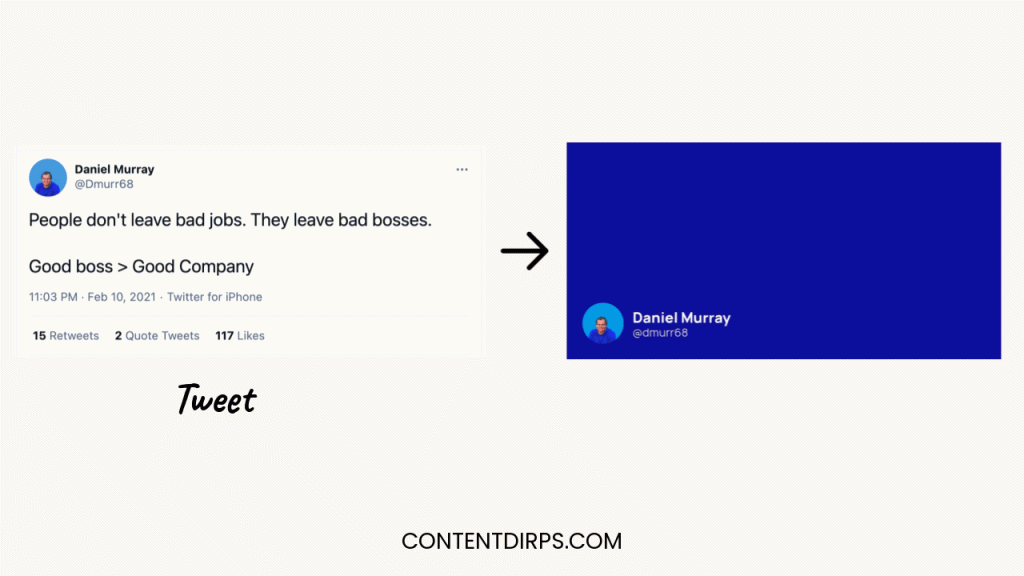 I'm sure these tips will help you to kick start your LinkedIn game. It's really one of the underrated platform right now. Remember that your one piece of content should go on multiple platforms.
Carousel post can go on LinkedIn & Instagram too. Similarly these tweet photos/videos can go on Instagram and Facebook too. Your twitter thread can be converted into a Medium blogpost too.
It's more about distribution, than the creation.
Right said by Ross Simmonds that "Create once. Distribute forever" that should by your motto. Keep distributing.
Let us know if you have anything to ask.
Tweet me @im_usamakhalid