Hi,
Today we will explain to you how you can create your own carousel for Instagram, LinkedIn or even Facebook Ads just from your browser. 
We will be using Contentdrips Carousel Maker. Make sure you are logged in so you can save your design when it's done.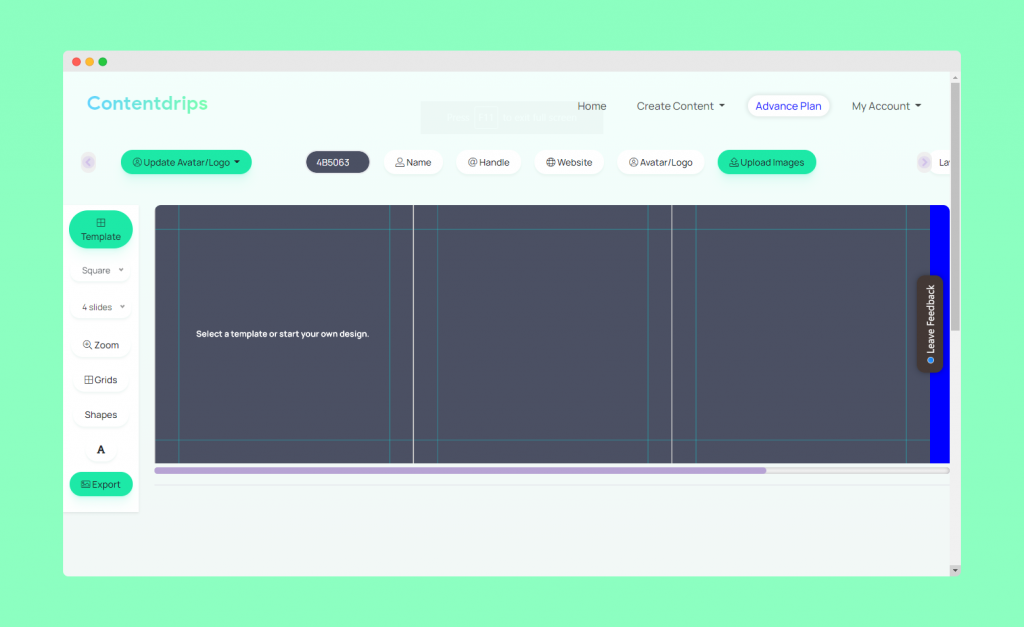 Just follow these steps:
First you create your profile where you can insert your full name, your social media handle, website and a picture or logo. (If you didn´t already do that.)

Go to https://contentdrips.com/carousel where you then can see your working area.

This is where you can start getting creative! Now if you need inspiration, you can click on "Template" where you will find different free to use templates which you could use for rapidly creating your carousel or you can just make your own.

Now I will explain to you some of the features that it offers.

First you should decide how many slides you want to create. You can design up to 10 slides by clicking on the "4 slides" button.

Then you can change the background color of your carousel.

By hitting the "A" button, you can add a text. If you click on the text element, you can choose which font type, size, color and many other things your text should have.

"Shapes" will let you choose between squares, circles and triangles which you can insert.

Now we are coming to a very cool feature that Contentdrips offers: By hitting the buttons "Name", "Handle", "Website" or "Avatar/Logo", Contentdrips will automatically insert the information you put into your profile in the beginning!

To upload images into your carousel, you have two options: You can either click on "Upload Images", select the right folder on your computer and open it or you can just copy the picture directly from your browser and insert it by hitting Crlt + V. This way you do not even have to save the image on your computer.


After you have finished your carousel design, you can download it via the "Export" button. There you can choose if you want to download your carousel in PNG (ZIP) or in PDF. Also, you can safe your template if you want to keep on working on it or use it again another time.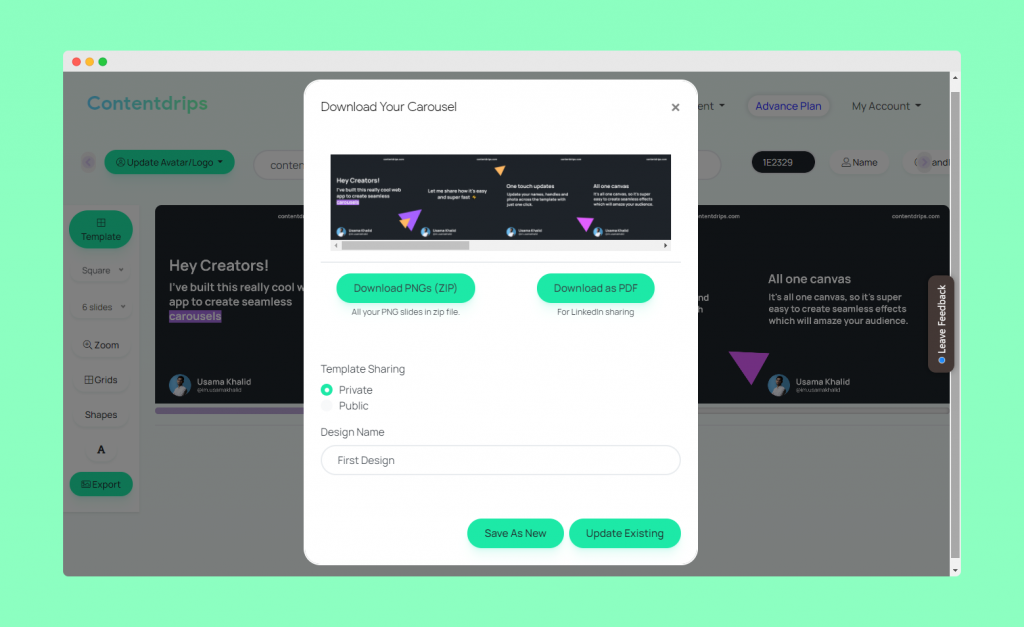 So much for the Contentdrips carouselmaker! I hope you liked this short blogpost and if you have any questions about it, let us know!
We also created a video tutorial on how to use the Carousel Maker which you can watch here: