In the ever-evolving landscape of professional networking, finding inspiration for your LinkedIn profile can be a game-changer. In this digital age, where connections and content reign supreme, it's crucial to stand out.
We've scoured the platform to bring you a diverse selection of LinkedIn profiles that not only excel in their respective fields but also offer valuable lessons on how to create an engaging and impactful presence.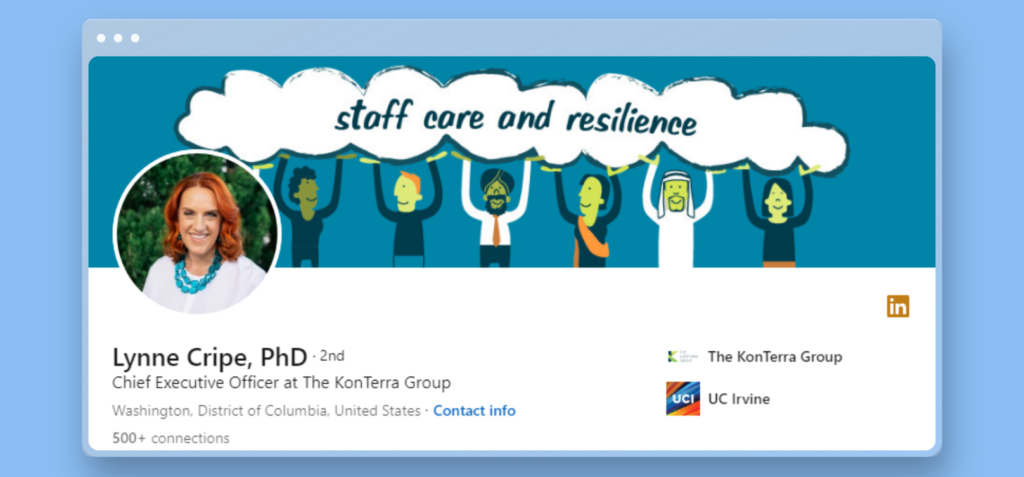 Lynne Cripe, CEO of The KonTerra Group, is a true inspiration for professionals seeking to make a meaningful posts on the humanitarian and development sectors. Her dedication to supporting and empowering individuals and organizations shines through in her posts and activities.
Lynne's dedication to fostering resilience, providing essential support, and advocating for those in need is truly inspirational. Her work serves as a reminder of the importance of compassion and empathy in our professional endeavors.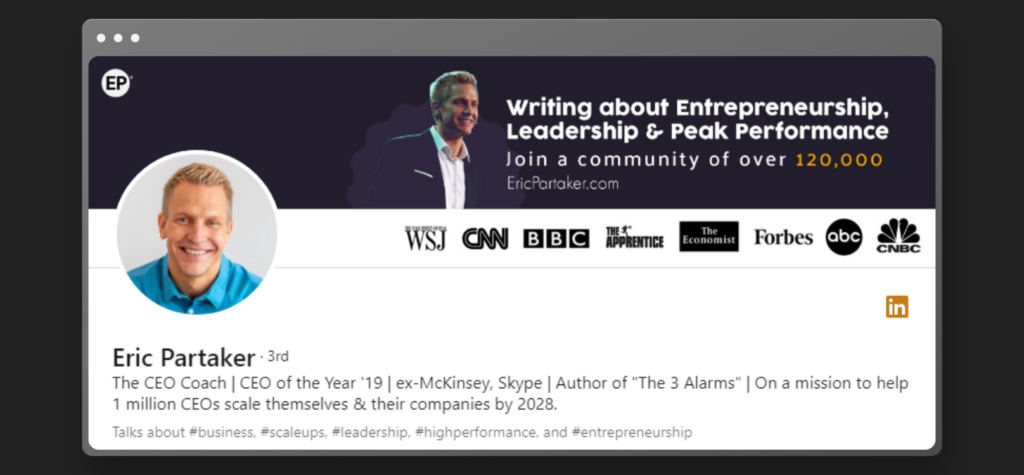 Eric Partaker, CEO Coach shares valuable insights on leadership, productivity, and the impact of AI through his LinkedIn posts. He emphasizes the importance of consistency, quality, and learning in his journey to becoming a prominent voice on LinkedIn.
Some of his recent posts cover topics like psychological safety, leadership traits, the evolution of AI and robotics, and recommendations for CEOs. Eric also provides recommendations for AI tools in various domains.
Eric's posts are not only informative but also inspiring for professionals looking to enhance their leadership skills and leverage AI for productivity and growth.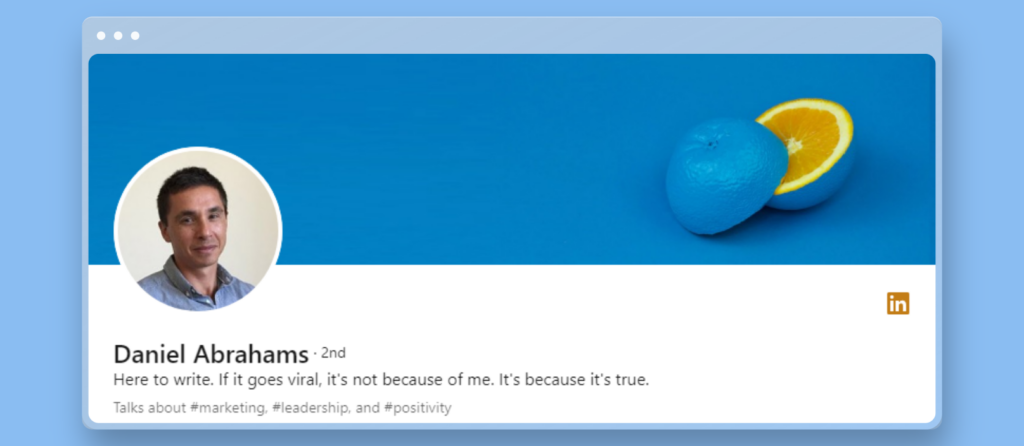 Daniel Abrahams is an active LinkedIn user who shares content related to marketing, leadership, and positivity. His posts encompass a wide range of topics. He likes to share insightful videos and images that encourage personal growth and self-improvement.
Daniel appears to have a significant online presence, and his posts generally revolve around motivating and inspiring his audience with valuable insights and thought-provoking quotes from notable figures like Steve Jobs and Marlon Brando.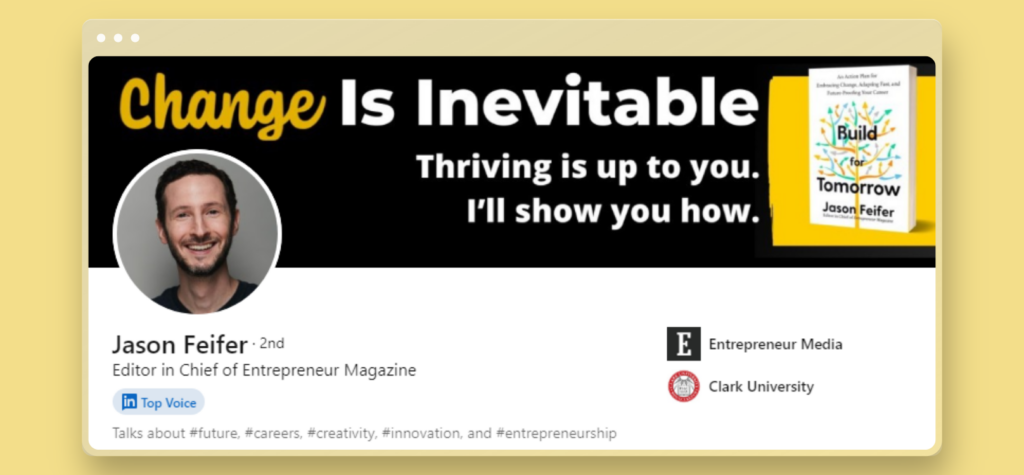 Jason Feifer is the Editor in Chief of Entrepreneur Magazine and is known for sharing insightful content related to the future, careers, creativity, innovation, and entrepreneurship.
He often injects humor into his posts, making them engaging and relatable to his audience. In his posts, he provides valuable advice, shares interesting stories, and encourages his followers to think differently and creatively about various aspects of life and business. Jason's content is not only informative but also entertaining, making it both educational and enjoyable to read.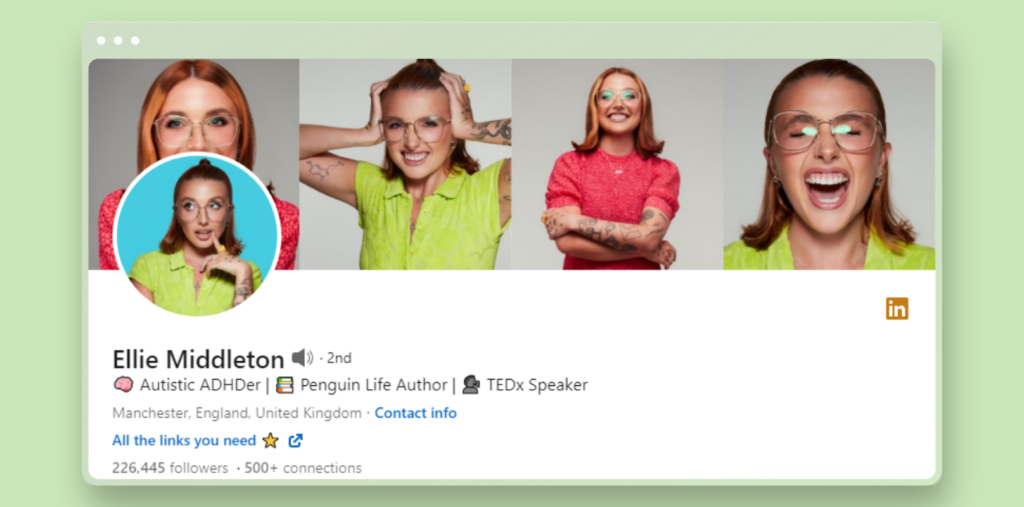 Ellie Middleton's LinkedIn profile is anything but ordinary. She brings a unique and refreshing perspective to the platform. She shows us that LinkedIn doesn't need to be so boring.
Ellie is a passionate advocate for neurodiversity and inclusion, and her posts challenge people to reconsider their language and behavior, particularly in professional settings. She uses her platform to raise awareness and promote understanding, which adds depth and purpose to her LinkedIn presence.
She reminds her audience that success isn't just about professional achievements but also about taking care of oneself. Engagement is a key feature of Ellie's LinkedIn presence. She actively interacts with comments on her posts, fostering meaningful discussions and connections. This engagement adds depth to her content and encourages others to join the conversation.
She encourages others to bring their authentic selves to the professional realm, enriching the LinkedIn experience for everyone.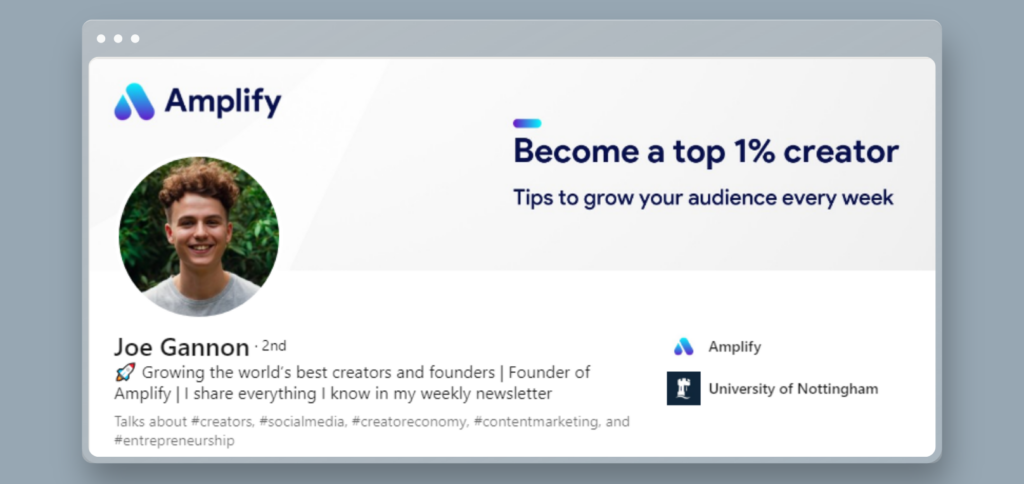 Joe Gannon's LinkedIn profile is a testament to his expertise in nurturing creators and founders while sharing his knowledge with an engaged audience.
What stands out on Joe's profile is his LinkedIn banner. It's a prime example of effective branding on LinkedIn. Simple and to the point, it complements his bio perfectly. It encourages users to follow him to access his valuable posts. It draws in potential followers, highlighting the value they can gain by connecting with Joe.
His posts include a mix of insightful tips and relatable personal experiences. He also delves into profound discussions about the impact of technology on our lives and the challenges faced by creators and entrepreneurs. These longer-form posts allow for in-depth exploration and encourage thoughtful conversations among his followers.
Joe Gannon's LinkedIn profile is a prime example of how to effectively use the platform to share knowledge, engage with an audience, and build a personal brand.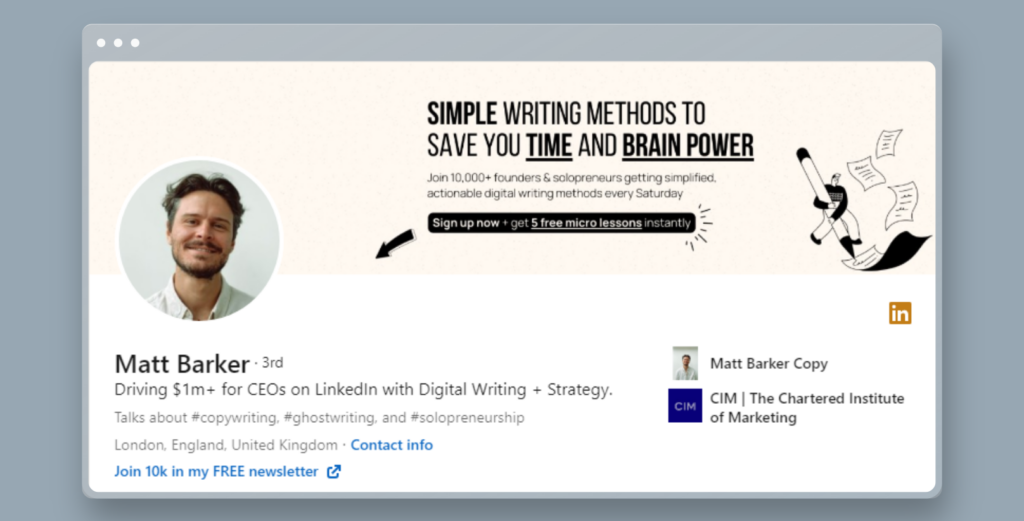 Matt Barker's LinkedIn profile is a treasure trove of information. His posts cover various valuable topics, including digital writing, marketing, and entrepreneurship. He often shares practical tips, insights, and personal experiences, making his content actionable and engaging.
Matt doesn't just stick to professional topics; he also adds a personal touch to his profile. His post about "rich habits" show his humorous side, making him more relatable to his audience.
But his "About" section stands out as a gem on his profile. He empathizes with his target audience by addressing their pain points. He acknowledges their struggles with LinkedIn posting and provides compelling reasons to take action.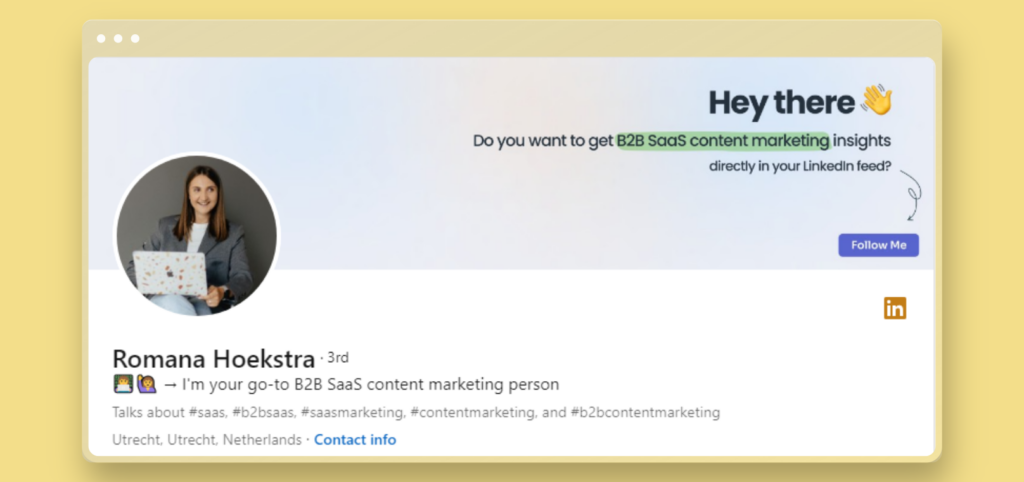 Romana Hoekstra's LinkedIn profile is a goldmine of valuable insights and inspiration for B2B SaaS content marketing professionals. Her profile is well-structured, with a clear and concise bio that highlights her expertise and previous experience at Leadfeeder.

Her recent posts provide practical advice, like shifting the focus from creation to distribution and optimizing content marketing efforts for better results.
Additionally, Romana shares her personal journey and experiences, such as transitioning from journalism to content marketing and her commitment to improving her LinkedIn presence. These personal touches make her profile relatable and engaging.
Overall, Romana Hoekstra's LinkedIn profile is a well-crafted example of effective content marketing. It not only shares valuable insights but also demonstrates how to engage and connect with an audience effectively.
Conclusion:
We showed you some of the best LinkedIn profiles that offer inspiration and insights, it's clear that this professional platform has evolved far beyond its initial purpose.
It has become a stage for thought leaders, change-makers, and innovators to shine.
These profiles show us that LinkedIn is more than a digital resume; it's a canvas for your professional story.
Whether you're a seasoned professional or just starting your journey, there's much to learn from these LinkedIn luminaries. So, take a page from their digital playbook, and embark on your own journey to LinkedIn greatness. Your next connection, opportunity, or inspiration might be just one click away.