Looking to post a job ad but don't know where to start? Don't worry we've got your back.

In this blog we'll show you the A to Z on how to post job ad on LinkedIn. From how to create a job post to templates to using ChatGPT to write the perfect job description and examples, We'll show you everything.

Whether you're a small business owner, a hiring manager, or an HR professional, this ultimate guide will equip you with the knowledge to maximize your job ad's visibility and attract top talent.

So buckle up and keep on reading.
How to post a job ad:
Let's start with creating the job post:
First open your LinkedIn, then there's two ways to go about this, You could either click on the "Post a job for free" button located at the top right of the page.

Or you could click on the Jobs icon at the top on the page and then click on the post a free job button on the left side of the page.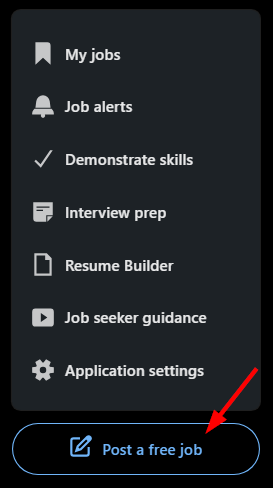 That will open up the job post editor page.
Here you can add all the details needed for the post.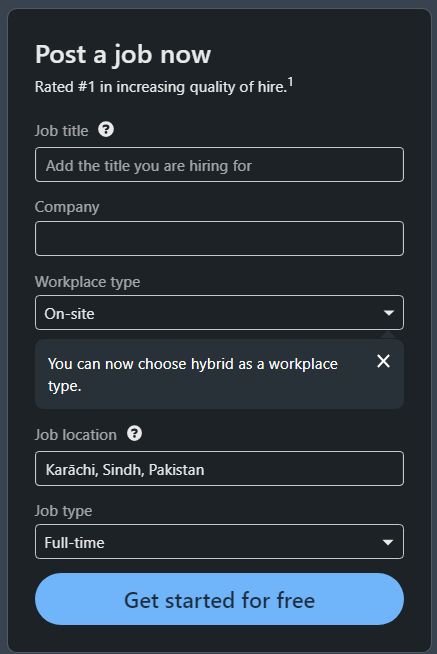 After adding all the needed information click on "Get started for free".
This will take you to another page of the editor where you can add you job's description and skill keywords to your job ad.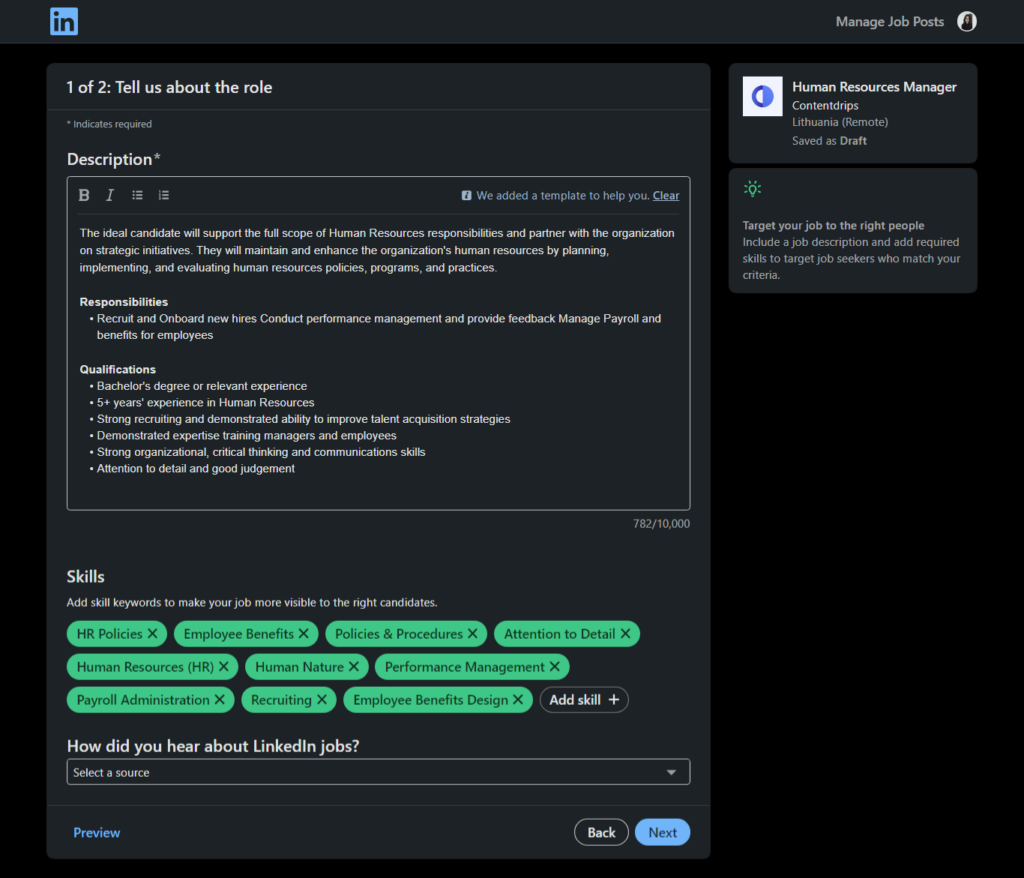 LinkedIn has added a template for your ease, you can use that as reference or use the one we will provide below.
After adding the description and skill keywords, click on "Next".
This will take you to page 2 of your job post editor, Where you can add further details to your job ad. Like where do you want to receive applications, through LinkedIn or an external website.
Edit and write the questions for the application, add screening questions. Enable and disable automatic rejections for applicants who do not meet the requirements.
And check and uncheck whether you want to put the #Hiring frame to your profile photo.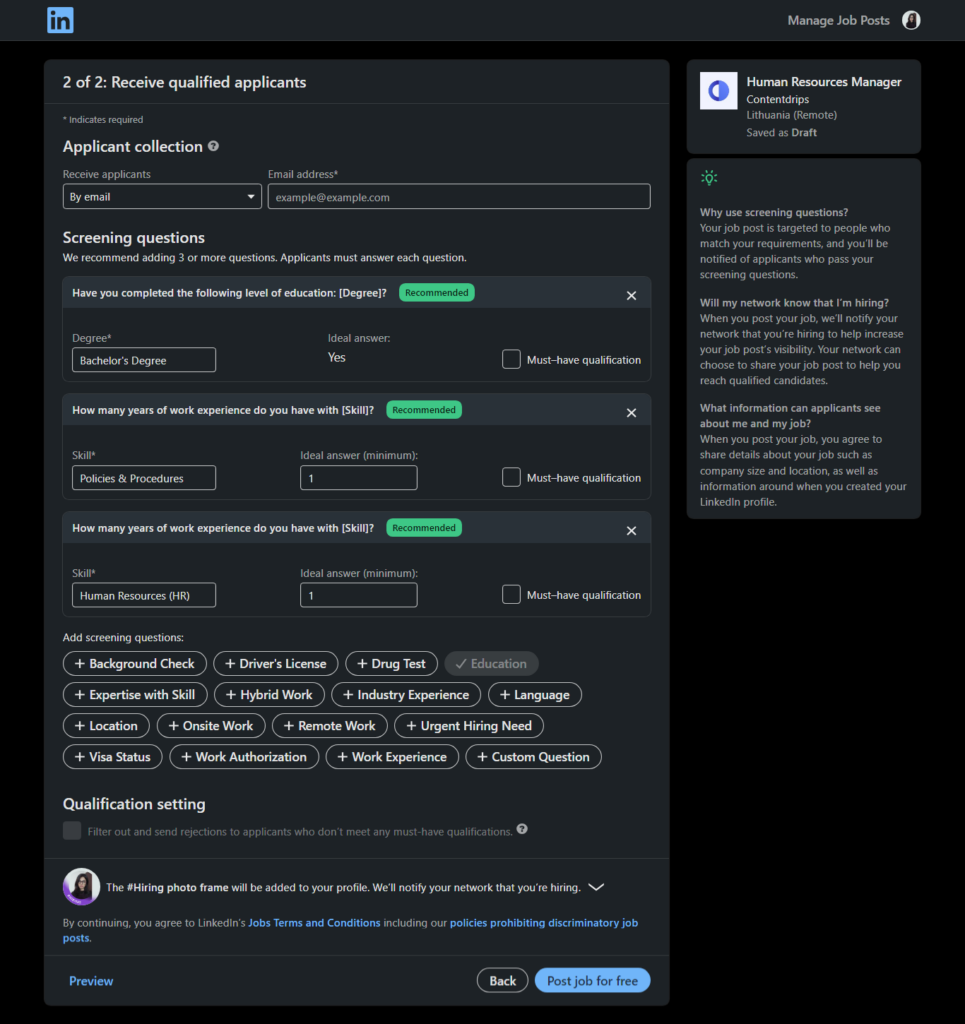 After filling out this form, you can click on "Post job for free" at the bottom of the page.
Here it will ask you to confirm your Company email using a verification code. (If you haven't already confirmed your email to LinkedIn before this)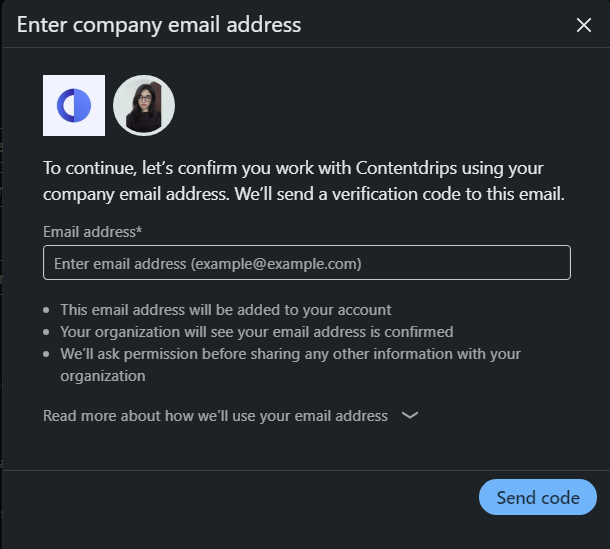 After this it will ask you whether you want to post a free job or a promoted job.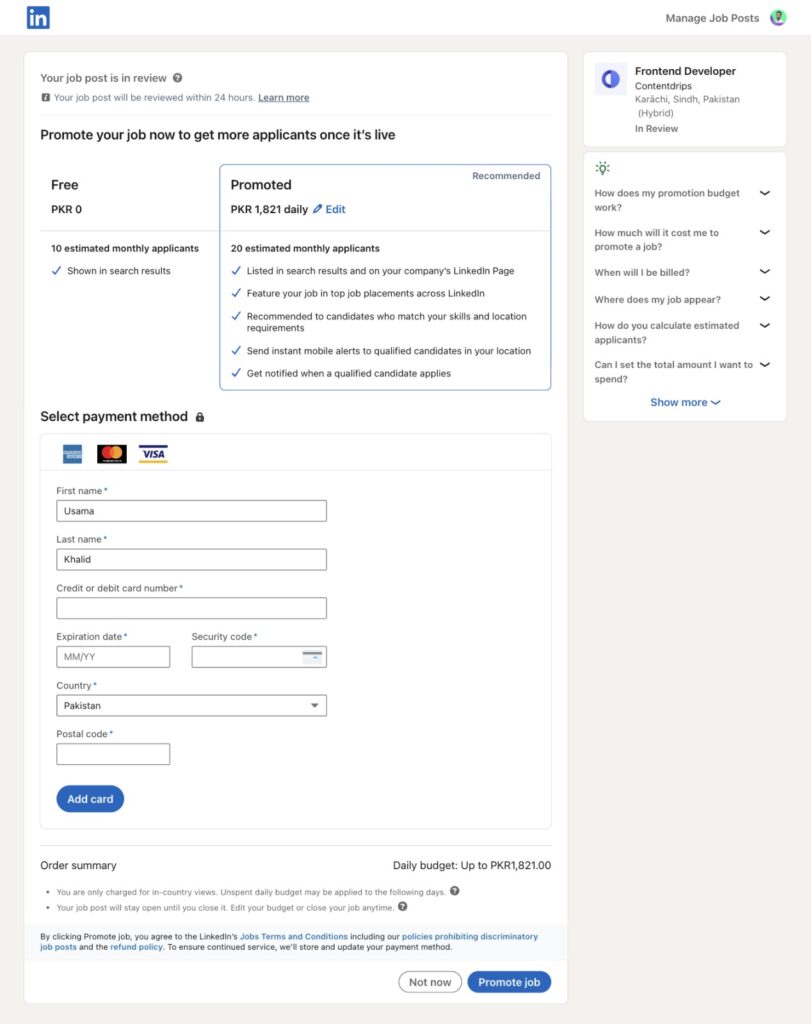 After choosing whichever option suits you best you can click on "promote job". And it will post your job ad.

You can also choose whether to post it your profile or not.
Template:
While LinkedIn provides it's own template. Here's an even more extensive template that you can use as a reference to make your post:
[Company Name] is seeking a talented [Job Title] to join our dynamic team. We are a [description of the company's industry or niche] company that values innovation, teamwork, and dedication to excellence. If you are passionate about [relevant industry/field], have a proven track record of success, and thrive in a collaborative environment, we want to hear from you!

Job Description:
In this role, you will be responsible for [provide a concise overview of the job responsibilities and tasks]. You will collaborate with [relevant teams or departments] to [describe specific objectives or projects]. Additionally, you will [highlight any unique aspects or challenges of the role].

Requirements:
[Specify requirement 1]
[Specify requirement 2]
[Specify requirement 3]
[Specify requirement 4]
[Specify requirement 5]
Qualifications:
[Specify qualification 1]
[Specify qualification 2]
[Specify qualification 3]
[Specify qualification 4]
[Specify qualification 5]
Key Responsibilities:
[Highlight key responsibilities and duties]
[Highlight key responsibilities and duties]
[Highlight key responsibilities and duties]
Benefits:
At [Company Name], we believe in taking care of our employees and fostering their professional growth. We offer competitive compensation packages, comprehensive benefits, and a supportive work environment that encourages learning and development.
Using ChatGPT to make your Job post:
Now that you have a template you can even use ChatGPT to write out your entire job description.
To do that just paste the template and your information on ChatGPT and ask it to fill out the template with your given information.
Here's a prompt, just in case:
Write me a job post using this template and the information I provide:

Company name:
Job title:
Relevant industry/field:
provide a concise overview of the job responsibilities and tasks:
relevant teams or departments:
describe specific objectives or projects:
highlight any unique aspects or challenges of the role:
Requirements and Qualifications:
key responsibilities and duties:
Benefits:
[Add the Template here]
Fill out the information and Don't forget to add the template with the prompt. Also feel free to add or remove any extra detail or requirement.
Example:
Here is a job post ad made with the template given above: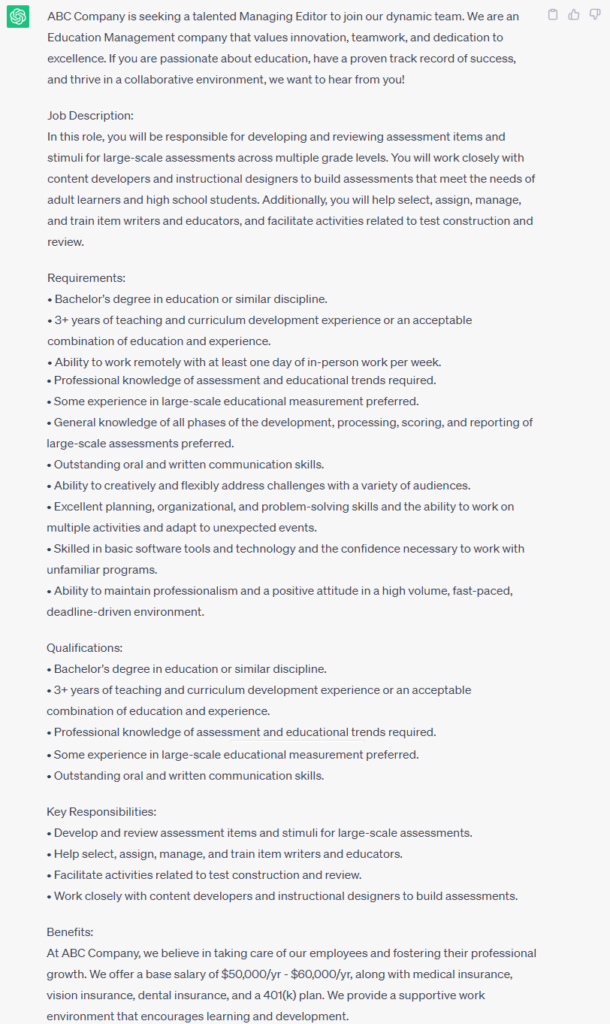 Skills:
You can even ask ChatGPT to generate relevant skill keywords for the job ad as well.
Use this prompt in the same chat where you asked ChatGPT to write you the job:
"Suggest skills and skill keywords relevant to this job post"
Example: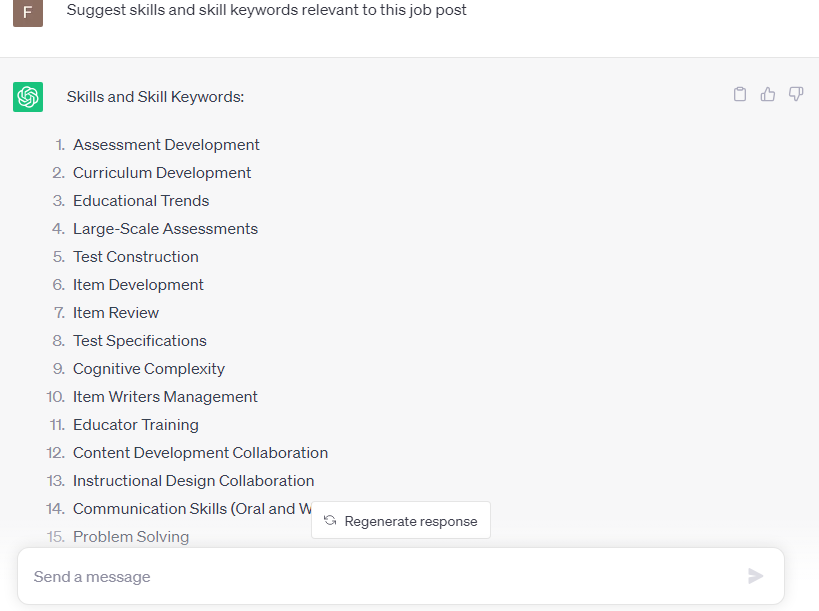 If that chat gets lost or is unusable for any reason, use this prompt along with your prepared job description:
"Read this Job description and suggest me some skill keywords that are relevant to this LinkedIn job post."
[Prepared job description and requirements]
Real-life Job Ad Examples:
Here are a few real job post ads you can use as examples: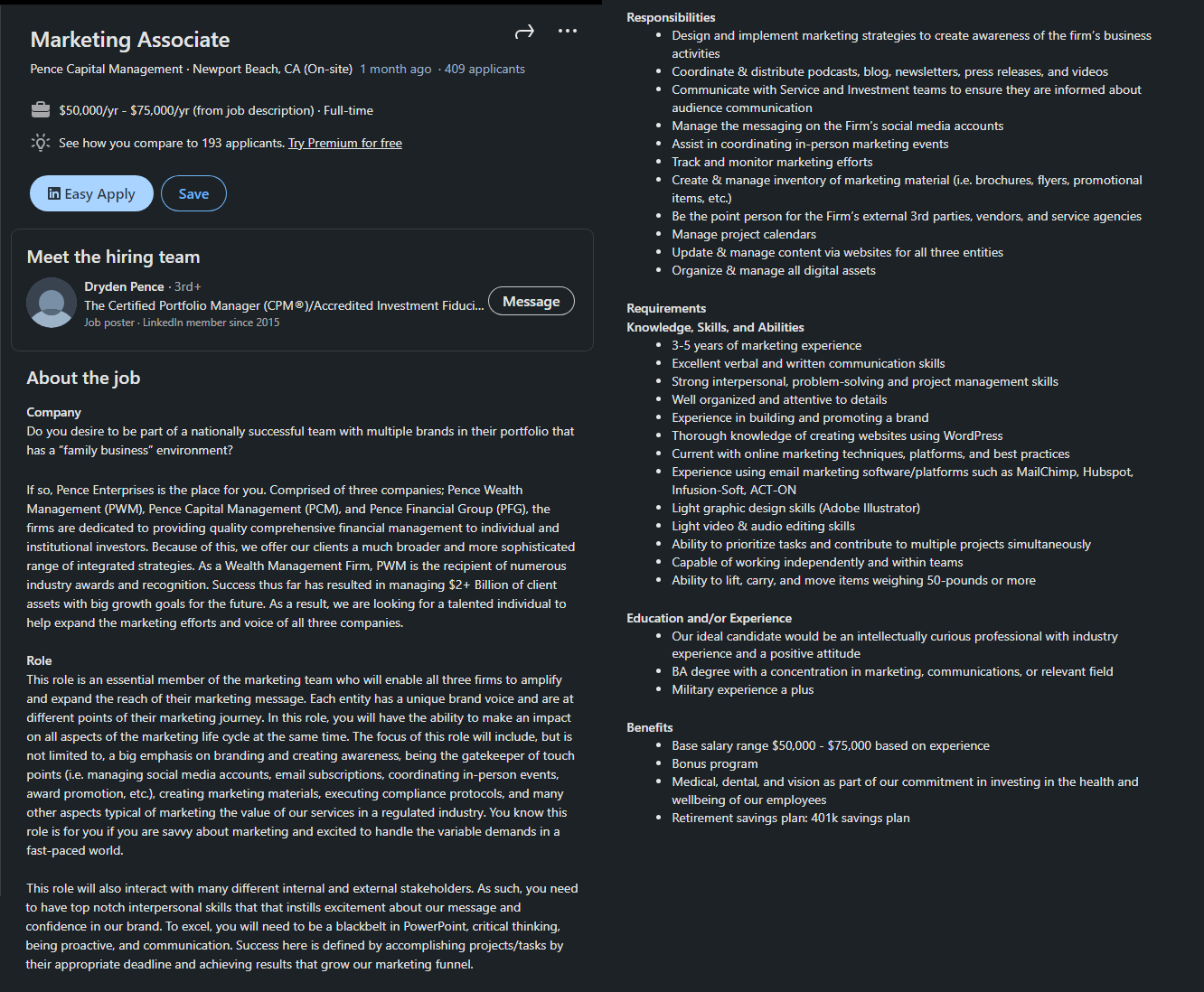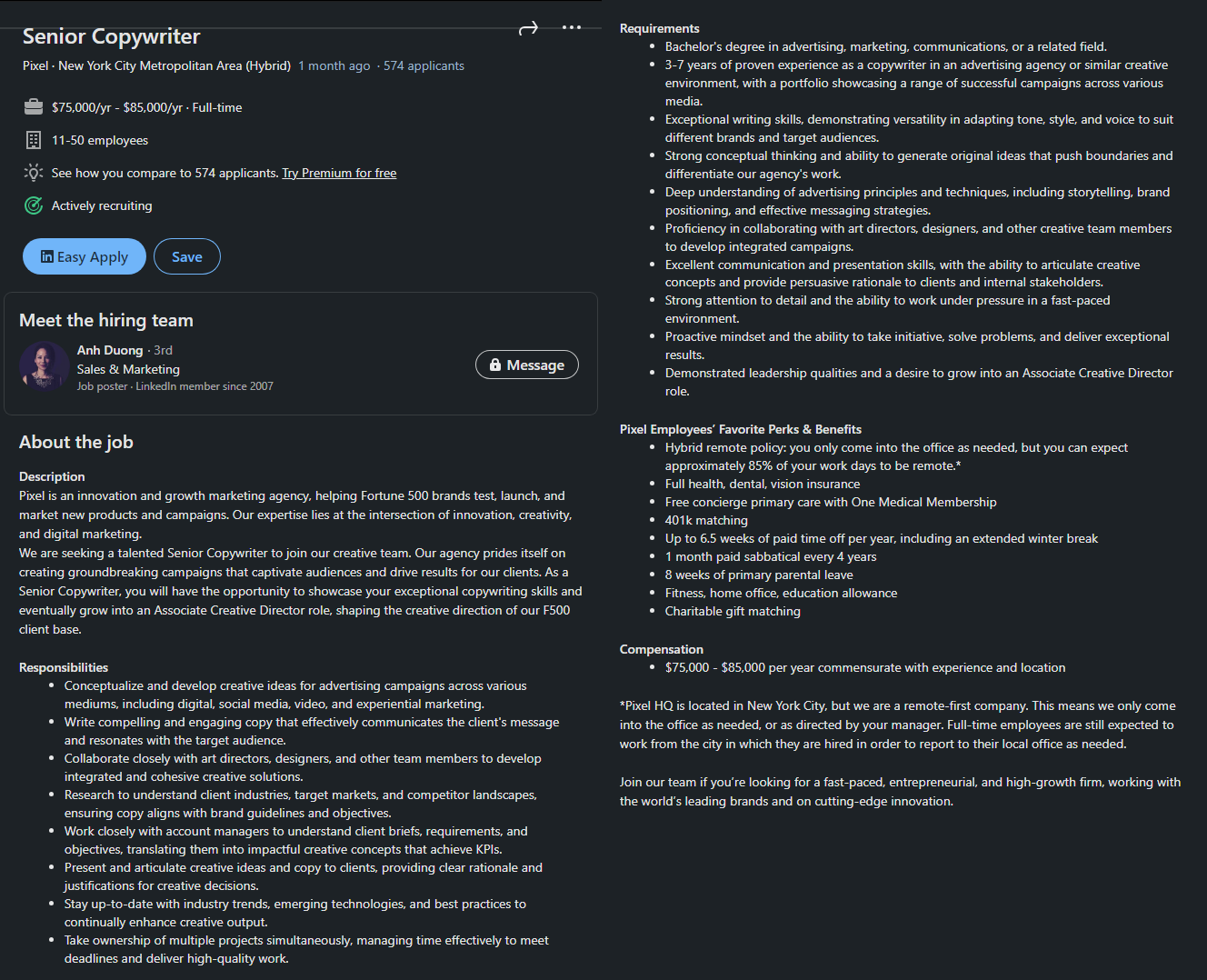 Conclusion:
Posting a job ad on LinkedIn can be a straightforward process with the right guidance. This ultimate guide has provided you with a step-by-step approach to creating a job post, utilizing templates, and even using ChatGPT to assist in crafting the perfect job description.
By following the outlined steps and leveraging the resources provided, you'll be well-prepared to navigate the job posting process on LinkedIn and find the ideal candidates for your organization.
So, take the insights you've gained here, put them into action, and get ready to connect with exceptional talent in your industry.
Good luck!