What happens when you run out of idea and don't know what to post? Reuse content to make it look like you make new content everyday.
Influencer do it all the time you just don't notice.
In this blog, we will explore the various ways and tools you can use to repurpose your content effectively.
So, whether you're a seasoned marketer, a content creator, or an entrepreneur looking to maximize your content's impact, I'm sure you'll learn something new.
So, without further ado here are a few different ways you can repurpose your content (without looking like you've run out of ideas)
Repurposing text posts into videos/GIFs:
Take the hook of any of your plain text posts, copy the text and make it into a single image post, add text animations or a moving background behind the text, add other embellishments and graphics and you've got yourself a GIF, to which you can add music and turn into a video.
Example:

You can post these videos or GIFs on Instagram, Facebook or LinkedIn.
Tools you can use to make this post:
Kapwing.
Adobe Express.
Contentdrips.
Canva.
Repurposing text posts into carousels:
Copy the text of your post and paste it into Contentdrips text to carousel tool.
It will instantly turn your text into a carousel apply your branding and adjust text to each slide by itself.
Example:

You can post this carousel on LinkedIn and Instagram.
Tools you can use to make this post:
Contentdrips.
Canva.
Repurposing Blog posts into single image or carousel posts:
Take the main points of your blog or just the title of it, turn it into a hook and paste it onto a carousel template.
Watch your blog turn into carousel.
You can use this type of post to show your social media audience the content of your blogs in a more digestible and easy to read way or you could use this as a chance to draw your social media audience towards your blogs by giving them tidbits of information and adding a call to go to the blog's link to learn more. This would also help you organically market your blogs to different people.
Example: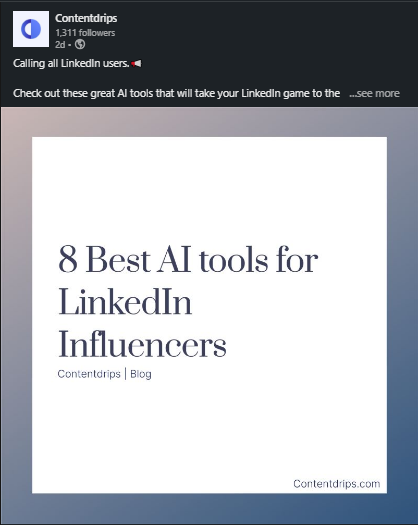 Tools you can use to make this post:
Contentdrips.
Canva.
VistaCreate.
Microsoft Designer.
Repurposing longer videos into shorts and reels:
YouTube Shorts:
YouTube has this new feature where you can create a short by cutting a portion of a video, edit and resize it and post it on your channel. But the video has to be from your own channel.
You can also cut a portion of any video, stitch it with some new content and post it as a short.
Example: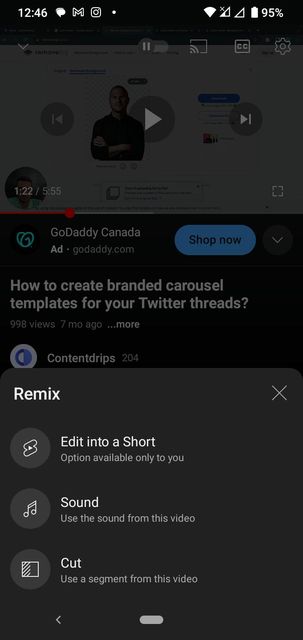 Podcasts and video conferences:
If you create podcasts or long videos like seminars, live streams or took part in a webinar you could cut a specific part of that turn into a reel or short for TikTok, Instagram, Facebook, YouTube and even post it on LinkedIn.
Example: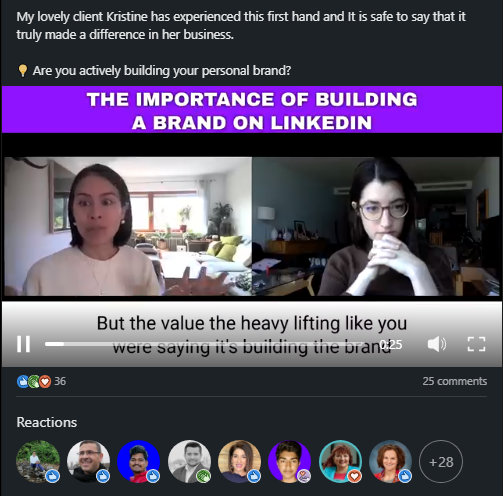 Tools you can use to make this post:
Veed.
CapCut.
Invideo.
Adobe Express.
Canva.
Biteable.
Repurposing tweets:
Turn tweets into reels and shorts:
So for tweets, among other things two ways of repurposing are currently trending, let's look into the first one.

To turn tweets into reels you will have to get a screenshot of the tweet of your choice, overlay it onto the screenshot over a short video.
The video could be a video of your or something you captured or a stock video.
Example:

Tools you can use to make this post:
Canva.
Veed.
Kapwing.

Turn a twitter thread into a carousel post:
Another way you could repurpose tweets is to turn it into a carousel. You can either add screenshots of your twitter thread to every slide of a carousel.
Or you could use Contentdrips' Twitter thread to carousel feature, where you can add your twitter thread URL and it'll automatically turn it into a carousel with your branding. All the while auto-adjusting to the tweet to the slide and adding more slides according to the number of tweets.
Example:


Tools you can use to make this post:
Contentdrips.
Taplio.
Conclusion:
Through this blog, we have explored various ways and tools to repurpose content effectively. Whether it's transforming text posts into engaging videos, creating carousels to showcase blog highlights, turning longer videos into captivating shorts and reels, or repurposing tweets into carousel posts, the possibilities are endless.
By using these strategies and utilizing tools such as Contentdrips, Canva, and more, you can effortlessly reimagine your content and maintain a consistent flow of fresh and engaging material.
So, start repurposing, and see your social media flourish and your audience grow.
Happy repurposing!