Why are cover photos important?
Whether you're are there to find a job, or a casual user or you're an influencer or if you want to promote your product. You need to have a great LinkedIn profile. And your cover photo is the first thing people see when they click on your profile.
You can't make a lasting impression if you don't have a photo on your background or if it is not related to what you do or what you post about.
In this blog we'll show exactly how to find the right cover, that is sure to help you make a positive impression.

Finding the right cover photo:
Cover photos can be very versatile, They could help you gain followers and show off your skills.
When it comes to choosing a LinkedIn cover photo, it's important to select an image that reflects your professional brand or personal brand and it should fit with the overall look of your profile.
Keep in mind that this is something that you want to communicate about yourself to your network and potential followers.
For example, If you're from the design sector this could be the place to show off your skill.
It should be visually appealing, eye-catching, high-quality, well-lit, and have strong composition. Try to keep consistent coloring and styles throughout your profile. And avoid using overly busy or cluttered images that can be distracting or unprofessional.

Cover photo ideas:
Here are a few different types of profile cover photos you can choose from.

1. Showcase your profession:

You could use a photo of yourself or your team working or doing what you're promoting. It will reflect your expertise and showcase your profession.
This would be the best option for a LinkedIn cover photo.
Example:

2. Industry related images:

If you work in a specific industry, using this type of image in your cover photo can help you showcase your expertise and knowledge.
For example, if you work in the tech industry, you might include an image of a computer or other tech-related equipment.
Example:




3. Benefit oriented:
If you provide a service as a profession,. You could use a photo displaying your profession in a way that focuses on the benefit people can avail from you or your service.
Example: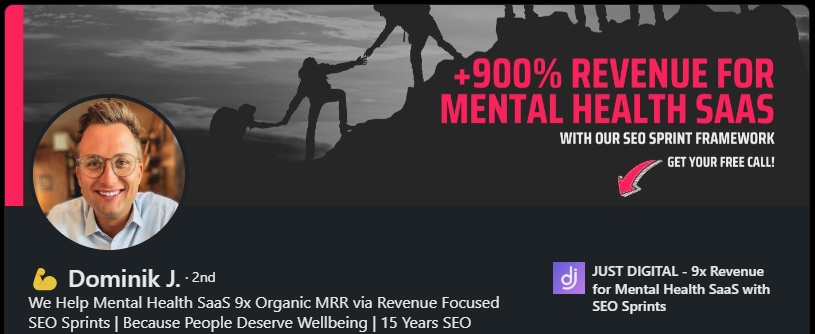 4. Professional Headshot:

A photo that shows off your face and personality that is also related to your profession can be a great addition to your LinkedIn profile. It gives people a chance to see who you are and make a connection with you.
Example:


5. Inspirational quote:

You can use your favorite inspirational or motivational quote that relates to your profession, company or personal brand.
Example:



6. Highlight an event:

If you have any upcoming events or events that you're currently a part of, you can showcase them here. You will be able to promote the event and show off your profession at the same time.
Example:


7. Call-to-action:
You can add a CTA here with a few eye-catching visuals to represent your niche.
This will help you direct people to your website, portfolio, or other online presence.
Example:


Tools:
Here are a few tools you can use to design your LinkedIn profile cover photo.

1. Contentdrips

2. Canva

3. Fotor

4. Vista create

5. Adobe

And for High quality free images use Pexel
Cover photo format:
LinkedIn has specific recommendations for their cover photo dimensions and format.
Use a JPG or PNG file with a file size that's less than 8MB.
And these are the recommended dimensions.

1128 (w) x 191 (h) pixels

If you still can't decide or don't have an idea of what to post check out this and this pinterest boards.
Or check out Contentdrips's pre made and customizable LinkedIn banners templates.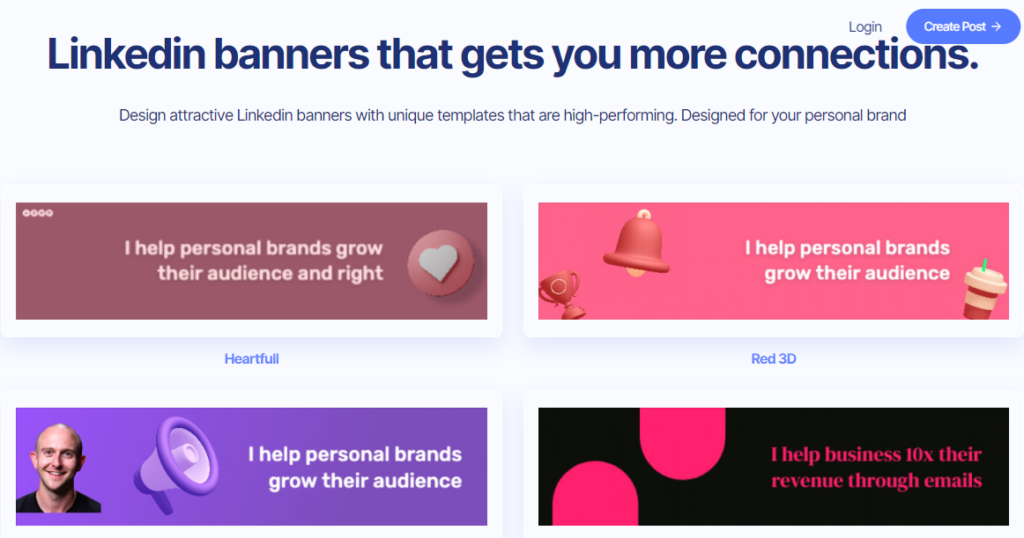 And Remember, your LinkedIn cover photo should be professional and relevant to your personal brand or business. Avoid including anything that is unprofessional, distracting, or inappropriate.
Conclusion:
In this blog we talked about the importance of having an eye-catching LinkedIn profile banner.
We gave you a few ideas for your new cover photo like using a photo showing off your work, photo of yourself working, an inspirational quote, promo of your upcoming event, professional headshots and benefit oriented CTAs.
Showed you a few examples and gave you links where you can find further inspiration.
And tools like Canva, Contentdrips and VistaCreate that you can use to make your custom cover photo.
Use this information well and let us know if we missed something.
And don't forget to keep your profile cover looking professional and relatable to your personal brand.