Hi,
So I've been testing LinkedIn organic reach for quite sometime now. Previously I was considering video posts to be the top performing and longer form of text content (micro blogs).
This will be a very short blogpost, just give you guys a heads up that you should be going heavy on carousel posts for LinkedIn & how to create carousel posts for LinkedIn at scale.
After testing out many different types of posts like photos, memes & videos I tried carousel posts which are PDF document upload on LinkedIn.

For some reasons LinkedIn algorithm loves it. It really do. Organic reach on them was mind blowing every single time. ?
I've 800 something connections on LinkedIn, but every carousel post I posted got over 2,000 eye balls easily + people interactions + new connection from hashtags in the post.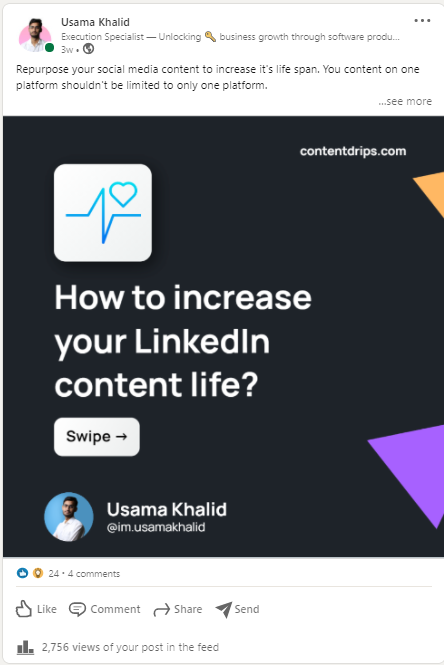 Here's how you can go heavy on them.
So if you do a blogpost for your startup, business or even for podcasts. You should turn that blogpost into a carousel post for LinkedIn.

? For podcasts you can share each episode key takeaways into a carousel post.


? If you write Twitter threads you should turn them into a carousel post.

? Any form of text content you have, you should turn it into a carousel post.
If you can't do it all by your own. Hire any Virtual Assistant that can do it for you.
Tools for creating carousel posts.
You can use these tool to design carousel posts.
1. Adobe Photoshop or Adobe Illustrator. (Desktop App).
2. Contentdrips Carousel Maker (Web based app).
3. Canva.
Let me know if you have any questions regarding carousel posts on LinkedIn