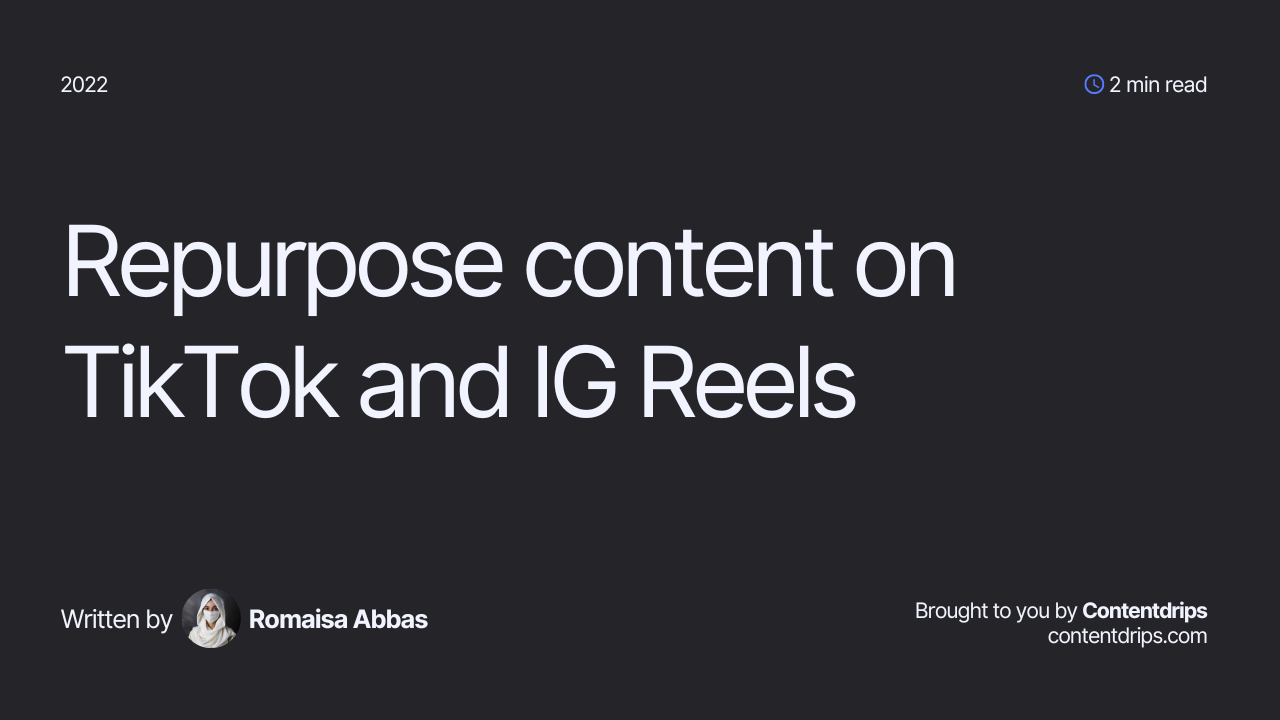 Producing content every single day is not everyone's cup of tea. Perhaps, this explains why a lot of people face burnout and give up on their personal brands only a few weeks after starting out.
For this very reason, we recommend content repurposing to beginners and consistent self-branders. Instead of coming up with a new idea every day, use content that previously performed well.
In this guide, I'm going to share how you can do that easily.
Types of Content You Can Repurpose
Technically, you can repurpose anything and everything that you've created. Be it a one-liner Twitter post or a detailed step-by-step guide.
But here's a list for quick reference:
Blog post
Podcast (audio/video)
YouTube video
Twitter Thread
IG Carousel
LinkedIn Carousel
LinkedIn text post
All of this is either long-form content or text-based content. You can repurpose this on TikTok or Instagram as reels. It will not only save you the effort of coming up with brand-new content but will also provide greater exposure to the ideas and stuff you worked hard on.
How to repurpose your content on TikTok and IG reels?
MP4 REPURPOSED Example
Step One: Find out high-performing posts
First, you need to find the posts that got the best attention. You can find these posts by analyzing analytics. Here are some of the key metrics to assess for the most prominent social media platforms:
Twitter: Impressions and comments.
Instagram: Likes and comments (Spam or marketing comments do not count!)
YouTube: Views, watch-time, and subscribers.
LinkedIn: Impressions, comments, and shares. (Usually, if the content is good, you'll find yourself receiving DMs and connecting on a 1:1 level).
TikTok: Likes, comments, and shares.
For all of the metrics mentioned above, the higher the number, the better.
Step Two: Repurpose your content
Now that you have your best-performing social media content in your hands, it's time to change its skin.
#1. Repurpose Tweets to TikToks or IG reels using Contentdrips
Copy the link of your tweet from the address bar, click on the Add Tweet button, and paste the link of your tweet. Contentdrips editor will auto-align the text.
Next, click on the resize button and resize the graphic for TikTok or IG reel.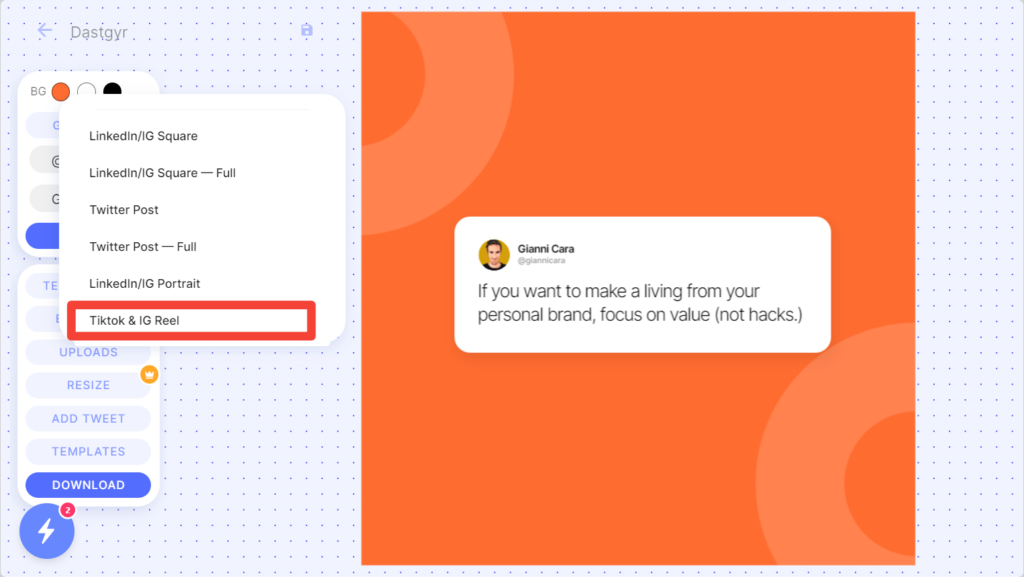 Note that this is a premium feature. It is available to Pro Plan subscribers only. However, you can use the free plan too, for your first five downloads.
#2. Convert lengthy podcasts into short clips using veed.io
Pick the most interesting snippets of your audio or video podcasts and repurpose them as TikToks or IG reels using veed.io. Here's how you can do it:
Log into veed.io.
Create a new project
Upload a snippet of your podcast (It should be one minute or less unless you have super engaging stuff to share)
Resize the canvas by adjusting the aspect ratio
Color the background canvas and add text to make it an appealing TikTok or IG video
Watch how to create a podcast for TikTok by Veed Studio to learn more.
#3. Extract short clips from YouTube videos using Kamua
Kamua is the same for video content as Contentdrips is for personal branding content. These tools are life-saving.
You can use Kamua to extract brand-new videos from your published YouTube videos. The tool offers auto-crop, automated captions, key-framing, overlays, social media skins, and several awesome features to revamp snippets of your YouTube videos.
You can change the angles, outlook, and overall feel of the short videos and share them as new content on TikTok and IG reel. Since this is a smart video editing tool, all you've to do is create an account and get started.
#4. Share LinkedIn posts on TikTok or IG reels using Contentdrips
Copy the text of your LinkedIn post, choose a template from our library, and paste the text on the template. Contentdrips editor will auto-arrange everything on the post – from your branding to the pasted text.
Once done, use the resize feature to resize the canvas to TikTok and IG. Download as an MP4, and there you go! We recommend adding background music to these TikToks and reels on TikTok and Instagram themself.
End Note
Of course, there's more. You can repurpose your blog posts as carousels. Check out this post on how you can do that. Stay tuned, we'll be sharing more on this topic soon!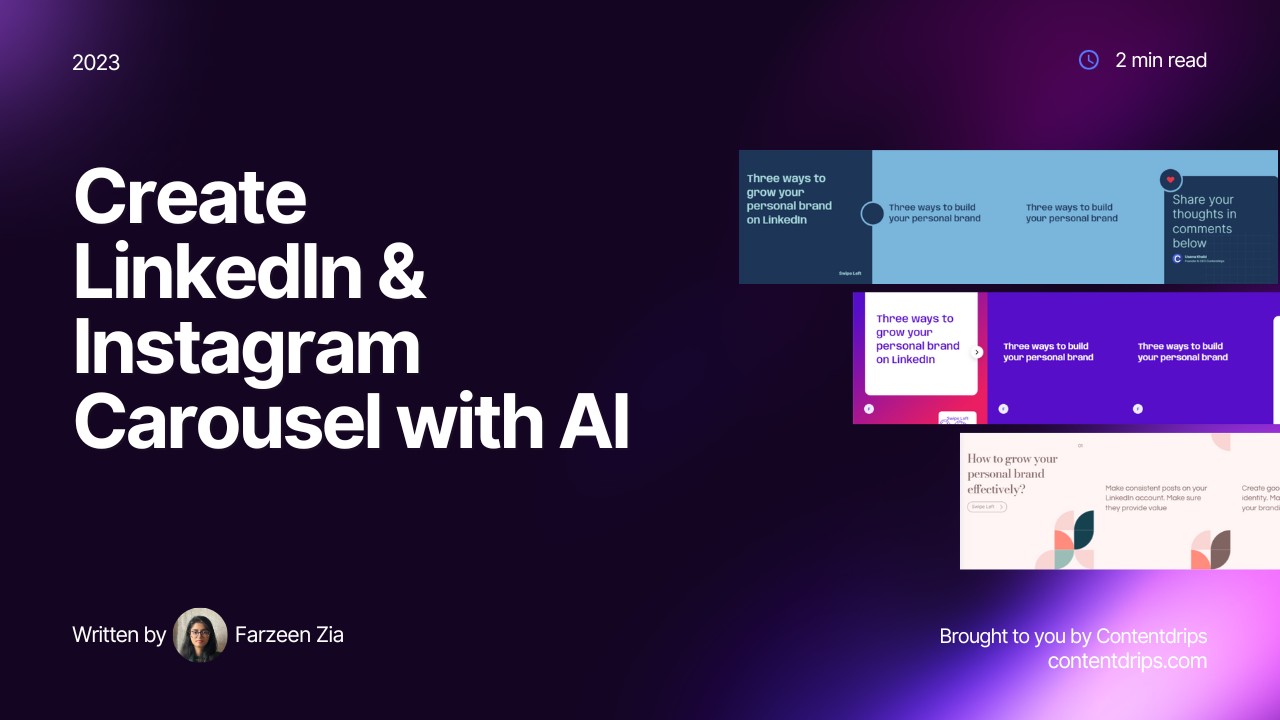 What better way to captivate your audiences attention than with a unique and insightful carousel posts. Now we all know
Read More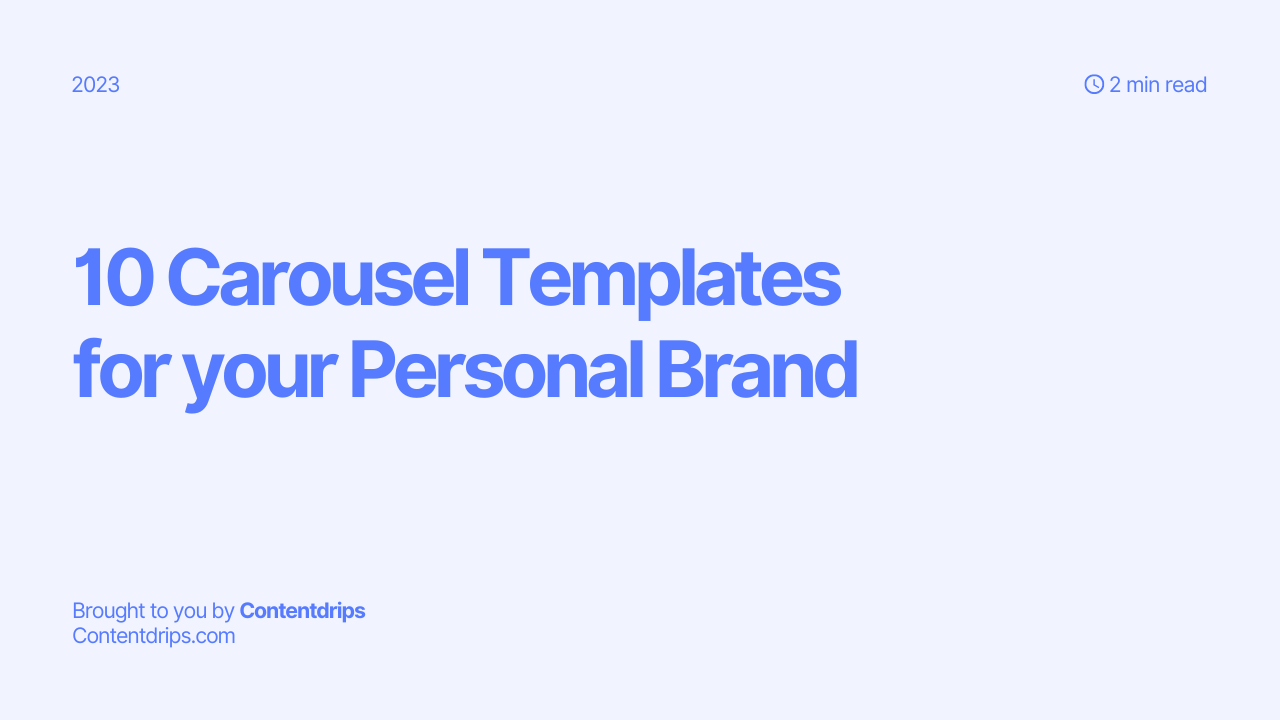 Are you looking to grow your personal brand and make a lasting impression on your audience? If so, carousel posts
Read More