How to grow your personal brand on LinkedIn?
Well, the question doesn't have a direct answer. A lot goes into building your personal brand on LinkedIn. And before we get into how to get started with it, I recommend you browse Sprout Social's definition of a Personal Brand.
Once you're through, hop onto the list of LinkedIn content ideas below. These post ideas demand content from your everyday life and hence, these are super easy to execute.
1. Journal Your Journey
Okay, so how to begin? Where to start your personal branding on LinkedIn?
Well, opting for an introductory post is a good idea rather than starting randomly. Your connects may still like and appreciate your contributions but a systemized approach gives off a better outlook to your profile. And it enables your audience to connect with you genuinely. They truly get to know you and recognize you for who you are.
A few good ideas on your first post are as follows:
Share Your Source of Inspiration (Example: Workout, walking in a park, evaluating days performance)
Answer or address a trending concern (Example: Quality of video calls, work from home norms)
Predict What's coming up (Example: Where do you see your company standing in the next five years? How stable is your industry? What changes will you witness as a part of the industry?)
Appreciate and Acknowledge Mentors and Seniors (Example: From your company or your LinkedIn Connects)
Welcome Juniors or Members of the Team
Share your work history or your company's history. (Example: Begin on a personalized level about what initiated the idea.)
2. Share What You Learn
Another great way of keeping your presence active and effective is to share what you learn. Craft a post on a daily or weekly basis about a new skill learned in a specific time frame.

If in case you think there isn't a brand new skill to share your knowledge about, you could inquire about your audience's learning progress of the week. Exchanging views always adds to the pool of knowledge on both ends.
3. Write about Weekly wins
Following the stuff you learn, sharing your achievements is also an excellent way to engage your audience. It motivates those connected to you, encouraging them to follow up on your account. And will also bring you a sense of effective progress as you get recognized for your hard work.
4. Interlink All Your Socials
A major hack to excel at LinkedIn personal branding, as well as other platforms, is to interlink them all. Create professional accounts on Twitter, Instagram, Facebook, and LinkedIn and connect them all. So that when you post on one, the rest get updated automatically. You need not allocate time separately for each.

Plus, since posting a lot of stuff will require a lot of time, what you can do is keep track of your well-performing posts. If you observe that certain posts brought a major boost, you can repurpose them later.

Talk about the same topic, but take it a step further. Say you created a guide on ten ways to organize yourself for the week. You could add a few recommendations about brands to acquire the best organizing goods from in the next post.

Alternatively, you could convert video content to text. Or vice versa.
5. Opt for Visuals instead of Long-Text
These days LinkedIn personal brand is more about the exterior than the interior. A study of the 2000s revealed that the attention span of an average human being is decreasing by the day. Back then, it had reduced down from 12 to 8 seconds. Considering the very fact, it's difficult to hold your audience on a post that may be meaningful and useful but has no attention-grabbing feature, i.e., no visuals.

For that very reason, it's best to opt for visual content. Be it photographs, short videos, banners, graphic posts, etc. Some of the best-performing visual content include infographics and carousels. You can read more about the game-changing effects of carousel posts here.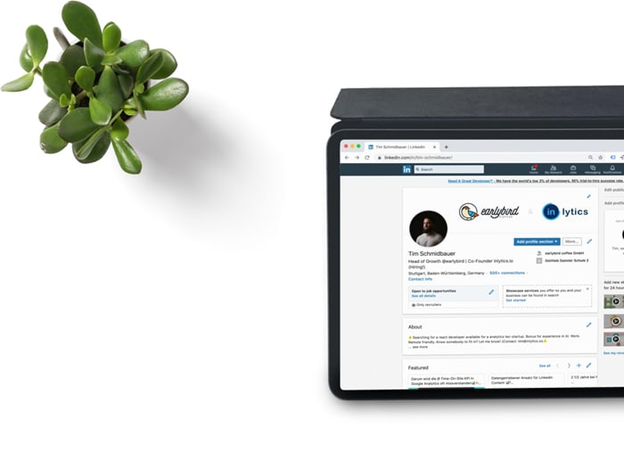 6. Add a bit of human-touch
Now, the trick is to put out all of this stuff interestingly and humanly. If you abide by a fixed schedule, such as posting tricks on the same tool every Tuesday. It's going to bore your audience out. They're going to learn and appreciate to an extent, and there'll come a peak point, beyond which you'll have gradually decreasing views and attention.

You surely do not want that.

So now and then, it's best to switch to different formats. Try out gif demonstrations instead of carousel posts. Share relatable struggles and events. Talk about the climax of your career and take interest in theirs!
Be Patient!
By the time you've begun implementing all of these approaches on your LinkedIn account, you shall have at least an increased percentage of engagement, if not overwhelming. You'll have your own answers to how to grow your personal brand on LinkedIn. With that said, be patient and allow things to fall in place themselves. Keep working and never give up!