Hi,

So I've been testing LinkedIn Carousel for quite some time. They perform really well because they are interactive, visually more appealing, a high-value content & algorithm loves high value content like videos & carousels.

That's why they outperform all other types of posts on every social media.
In this blog post I'll share a LinkedIn content tip + 10 free carousel templates for LinkedIn.
Content Tip?
"You should be turning your LinkedIn text posts into carousel posts."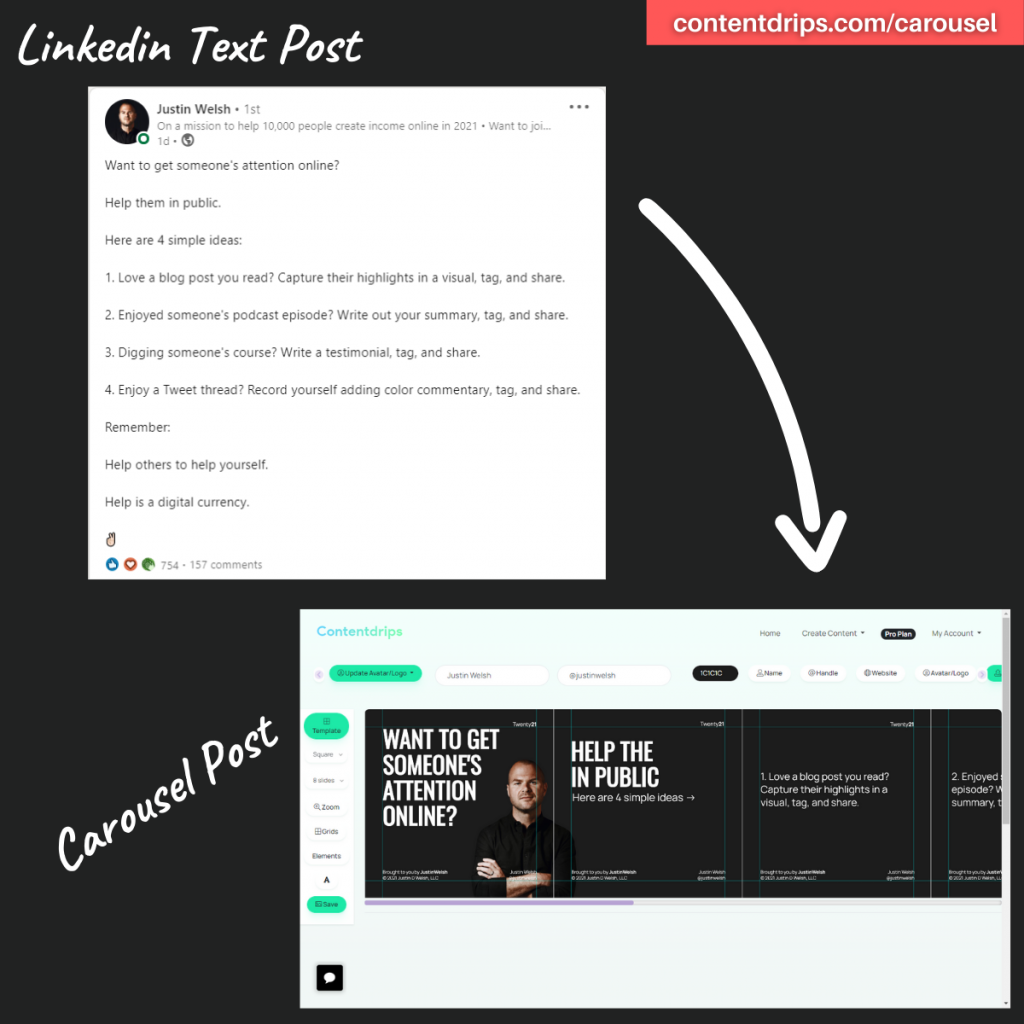 You can turn your blogposts into a carousel post, a podcast episode, Twitter threads, or any text content.
Let's get to the point. Here are 10 carousel templates. You can use these for LinkedIn & Instagram too. Templates can be edited and downloaded within the browser.
All templates are available for free on Contentdrips Carousel Maker.
It's a web-based tool built for creating carousel posts for LinkedIn & Instagram.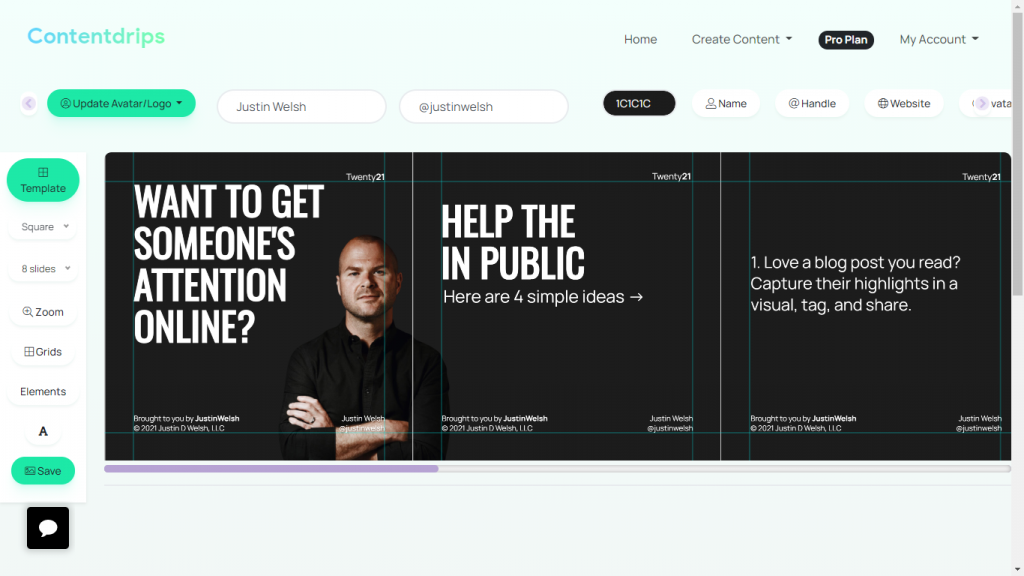 Free LinkedIn Carousel Templates
1. Card Looks Good
This is a free LinkedIn carousel template that works best for turning your tweets into carousel style. You can add visuals and use this template for your high-performing one-liner tweets.

2. Chris Do Template
Chris Do template allows you to practice the very famous AIDA technique. Repurpose your long text posts on this template easily.

3. Diagonal Slide
If you want your audience to stop when scrolling, diagonal template is a perfect choice. The contrasting combination of royal blue and green is an excellent attention grabber.

4. Tweet Threads Mobile
Here's the perfect free linkedin carousel template to repurpose your twitter content. Simply click the repurpose button, paste tweet link, and repurpose your twitter content on LinkedIn.

5. Subtle Tweet Threads
Similar to the carousel template above, Subtle Tweet Threads is also an excellent template to repurpose your tweet. You can adjust the gradient as per your personal brand's theme.

6. Inspire It
Scaling from Zero is a high-perfoming LinkedIn carousel template for educational content. The abundant space on each slide gives you enough room for elements and text.

7. Mr. Funsho Style
Mr.Funsho Style template is for a short and to-the-point carousel. If you have some quick tips to share, this will work good.

8. Messages
Want to communicate something to Gen Z? Use the Messages carousel template.

9. Messages Loop
Messages Loop is a trendy carousel template for LinkedIn. The message bubbles give a personal touch to the post, automatically gaining the interest of your audience.

10. Professional Sleek
If you've been using the same carousel template for all your LinkedIn posts recently, Professional Sleek is an excellent template to bring a change on your timeline.

Here's the link to the tool: https://contentdrips.com/carousel
Go to Template and you will find all these templates there. You can then edit them after you're done. Export them as a PDF for LinkedIn or PNGs for Instagram.
If you have any feedback or suggestion. Feel free to DM me on Twitter.