One of Contentdrips repurposing feature is Text To Carousel feature which allow for both plain text or twitter thread import. In this blog you will learn how to use it create amazing carousel posts within seconds. Carousels posts on LinkedIn performs really well as compared to other types of posts.
People use carousel to repurpose their long form text content into appealing visuals. They get more reach as they are more interactive. People spend more time on them and it fuels the algorithm. So you should definitely know more about carousels and how to do them.
Let's dig into our twitter thread to carousel feature.
Step 1: Pick a template or create one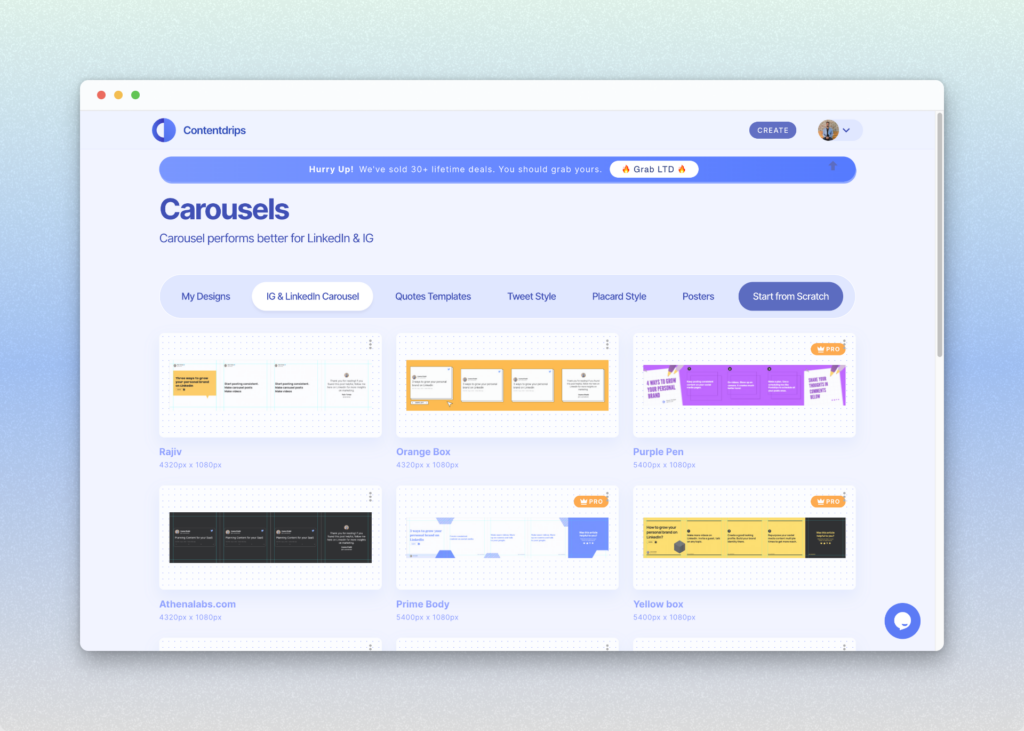 So I will pick an already existing template as it will save me time and effort on designing one. I will pick one Twitter style template which is really popular these days everywhere on LinkedIn & Instagram.
Click on it and your template will open up in the editor.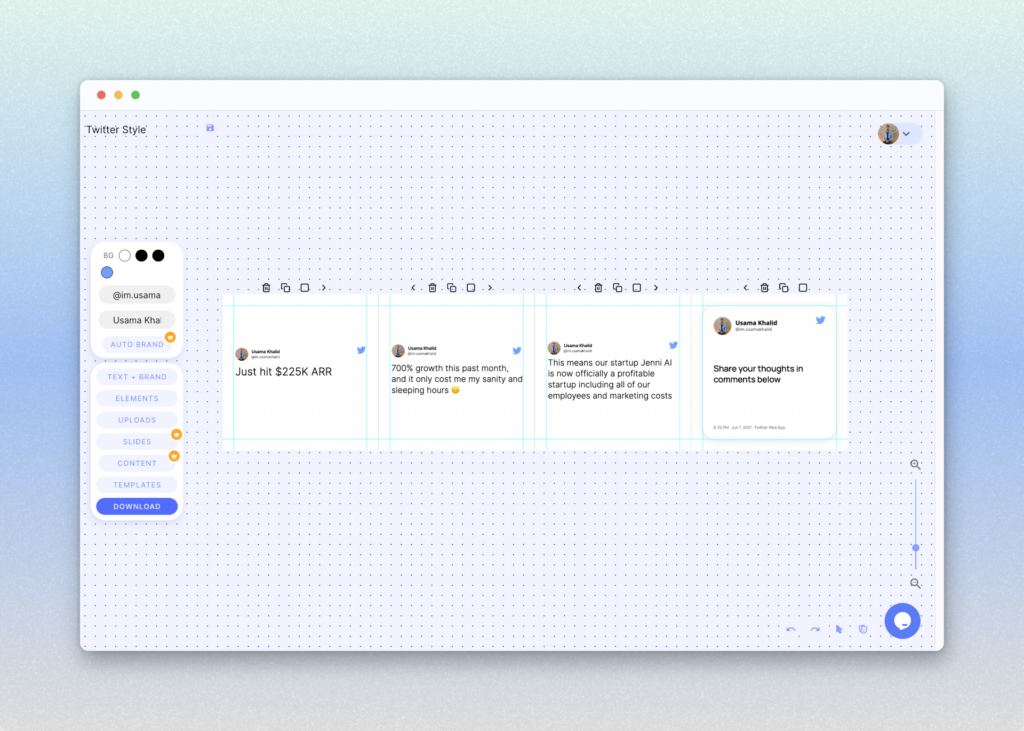 Step 2: Make sure you've at-least four slides there.
There should be at-least four slides on your carousel. One another thing to make sure is that there should one primary textbox on first three slides slides. Primary text means a large textbox where your majority or main content will go. This textbox is relatively much bigger than the rest.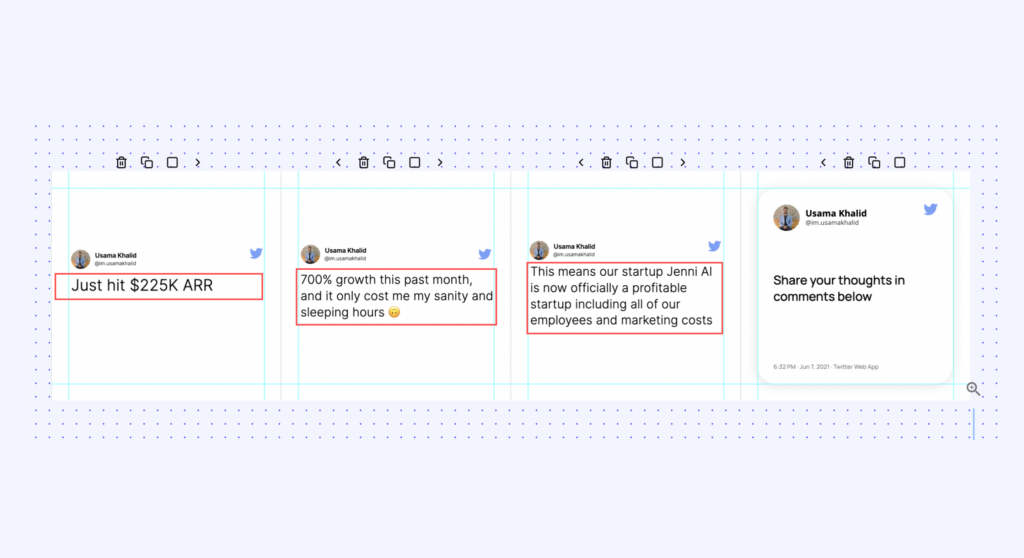 Last slide is your outro or ending slide. You can keep it as it is because we always keep that slide at the end. We are concerned with first three slides only as our algorithm uses that fully perform this feature.
Step 3: Bring your text content or import your Twitter thread
On the left control bar you will see the button named as "CONTENT". If you click on it a small popup will appear.
Here you can use Text To Carousel feature or Twitter Threads feature. Text to carousel will let you type any text content which it will turn into a carousel post by adding each paragraph on each slide. Twitter thread feature will ask you for the link of your tweet or a thread. It works for both.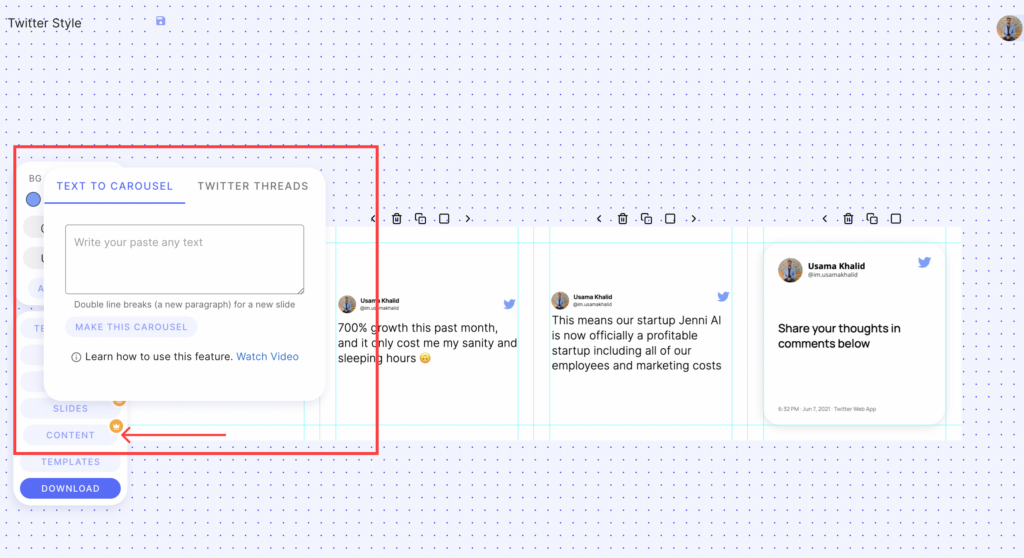 Now paste your content into this text area or enter your Twitter thread link. Click on Make This Carousel. It will add that text into each slide, it will create slides by itself, remove slides by itself and readjust everything by itself.
For e.g. if your content is longer it will first clone slides from slide number two, then will add your content and in last step it will make sure everything looks perfect with a feature called Tidy Up.
Step 4: Press Tidy Up & Your Carousel Is Ready
As shown in above video. We imported a Twitter thread. After that we click on Tidy Up feature and it auto corrects and adjusts the design by itself magically. This is our favorite feature.
It will automatically resize the textboxes and adjust the objects with sticky behavior by itself. So you get a perfect looking post without doing anything. Isn't it a game changer?
Step 5: Download your PDF & PNGs
Last step is to download it. For LinkedIn posting you should be using PDF and for Instagram you can download PNGs. Click on Download button on the left side. It will give you both of these options.
That's it. This is how you turn your text or tweets into a carousel post using Contentdrips.

So try it out.
Let me know if you got any feedback or questions.